Dr. Jones is one of AIChE's 35 Under 35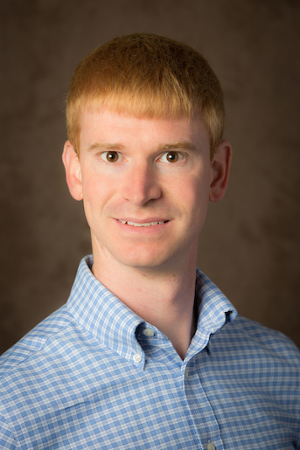 Sep 25, 2020
The American Institute of Chemical Engineers (AIChE) has selected its latest group of engineers for their 35 Under 35 Award, and Dr. J. Andrew Jones is one of them.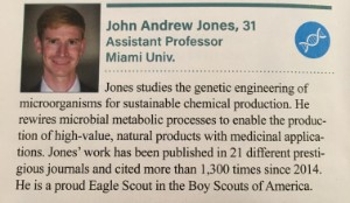 Founded to recognize young engineers for their outstanding contributions to the field, the 35 Under 35 Award proves just how diverse chemical engineering can be. 
"Being selected as one of AIChE's 35 under 35 feels a bit surreal to me," Dr. Jones said.
Award winners were selected for achievements in one of several categories: chemicals and materials, bioengineering, education, energy and environment, safety, innovation and entrepreneurship, and leadership. 
Dr. Jones runs his own lab within the CPB department, with a total of 15 members: two staff scientists, one MS student, 11 undergraduates and himself. Here, they work on developing cutting-edge and efficient production strategies for bioactive small molecule compounds with pharmaceutical applications. 
Their current work — the biosynthesis of an array of psychedelic compounds with therapeutic properties — is being supported by a $1 million grant from PsyBio Therapeutic Inc ..
In addition to running the lab, Dr. Jones is the faculty advisor for the Miami chapter of the Society for Biological Engineering (SBE), which is a student organization that falls under the AIChE umbrella. 
"The AIChE organization has been instrumental in my professional development since my first year of graduate studies," he said. "I hope to continue to mentor young scientists in the bioengineering field as well as contribute to cutting edge advancements through my research for years to come."
By Jenna Calderón, CEC Reporter