Professor Jason Boock receives $200,000 grant from National Science Foundation
Apr 20, 2022
By Gabby Benedict, CEC Student Reporter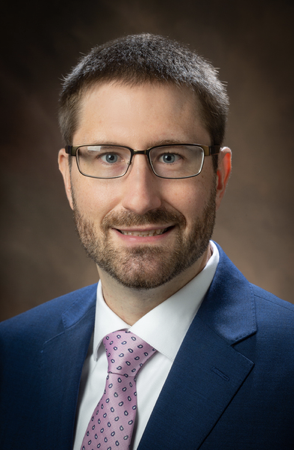 Miami University's Jason Boock received a $200,000 grant from the National Science Foundation to continue research into controlling metabolic pathways to make biochemicals, such as biofuels and therapeutics.
Boock, an assistant professor in the Department of Chemical, Paper, and Biomedical Engineering, and a team of undergraduate students developed the project, titled "ERI: Development of Non-native Sigma Factors for Metabolic Engineering," after conducting initial feasibility studies. 
"Our laboratory is interested in learning from nature to develop solutions for biotechnology," Boock said. "For this project, we have identified a regulatory element, called a sigma factor, that controls the start and location of transcription, the process by which proteins are created." 
The research team will now study how to improve upon the design of sigma factor binding sites to direct desired transcriptional amounts.
"What we learn about sigma factor binding sites will be applied to precisely control metabolic pathways to make biochemicals," he said.
As part of the project, the grant money will support training of first-year undergraduate students, as well as high school teachers. 
The goal of the training is to teach both undergraduate students and high school teachers what scientific research looks like and to develop basic laboratory skills. Boock's team plans to do this by having each participant select and characterize a sigma factor that no one has previously studied, adding excitement and discovery to their project.