EHS Peddles Public Health through Grass Roots Community Activism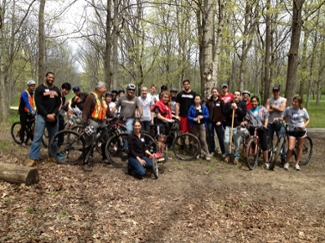 Jun 26, 2017
James M. Loy, Miami University
Listen to the audio podcast
Read the story
On a normal day in Oxford, OH, cyclists cruise throughout the small college community that many call home. Even during the slower summer months, faculty, residents and even some students, will ride, to and fro, on bike lanes that run straight across town and right through Miami University.
Here, as in many communities, a burgeoning biking culture is growing. And though many may not realize it, the bike lanes they use represent far more than just lines running parallel to a few roads.
They are, in fact, part of an ongoing health-based research and community engagement project among the local township, Miami's College of Education, Health and Society (EHS), and its kinesiology and health students.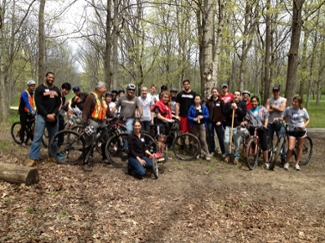 "To get that bike lane was a big deal, and students were involved" says Dr. Helaine Alessio. "We had to make a case for it. The question raised by city council was 'really will it be used?' So our students have been tracking usage and they have found that, except for the winter months, usage is significant and on the rise. If you build it, they will come. If you put bike lanes in, they will use them."
An EHS professor of kinesiology and health, Alessio often helps students understand the interconnected cultural and contextual variables that can affect wellness, especially on community-wide levels. Individual diet and exercise matter of course, but they are far from the whole story.
Boosting community-wide wellness
According to Alessio, the health of a community is highly dependent on the health of the environment, which includes well-known factors such as pollution. But emerging public health concepts such as active transportation and the "built environment" are now also being closely examined.
The built environment refers to human-made spaces and places like parks, sidewalks, gardens, and transportation systems, among others, which can all influence public health. Some communities have more access to such resources, while others don't.
Those that do are better able to reap the associated health benefits, and improving a city's bikeability is just one example.
Alongside the obvious boosts to individual physical fitness, the benefits to biking also ripple outward. Typically, more bike usage means fewer automobiles, which leads to less road congestion, less construction, and fewer accidents. Economically, research has correlated it with revenue boosts to local business, individuals who save on car costs, and even increased property values for homes with easy trail access.
Environmentally, it also leads to improved air quality through reduced carbon emissions, which Alessio and her students have already studied.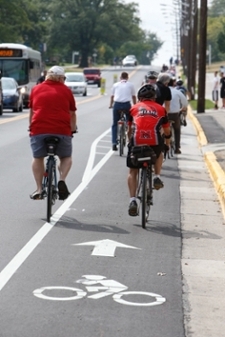 "Just in little Oxford, we did this count of the average number of bikes and a prediction of average number of single occupancy vehicle miles replaced by each bike," Alessio says. "And we were very, very, very conservative. So with just 24 bikes per hour using the lanes, given just two miles a day of riding instead of driving, it saves approximately four metric tons of carbon dioxide per year."
Given the moderate nature of this study, the real number is likely far higher, as it would be in much larger in communities with far more traffic. But before this, or any other benefit can take effect, the proper infrastructure has to be in place as well as the people willing to make it happen.
And in Oxford, the bike lanes were only the first step.
Civic student engagement
Karly Geller, EHS assistant professor of health promotion, also enlisted students to survey nearly 700 bikes secured to various racks around 84 campus buildings. They assessed the condition of bikes, and looked at which were rideable, which were not, and why.
"Students are helping to track the data and to do these calculations," Alessio explains. "And they are thinking of other things that might influence people who might want to ride a bike. Temperature? Weather? Gas prices? Or maybe its whether your bike is working because it's been out in the rain and now the chain is rusty. So maybe what we need are bike racks with some sort of protective shelter. Or maybe it's whether or not there even is a bike rack."
Off campus, this has also led directly to the project's most recent phase, which includes tracking bike rack usage in Oxford's primary business district. And through an interdisciplinary partnership with Miami's College of Creative Arts, plans are in place to install several functional and creative bike rack sculptures around town.
Designed by Miami art student David Stellmach, the new bike racks will give cyclists even more accessibility. And so far, three locations have been identified and 3D models of proposed sculptures have already been created. The Oxford Community Foundation will fund the project and various local businesses are also tentatively onboard.
But before the new bike rack sculptures can become a reality, Alessio and her students must again navigate the world of civic engagement and acquire approval from the city council. Building codes, available sidewalk space, various engineering logistics, and more, must all be considered first.
"It's a great example of grass roots community activism and how to work with the community," Alessio says. "You can't just sit back and wait for somebody else to do it. And they also saw the push back by council members. So students learned that if you want something, you have to document, provide evidence, and make a strong case."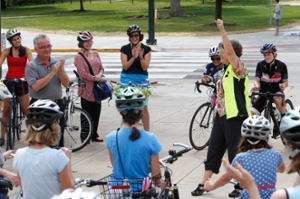 So, perhaps, even more significant than the practical benefits they are bringing to their college community, may be the breadth of first-hand experiences these students are also acquiring along the way. After graduation, many will pursue careers in various health-related fields, and soon they will have communities of their own to improve as professionals themselves. 
But until then, they now have the opportunity to explore the multitude of factors that can influence public health, what it takes to introduce even seemingly small and innocuous changes to the built environment, and how it's all connected.
"Kinesiology and health students may not go into this field with these ideas, but they learn that they need to be aware of health from a variety of angles," says Alessio. "If you think that health is only about going out and jogging and eating right and that's pretty much it, then you don't get it. There are so many more things involved like socioeconomic status, ethnicity, and, clearly, where you live."