Miami University, Hamilton County confront school psychologist shortage with win-win solution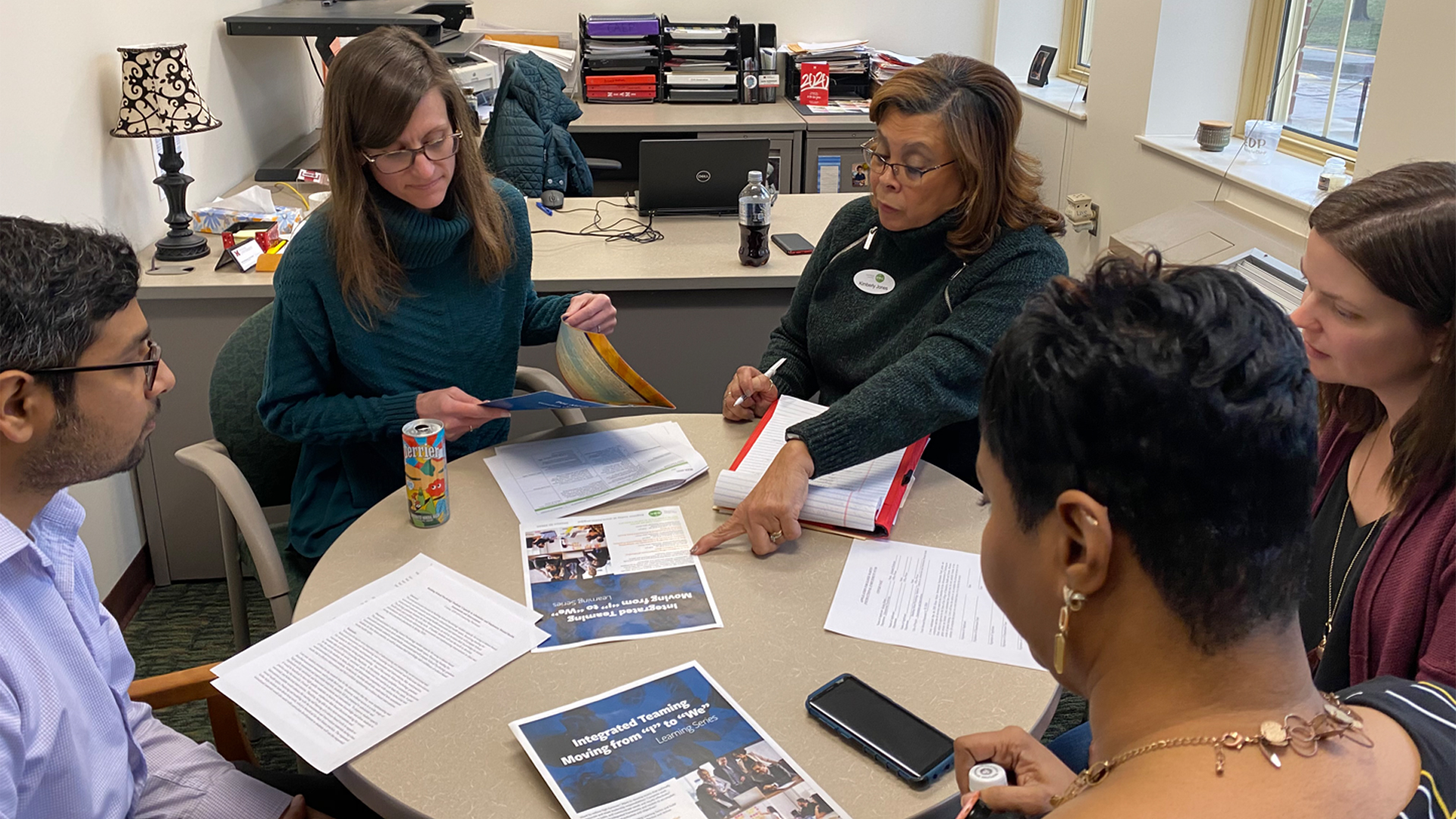 Feb 11, 2021
An aspiring school psychologist splits his time between two local schools in Hamilton County, Ohio.
During an average week, Christopher Perry, a Miami University graduate student in the educational psychology department, works directly alongside professional school psychologists to help boost the academic, social, and emotional success of students in each school.
He's been placed by the Hamilton County Educational Service Center (HCESC) to support a severely understaffed area of education, to provide a critical service desperately needed in most school districts everywhere, and all while getting the experience he'll need to soon do the job himself.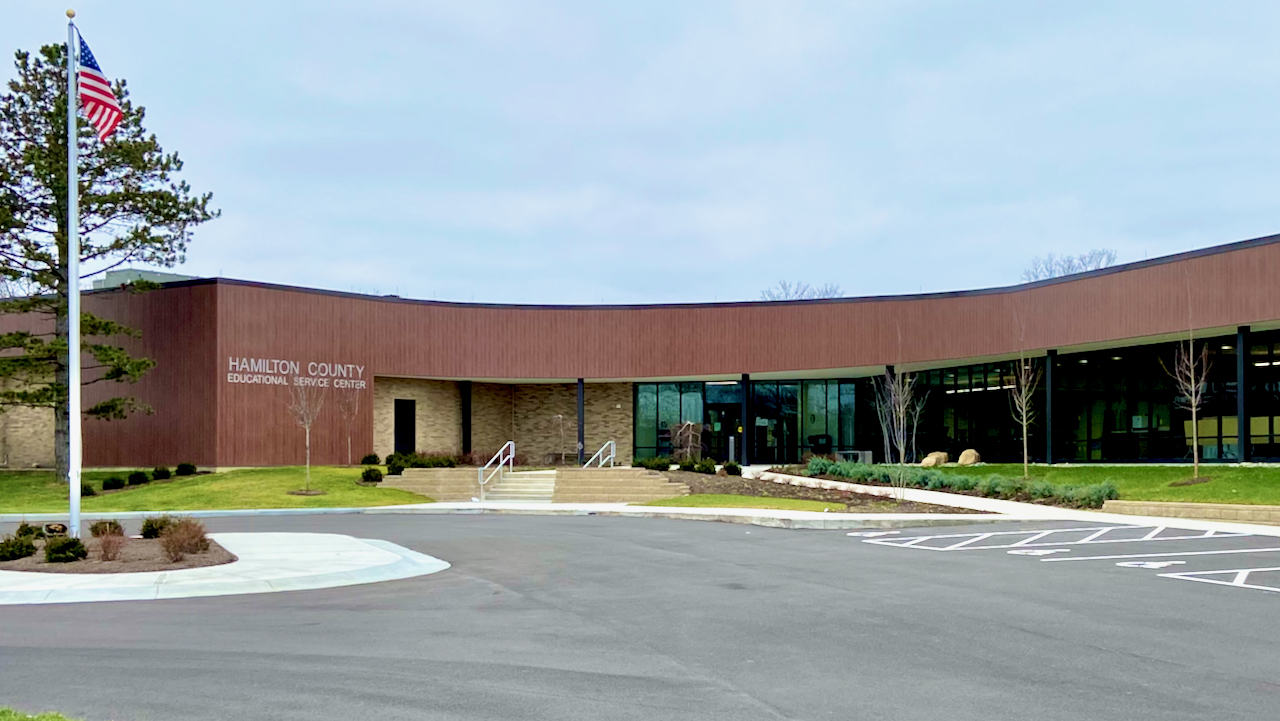 Hamilton County Educational Service Center building
"I'm being trained to go right into the field," Perry says. "I assist the school psychologist and try to lighten their workload. This past year, I've been part of team meetings, and writing up student achievement and behavior reports, and implementing reading interventions. And the reports I produce are actually used to make important educational decisions."
Perry is part of an expanding partnership between Miami University and the HCESC. The partnership is designed to confront the ongoing national shortage of school psychologists.
A dire need
The National Association of School Psychologists (NASP) recommends one school psychologist for every 500-700 students. Today, however, the average national ratio is closer to 1:1381, and in some areas it's almost 1:5000.
Many vacancies left by retiring professionals are not being filled fast enough, and existing school psychologists are also being outpaced by a steadily increasing yearly influx of new students.
This not only contributes to burnout, and an exodus from the profession altogether. It also means that those who do stay are overburdened with workloads that prioritize a limited number of job functions -- often, for example, the cognitive testing and associated paperwork needed for special education placements, which can leave little or no time for much else.
"But there are so many duties that they're qualified to do," says Kimberly Jones, HCESC intervention and support services consultant. "The benefits of having a school psychologist is more than testing and completing evaluations. They are qualified to do counseling with students, provide mental health and behavior supports, and facilitate a variety of support groups. They are an integral member of multi-tiered systems of support teams in schools."
"We do not want school psychologists to feel siloed," Jones continues. "We stress this message to school districts."
This wider range of holistic services can help schools alleviate a host of other dire problems.
Across the nation, at a time when the number of school psychologists is down, mental health and trauma-related issues among K-12 school-aged youth are up -- and so is the growing concern among parents, teachers, and administrators who are witness to alarming new trends.
Recent CDC reports show that suicidal ideation and behaviors are on the rise. Social isolation is increasing as well, and so are mood and behavioral disorders such as depression, anxiety, and ADHD. Even many of those who never displayed mental health symptoms before are now showing signs of struggle.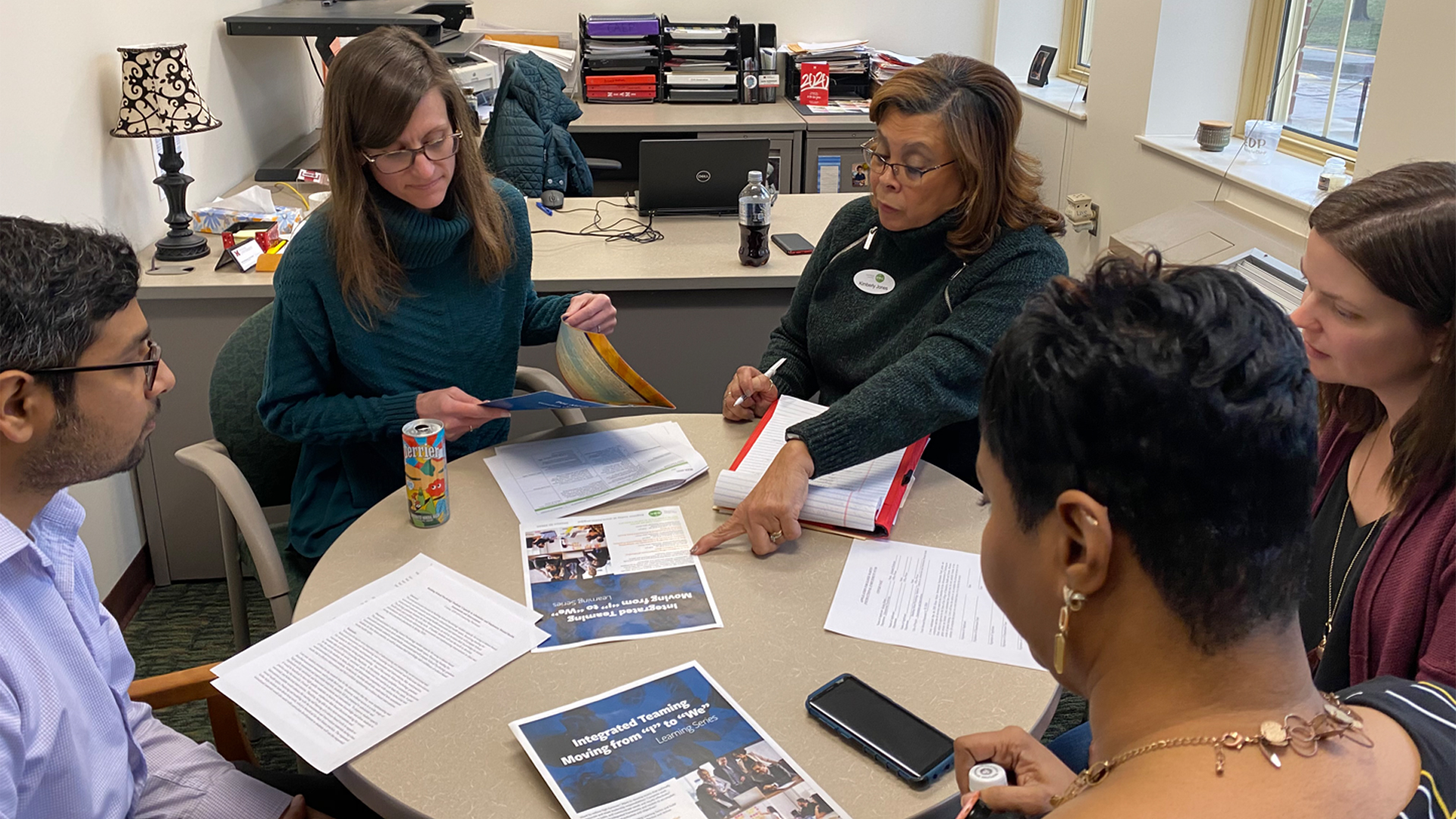 Staff from EDP and the HCESC working together
Some experts believe that it's not necessarily all COVID related, but the pandemic is certainly another new battlefront.
"There's just an increased need these days," says Renee Dallal '20, an HCESC school psychologist and Miami alumna. "There's more kids who need behavioral services, or counseling and trauma services. I also see a lot of anxiety. A lot of kids just can't cope with everything going on, whether it's increased by the pandemic, or just the pressure of school and homework."
However, by employing a variety of early interventions, risk assessments, counseling, and more, school psychologists are the professionals best prepared to help these struggling students. And according to NASP, students who need help with mental health are far more likely to seek and to receive support if it's offered in school.
NASP has also shown that improving the ratio of school psychologists leads to additional school-wide benefits, such as decreases in teacher stress and teacher burnout, which, in turn, can lead to improved student learning outcomes and teacher retention.
Even beyond mental health and academic concerns, their expertise with building and encouraging positive school climates can also help generate overall safer, more welcoming, and productive environments for everyone.
"School psychologists are often a hidden role," says Kristy Brann, Miami University assistant professor of educational psychology. "I think of it as the best kept secret in psychology. So a big problem with the shortage is also just awareness of the field, and how great of a role we can have."
A win-win-win-win partnership pipeline
NASP research predicts an ongoing shortage through 2025, but plans are in place to turn the tide now. The partnership between Miami University and the HCESC is addressing the issue on several fronts, and in mutually beneficial ways that align with the strategic goals of each organization.
The HCESC works directly with schools and districts throughout Hamilton County to provide the specific services that will best serve students in each individual setting. After identifying the school psychologist shortage as a primary pain point, the HCESC and Miami's department of educational psychology came together.
"We are very pleased to be what I would call a preferred partner with Miami," Jones says. "Because it is really growing, and it's been such a great experience to be creative, to come up with new innovative ways to help future educators and practitioners, and to serve and meet the needs of all students."
In 2019, Christopher Perry became the first Miami graduate student to study coursework at the university, while also receiving comprehensive training and field experience through his HCESC school placement.
Since then, the partnership has expanded to include additional educational psychology graduate students, as well as new involvement from Miami's department of speech pathology and audiology.
Beyond just closing the gap between textbook theory and real world practice for college students, and providing the much-needed extra assistance to local schools, the partnership is also increasing the quality and availability of professional development opportunities on all sides.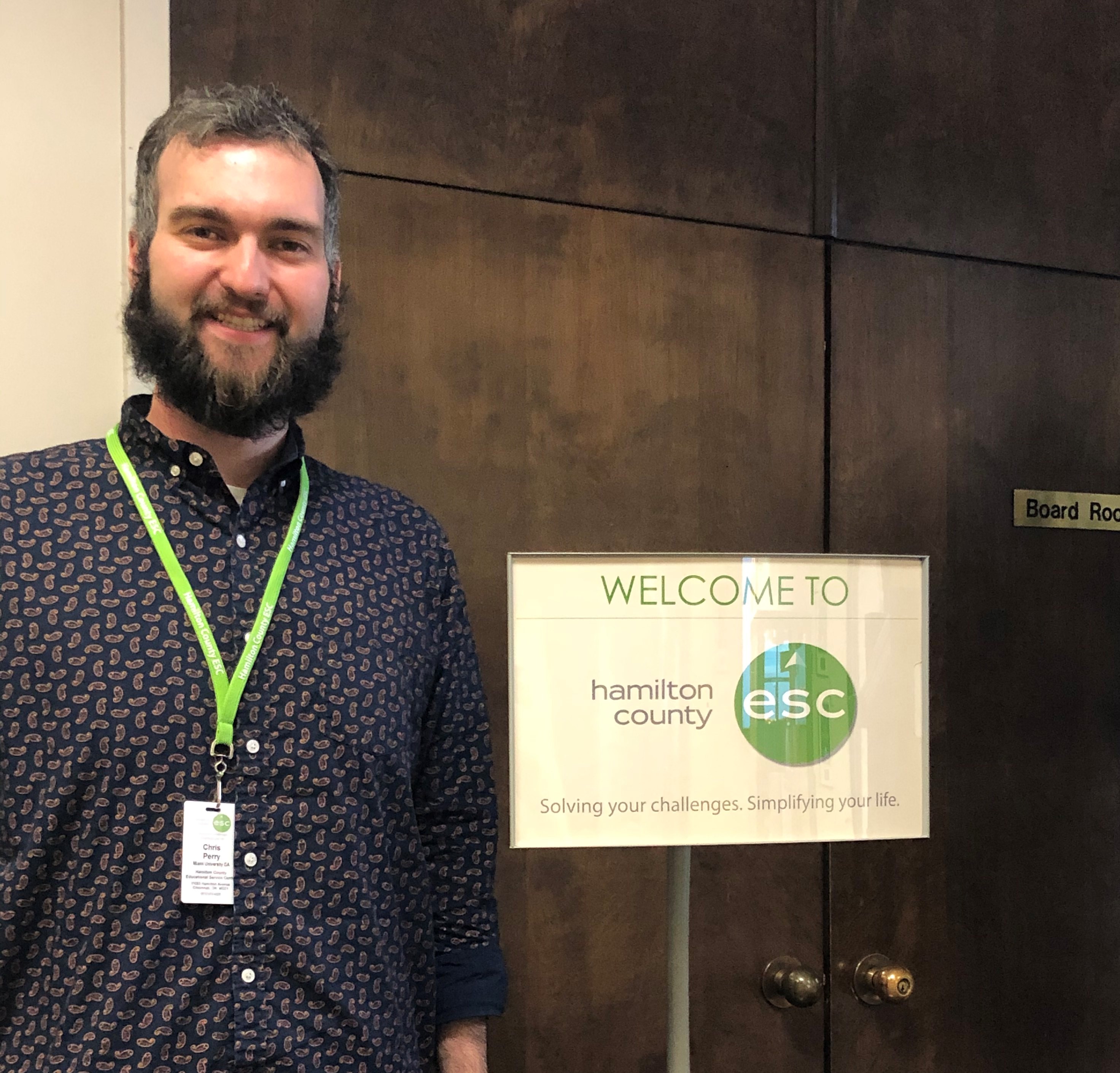 Chris Perry, Miami University EDP graduate student
Specialists employed by the HCESC now regularly offer guest lectures and share their professional experiences and current practices with Miami students. On the flip side, Miami faculty can now attend HCESC professional development trainings and events, which include invitations to taskforce meetings to discuss compliance issues with state-wide special education directors.
"It's exceeded all of my expectations," Brann says. "Our connection to practice is improved, we're more aligned with state recommendations, and our students are more prepared to take a dynamic and collaborative role. We're able to embed the training that Hamilton County provides into our classes, rather than it just being something they'll hear in the field later on. So we can be proactive in preparing students."
The partnership is a win for local schools, which get the extra help and support they desperately need. It's a win for the HCESC, which can rely on Miami to expand its recruitment pool. It's a win for the university, which improves its professional development, training opportunities, and course quality.
And it's a big win for the college students themselves, who get the kind of hands-on and practical experiences that can lead to a job right after graduation.
"It is definitely building my resume, and I'm so much further ahead than I would've been otherwise," Perry says. "It's a great opportunity for me, and it really helps the schools, too, eventually having more professionals who are qualified to jump right in."