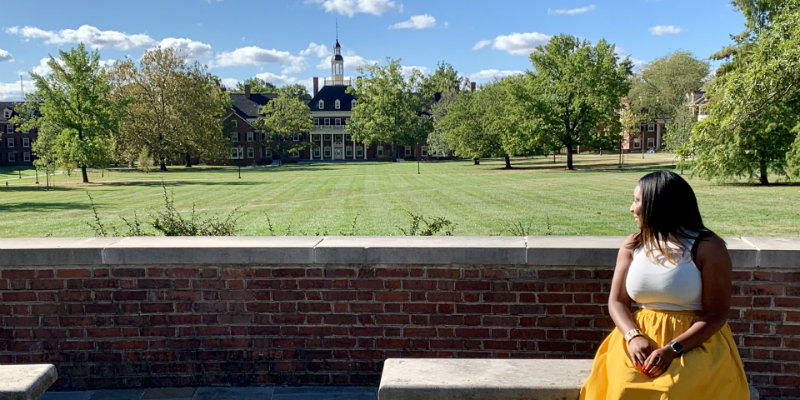 Oct 22, 2019
Middle school can be intense. All the drama around social media. The pressure of getting good grades. Bouncing back from disappointments. These are just a few of the things that students face. But helping students transition through this awkward and confusing phase is what makes the work of Robin Beavers so meaningful.
As a middle school principal, an Ohio 2019 Educator of the Year, and the founder of a youth mentorship program, Robin talks about how to help impressionable students figure out who they are, and who they hope to become.
Music: Tech Toys by Lee Rosevere. Black Lung and Our Ego by Broke For Free.
Read the transcript
James Loy:
Middle school can be an intense and challenging time. All the drama around social media. The pressures of getting good grades. Bouncing back from disappointments – these are just a few of the things that students can face.
But helping students transition through this often confusing, typically awkward, and even sometimes scary phase is what makes the work of Robin Beavers so meaningful.
Robin is currently a Middle School principal in Lakewood, Ohio, where she was named the 2018-2019 Educator of the Year. She is also one of Miami University's recent 18 of the Last 9 honorees. And she is the founder of a mentorship program called G.E.M.S., which stands for Girl Empowerment in Middle School.
And today she is here to talk about the importance of mentors for students at this impressionable age, how to get youth involved in the community, and how more teachers and parents can help the young students in their lives start to figure out who they are, and who they hope to become.
Robin Beavers, thank you for being on the podcast today …
Robin Beavers:
Thank you for having me. I'm very excited to be here.
James Loy:
So congratulations on being a 2019 18 of the Last 9 award winner. Are you excited to be back on campus?
Robin Beavers:         
I am excited to be back on campus and really honored, uh, once I met some of the other recipients, some of which I knew, um, but just being among the ranks of these people who've gone out into these excellent careers and they're just working really hard. So to be recognized amongst them has just been like, that's even a bigger honor to me. But then being back on campus and like feeling some of the nostalgia and seeing the buildings, and the changes in the building. Yeah. So that's been very exciting.
James Loy:   
Great. Well, I know Miami is excited to have you back and we're excited to have you on the podcast today, and now you're a school principal, where you work with youth on a daily basis. You're also a member of ... a leading member of the mayor of Lakewood's youth council. And you founded your own mentorship program for young women. So, you work with youth on several different levels. So what got you interested in doing this kind of work, and what led to the creation of your mentorship program, which is Girl Empowerment in Middle School, or G.E.M.S. for short.
Robin Beavers:
Well, you know, as a middle school student, I think that's when I made the decision as to whether or not I was going to do something really positive with my life, or not. And so I think it's really an instrumental time in our lives. Everyone remembers middle school either how awkward it was or you know, how awesome it was, mostly how awkward it was. And so when I decided to go into education, I knew that I wanted to be a middle level educator and work with the students at that level because they are so impressionable. Um, and it's a really intense time to figure out who you are and what you want to do, and that sort of thing. So, once I went to education and I became a teacher, it was actually my first year teaching when I met some students, um, who, you know, really, they had some questions just about life and you know, wanted some guidance and some, some help.
And so it was myself, and another teacher at the time. We went down to our principal early one morning and were like, Hey, we have this idea and we want to start a girls group. And so we started the group. We handpicked students with the help of our guidance counselor. Just, some students who could use, you know, some positive influence, um, you know, get to meet some new people, connect them to resources and opportunities outside of the classroom. And, um, as the semester went on, um, the conversations got deeper. We asked specific topics, um, some including hygiene. Um, there was health, there was, uh, finance topics, that sort of deal. And we would have these open discussions and dialogues. And then we started to connect with some of the businesses in the area. So, um, so we began there. So we did that for a few years.
Um, that last year, it was just me. So, um, the other teacher, she left the district and so ... but I wanted to continue the program, so I kept that going as a teacher. And then that next year I was promoted to assistant principal. So I actually left the building and went to a different middle school in the district as assistant principal. And so when I came back to the building the very next year as a principal, I wanted to revive the program. And I'm like, I want to see ... I know that this is necessary, so I want to continue that. So I picked back up where I left off, basically. And I handpicked some students, some seventh graders, some eighth graders, and we sit down and we have lunch during the day and then afterschool we have these activities that we're completing. So, um, it really just helps them connect to someone who's different than them or close to to who they are.
Like that sort of thing. It just relates them closer to to someone else and then they really get involved in the Garfield community. So that was the point. Like, that's the whole focus. So then now ... and then, in June, I go to the high school graduation and my very first group of G.E.M.S. have now graduated high school. And like that's really the coolest part. Like wow. Like they grow up and you know, they move on. But really we started to work with them last year. We were like, we want them to come back to the middle school as mentors to these middle school students. So as high school students, they're picking up some of those habits and they're learning what that means to be a mentor. And so they're helping to guide these students along.
James Loy:
So I imagine that makes the program even more powerful if you have people who have gone through it, they have had time to grow themselves, reflect upon it, and then come back to be mentors themselves to a whole new group of young women who are now going through middle school.
Robin Beavers:
Yeah. So it just ... it makes a huge difference. As a middle school student, I had a mentor, and you know, she would take me out and we'd go, you know, sit down at a restaurant and she would tell me about her job and you know, what her life was like. And then I saw her getting married and you know, she started to have kids and that sort of thing. So it was just being connected to someone outside of my family, outside of school that I otherwise would not have connected with. And that really made an impression on my life. So I wanted to be able to do that for other young ladies.
James Loy:
You talked about middle school being an awkward time. In addition to that, what do you think are some of the biggest challenges that most middle schoolers face today? What are some of the problems that they're struggling to deal with, and how have you seen them overcome some of these issues to grow and develop and just survive or thrive, you know, through some of these challenges?
Robin Beavers:
Yeah, I think now what we see is with the involvement of social media, how students aren't really able to communicate very well with each other or you know, the, the drama that we see. It happens on social media, and then they have to come to school. And so there are things that are happening that we aren't seeing anymore. Uh, and so just teaching them how to communicate with each other and communicate effectively and remove themselves from negative situations if, you know, if they don't feel like they need to be there. If they don't want to be around someone or they, you know, lose a friend, that sort of thing. So it's really ... it's a difficult time because you're figuring out how to, to push forward and focus on what your goals are, while still being social and being able to connect to friends and do the things that you like to do, you know, without causing, you know, some sort of disruption.
So, that's the piece that's really important. And so, now when I, when I see some of my former students and they like, they'll email me. Um, one of my former students, she emailed me at the beginning of the year, and she picked up her diploma over the summer and she just emailed me and thanked me for helping her move forward. Because she doesn't know that she would've been able to complete high school if I wasn't helping her through. Even though she was no longer one of my middle school students. I still checked in with her. I still went up and talked to her at the high school and over the summer. She had a summer school course. I run the summer school program. So I was able to have conversations with her. It just, you know, helped guide and push her along when she started to feel like this is exhausting and I can't really do this. And so, having those ... that feedback from those former students and just knowing that I made a difference in their life, and this program made a difference in their life. That's really important. So ...
James Loy:
What are some of the things that you've seen students be able to do now? Like, do they have more confidence or what kind of tools do they have or skills that they have to sort of deal with some of the issues that they're trying to balance? Or what are some of the positive transformations that you've observed?
Robin Beavers:
Oh, absolutely. More confidence. Um, just in their, in their academic strengths and their social strengths. I have a student, she's now at Ohio University on a full scholarship. Um, so she ... as she started with me as a seventh grade student, she was in my first period class, the first seventh grade class I ever taught. And so, um, so she was one of those students we pulled in, she was quiet. I'm a little reserved. Um, but she, she was very wise for her age. And so she had a lot of input. And she was, you know, so we were able to talk with her and, and uh, motivate her. And so we kept in really good contact and she had a younger sister. So in a few years, her younger sister was also in the group. And so now....So I went, this summer, to her graduation party and you know, and I got to see ... so over the years, just staying connected, and that's one of the students, you know, who I would reach out to and say, Hey, like how do you feel about... How did you feel about this when you are in middle school?
What can I do to help these young ladies? And so, now to see her moving on, and she's in college, you know, and because she was able to take hold of some opportunities, and you know, when she would reach out to me for recommendation letters and that sort of thing, like, Hey, like you were influential in my life, this program really helped me. Would you be willing to write a letter of recommendation? And so, I find myself doing that a lot these days. So yeah. So I'm, I'm seeing the benefits.
James Loy:
Do you have any advice for other adults who may be working with middle-schoolers or teachers or parents who may even have middle school aged children? What advice would you have for them? Cause, I mean, when you bring up the idea of social media, that's a great example of something I think that is, is kind of becoming a bigger force in all of our lives. But you know, most parents, they didn't have social media in middle school, so they may not know how to best deal with that situation because it's so new and changing so quickly. So what advice would you have for adults who want to help the middle school children in their lives thrive in similar ways?
Robin Beavers:
Well, you know what? I would say first to listen to the students. Um, most students know what they need. They just don't know how to get it. And so I've, I've listened to students all the time. I have an advisory group and they're helping me through my job every day because I'm here for the students. Always student first. And my staff feels the same way, you know? So we want to know what the students have in mind, what are they struggling with? And when they recognize their own struggles, we're able to help them through it. Rather than put pressures on them that don't necessarily have to exist.
So once they open up like, Hey, I'm having struggles with anxiety or stress, like now I know where to point them, and now I can give them, you know, some coping strategies. Or I know, you know what mental health counselor I might be able to direct them to. So we have those programs in place. But listening to the students as humans. We often know what we need. We just don't know how to get there. And so I would recommend just listening first. And then being empathetic to whatever situation they're going through. And often in middle school, because they're middle school, and we all made it through, we're like, all right, you'll be okay. But they aren't okay in that moment. So even though we know they will be, we still have to be very cognizant that they are feeling very deeply what they say they're feeling. And not to dismiss that, to recognize that that is an issue for them, and then help them work through it.
James Loy:
How has your work with youth in this way influenced your work as a principal? How has it carried over into your roles as an educator and now as an administrator?
Robin Beavers:
It really helps, um, found my philosophy of, you know, my very student centered philosophy, you know. We, and I believe, cause I go by this quote all the time, education is the most powerful weapon used to change the world. And we need that. So it's ... And it's not just content. Its education. It's about teaching students to educate themselves about their own interests, and to be critical thinkers. And so when I think about, um, what it means to be a mentor and how we need to advise students, um, when I think about myself as an educator, I'm talking about what the student's future looks like. Not what my future looks like.
Uh, you know, I'm still working on my future each day. But they have to live into a world that I won't have to live in one day. And so they're responsible for what happens. And so we definitely want them to be accountable for their actions, and to understand how their beliefs and their actions right now may shape their future. So I'm looking at that constantly, like, what does that look like as an educator? What is my responsibility to these kids? And that's really, sometimes, to get out of their way, you know, let them handle what they know how to handle. And often, if I have like a really, sometimes, actually most of the time, if I have a big issue with a student, I'm like, wow, I don't know what to do. If I talk to a student, they can give me the answer. Because they know. This is their peer. This is how they might be processing.
So it's really just being open to what the students have to say, and what they have to offer. And I put that first. And so when we talk about, um, being part of a youth council. The mayor of Lakewood, Mike Summers, who's an awesome person, he decided that he wanted to hear from the youth. He wanted to know what they had to say. And so I'm like, Hey, I'm in the schools. So if you want youth I can help, you know, get the, the youth on board. So we actually sat down. We created a task force. We went through applications, and we pulled in students. And it was great, cause I'm looking at these students, I was like, this kid was in my class. I know, you know, I know a lot about this kid. I know what they've been through. I know what they've accomplished and what they can do on this committee.
So being able to offer that voice, because these are community members who are giving up their time to volunteer to be on this commission. And so when they're looking through applications, sometimes having that voice behind it, that backstory, like, Hey, like I know that this kid can really contribute. And so we were able to do that. So we formed our task force, and now they're looking for members to join the council. So then I opened that up to my middle school students. So any of my eighth graders could apply to join us youth council. And then they'll be able to have these meetings with the mayor, let him know exactly what's going on in Lakewood from their perspective, and what they would like to see to make the city better. So that's just instrumental. As an educator, if I'm not talking to the students, if I don't know what they need, then I'm not doing my job.
We have our competencies within the district, um, that our superintendent has developed. He wants us all to focus on these like, um, communication and collaboration, on creating global citizens. So we have, you know, all of these traits that we want the students to really work on. And so my job, as the middle school principal, is to make sure that I'm feeding this into the students. So when they go into the high school, when they graduate and move on, they know that this is our mission. But not only for the school system, for the city as a whole. And then who they'll be as citizens in America, in general. So, um, when we look at that, we have to talk to the youth. We have to know what they want, how they perceive the world, and what we can do to help make their experience better.
James Loy:
Do you find that the youth are excited to be a part of this?
Robin Beavers:
Yes.
James Loy:
Cause I think, I mean, you hear a lot about parents and adults and teachers struggling to get children of certain ages interested in certain things, you know, so some people might be cynical and think, well, if I tried to do that, they'd just roll their eyes at me. Not, you know, not, not be interested. But it sounds like you don't have a problem generating engagement, or getting them excited to be involved.
Robin Beavers:
No. And that ... And that's just it. So, and then... One thing I did was I referred to some of the teachers, so I'm like, Hey, like we have this great opportunity. So I'm taking feedback from the teachers because they're working with the students. They see how they are in class and what some of their interests are. If you know, if they have interest in working in the political world, if they are vocal, if they have interest in doing any type of activism, that sort of thing. So we ... And we have a civics club, so we have those, um, activities anyway. And so to pull from those students, and we opened it up to everybody. And it is students who are quiet, who may not, you know, and may not stand out somewhere because there's nowhere for them to really vocalize that this is their interest.
This gives them the opportunity to do that. And once they started to see like, Hey, this is open to everybody. Once the deadline started to roll around, I started to get emails from students like, Hey, like can you send me this link because I lost it and, you know, in my email and I want to be able to apply. And so they're really interested because they want to be heard. I've noticed there's a huge difference between the youth now than maybe when I was growing up, or my parents were growing up. They want to have a voice. I don't know that I wanted to have a voice. I knew that, um, like we had certain avenues where we were able to speak with adults. But I don't know that I knew that anyone was listening to me. And now the students, they want to be heard. And then they're going to yell and shout and scream unless you listen to them. And so now this wave of activism is just ... it's almost a part of their societal branding. And so they do this quite naturally. So when I have those voices to stand out, they really want to advocate for themselves, and want to advocate for the community. Who am I to silence them? So I'm asking them to come in and really speak their voice.
James Loy:
One of the thing I want to come back to is you talked about how quickly students are changing or at least a difference from the previous maybe generation. How does that speak to an ability to continue to see how students change? Like maybe they're changing so quickly now because the way technology is changing, the way phones are changing, the way social media is changing. It's so rapid, like even students between like just high school and middle school have totally different social media experiences or technological experiences. How can people keep up? How can you have advice for parents or educators on how they can continue to stay ahead of these things to even know or have the confidence to know that they're able to stay relevant and engaging, or even helpful to students?
Robin Beavers:
Well, you know, a lot of that, um, is really teaching the students to be critical thinkers. Um, because we're not going to be able to keep up with everything, and we can't predict the future. We just know that it's changing rapidly. So we have to teach them how to adjust with the tide. So as things change, as far as technology. Jobs that were once available that we were training them for no longer exist. So now they have to be creative, and what it is that they want to do. And now they have to be problem solvers. So we teach them that. So if you see an issue, how will you solve problem, and how are you able to turn this into a career? How can you monetize that? So it's about teaching them a way of thinking, as opposed to teaching them how to do something specific. Because they may not be relevant in the future.
Relevance is, you know, it's relative, you know, it's ... That's something that's in and out. And something may be relative right now. Like, Oh, we're going to train you to do this job. And by the time they get there, it doesn't exist. You know? So, and that's very well it. Except for teachers, we know we'll always be around, you know. But um, when we talk about different trades and the different experiences that the students may have as the world changes, they just have to be ready to move with the world. That's what we're preparing them for. So when we teach them math, when we teach them language arts, and we're teaching science and social studies, and we have our arts and health and STEM. We're doing all that to prepare them for something we don't know that they may experience, but we want them to have all that information.
Robin Beavers:
Miami University certainly did that for me. I was taking Miami plan courses and I'm like, why am I taking this? But then I tap into it. At some point, I'm like, Oh wow, I'm glad I took that course. Like, I had no idea what it would do for my life. But at some point, that information is relevant and it's necessary. So you just ... We have to teach the kids to absorb everything they can because they don't know what information may be relevant at different times. So yeah. So teaching them to be those critical thinkers and utilize those communication skills, collaborating with the people around them, not being afraid to explore the world, or people different than they are? Having a growth mindset. We're huge on that. Growth mindset. I can't do it yet. So if you don't know how to do it, you will learn how to do it.
Robin Beavers:
You just have to believe that. So if they have those basic skills, that resilience. Because you'll fall flat on your butt sometimes. But being able to bounce back up is more important than that. So that's what we teach them. So they'll be able to work through the workforce at some point.
James Loy:
Does that also apply to how you engage with teachers, and how you want them to see their job as well, with that same kind of growth mindset? Because, you know, what may have worked with students three years ago, or even just last year, may not work at all with this new incoming group of students.
Robin Beavers:
Absolutely. Absolutely. As the teachers, because we're taught to know, when we don't know, we have to say, okay, that's okay. You know, we have to be okay with not knowing. And sometimes that's uncomfortable, especially because we were taught, you know, just to sometimes sit there absorbing information, do what you can with it.
Robin Beavers:
Um, and then once you're an educator, because you're supposed to be, um, very educated in your content, you're supposed to know it all. But we don't know it all. And now this is the phase where we're accepting the fact that we don't know all the information, but we can know more information as long as we open our minds. And then we're also open to what the students have to say as well. Because they are often great teachers themselves. So.
James Loy:
Wonderful. Well, congratulations again on being an 18 of the Last 9 2019 winner.
Robin Beavers:
Thank you!
James Loy:
And uh, thank you so much for being on the podcast.
Robin Beavers:
Alright. Thank you.
James Loy:
This is the Reframe Podcast. If you found this information helpful or informative, please share it with your friends, coworkers, family members, other parents, especially if they have middle school age children of their own. We have many more free episodes available right now on Apple Podcasts, on Stitcher or wherever you get your podcasts.