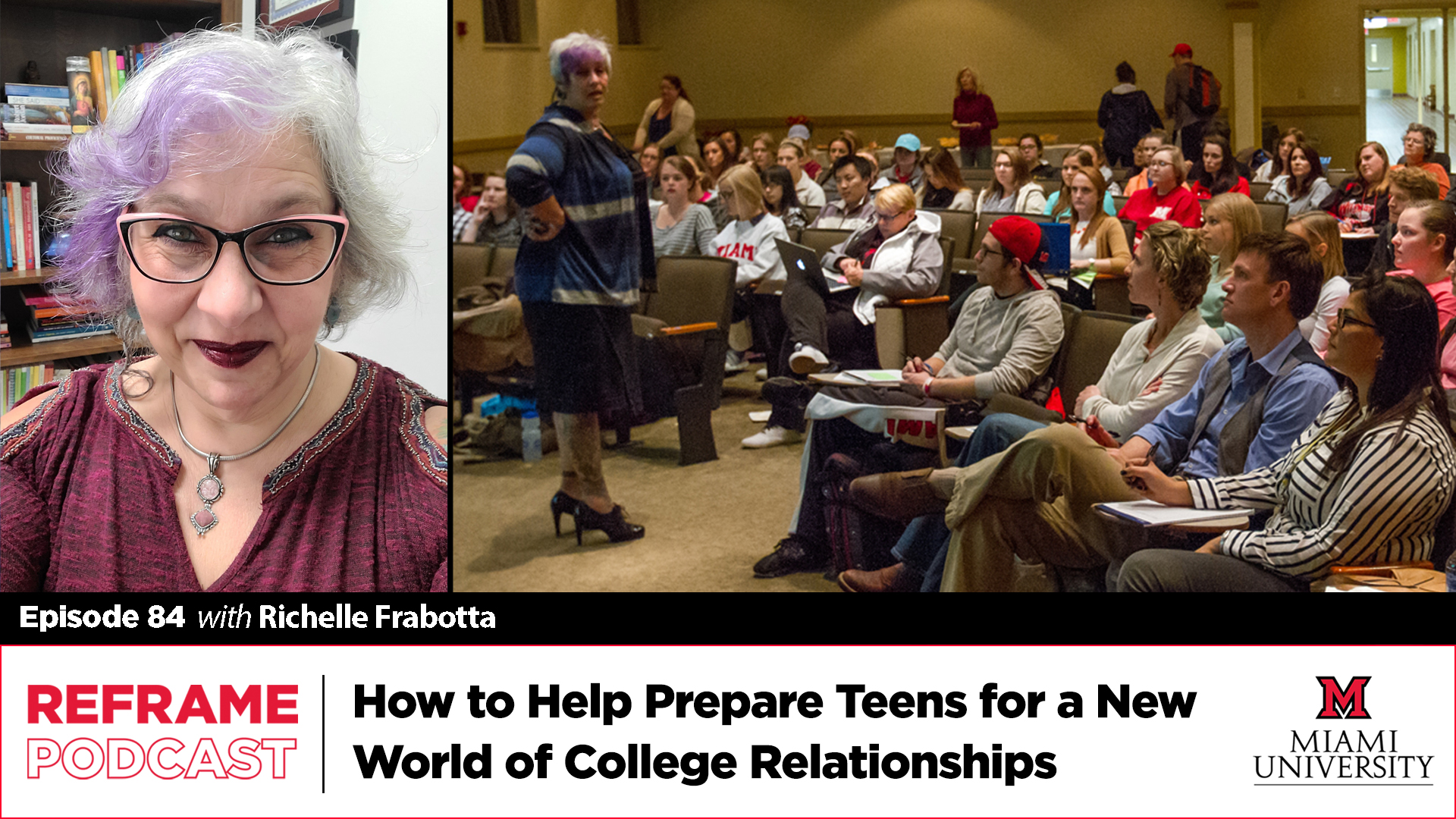 Jun 01, 2021
How to Help Prepare Teens for a New World of College Relationships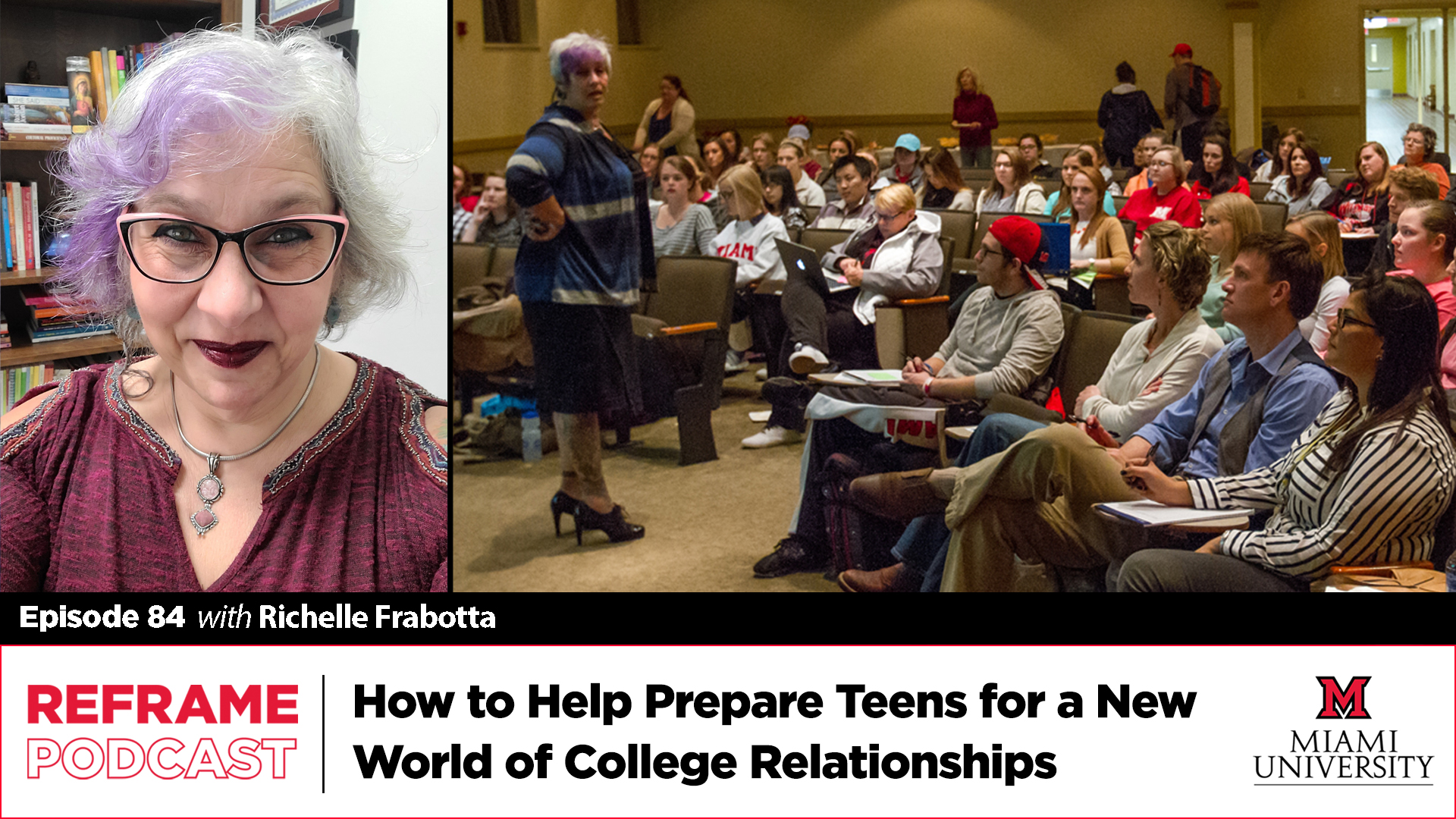 Reframe Podcast          More Miami Podcasts          Request Information
College is not only a time of growth and change. It's also a time of newfound freedom. Many students will use this freedom to explore new relationships, but the world of young adult relationships today is far different than the one their parents may remember.
On this episode, certified sexuality educator Richelle Frabotta talks about what new college students, and their parents, should know about establishing healthy relationships, issues around consent, the importance of open communication, and more. 
Additional music: Broke For Free, "Add And"
Read the transcript
James Loy:
The views and opinions expressed in this podcast by the host and guests may or may not necessarily reflect the views and opinions of Miami University.
James Loy:
This is Reframe, the podcast from the College of Education, Health and Society on the campus of Miami University in Oxford, Ohio.
James Loy:
College is not only a time of tremendous growth and change; for many, it's also a time of newfound freedom, and that can be both exciting and daunting, especially as many students will use this freedom to explore new relationships. And according to sexuality educator, Richelle Frabotta, the world of young adult relationships today is far different than the one their parents may remember.
Richelle Frabotta:
It's a very different space today than it was 20 years ago than it was 30 years ago. We ought to broaden the conversation.
James Loy:
Richelle is one of the few certified sexuality educators in the country, and you may have heard her on the podcast before. She's been on two of our most downloaded episodes, Episode 40: Being Open and Honest About Sexuality and episode 60 titled Periods Rock! Today, Richelle is here again to talk about what new college students and those approaching college and their parents should know about establishing healthy relationships while away from home, perhaps for the first time. We'll also cover issues around consent, as well as the tremendous importance of open communication and more. That's all on the way on this episode of Reframe.
James Loy:
Richelle Frabotta, welcome back to Reframe. So as a sexual educator who has worked with college aged students, incoming students, even I know you've done work in K-12 schools with students as they approach college, what are some of the trends that you see now with how young adults are trying to figure out how to have relationships, their attitudes towards relationships? And is that any different now than what you've seen in the past?
Richelle Frabotta:
Yeah. No, that's a great lead in, James. What I'm noticing less and less is gender constructs. And in particular, I mean, it doesn't matter what conversation we're having, if we're talking about heterosexual cisgendered identified people or not. I'm seeing more students who are open, comfortable with other people, let alone themselves with the idea of fluidity. So what I think you and I would understand is probably traditional gender roles from I'll just say, 1950s, just to orient us in a historic context of male, female roles. I don't see that happening as much anymore. And I take that a step further and suggest that the idea of relationship also doesn't have to be based on sex, based on intimacy. Intimacy, I think is a much more fluid word. I don't even mean intimacy as what you say instead of sex. I mean, the idea of being close with someone.
Richelle Frabotta:
I think the perception of how do we navigate the world as a female, as a male, as someone who's masculine, as someone who's feminine, as someone who is developmentally appropriately questioning autonomy and building their own and then looking for establishing more personal agency, i.e, with coming to university and not being in the same systems and constructs, identity is a big deal now and I think a very open fluid way. I did not say I think more people are gay or lesbian. What I said was, I think people are much more open to the idea of, if you don't do this, then it doesn't make you not a dude. So what I see among 20-year olds that I've worked with here at this university over the last 11 years is a willingness to go beyond the binary, a willingness to recognize the gray. What I see as challenging for younger people doing what I just described are older people suggesting, mandating, reinforcing that a binary, or a right way, or you've been taught to do it this way, therefore you will do it this way, is impeding what I think is a natural fluid process.
James Loy:
Mm-hmm (affirmative).
Richelle Frabotta:
20-year olds today are not the same as 20-year olds five years ago and definitely not the same as 20-year olds 10 years ago.
James Loy:
Yeah. And I think that really underscores the importance of having this conversation, I mean, if young adults are changing that much that quickly. I mean, even siblings might not even be able to share common experiences, let alone parents who are much further removed from their child's experience. So with that in mind, what are some of the things that parents and students need to know about forming relationships while preparing to enter a new situation, like going off to college, especially with all the new found freedom they may enjoy?
Richelle Frabotta:
Well, let me go macro and let me be really broad, and then I think what I ended up wanting to do is focus on more sexuality, sexual education, ideas, right? But honestly, the challenge I see around establishing autonomy or being more comfortable with personal agency without the oversight is a little disconcerting. It's a little ungrounding. I think it can be a little chaotic. So what I'm encouraging is that, especially for first years who have not been in a multicultural or multiple person living situation before, stay grounded and recognize that centering on yourself, and I don't mean self centered. I mean, centering on yourself should be a priority, maybe establishing routines, patterns, touchstones of consistency throughout the day, because let's face it, you're making up a whole new day. Your day here will probably go nothing like your day that you've had for the last four years preparing to get here.
Richelle Frabotta:
I think also being open to new people, which I don't want to contradict myself. It sounds like I'm saying that 20-year olds are definitely more open to new people. But I think also when coming to a new space, perhaps with folks you've never met before, if you're living next door to somebody in a residence hall and you've never seen their color skin before, or you've never heard their language before, or you've never known somebody who's not lived rurally before, then why not take an opportunity to be like, "Hey, how are you doing? We're going to be living together for at least the next semester, maybe the next year. I'm just saying hey. This is my name. This is where I come from. Great to meet you." Or extend this idea that having a relationship... And again, I do not mean intimate partner, just a connection. That's what I mean, connection. Having a connection with the people who are around you is a good thing to do regardless, or in spite of, or of course with people that you've not met before.
James Loy:
Mm-hmm (affirmative).
Richelle Frabotta:
I think the other part of this conversation that I haven't actually used words for yet is power dynamics. I keep saying autonomy, personal agency, but also the idea that when you move from home, your power dynamic as you've known it with your parent, guardian, person that's been raising you for all these years, whatever that means, is very different than a power dynamic you'll find on campus. I'm nobody's parent in a classroom. And understanding roles I think is a key component. We can take that phrase, power dynamics, and we can also apply it to relationships. Right?
James Loy:
Mm-hmm (affirmative).
Richelle Frabotta:
The idea of teaching consent seems so simple. It's no means no. There's enthusiastic yes. You check in all along the way. So we've got little tips and tricks for consent, but what we don't really talk about is the gray. And the gray, in this case, when I'm using this phrase, power dynamics, is really where I think parents in the community, frankly, from where the 20-year old came from ought to do some work. Recognizing that I can carry my keys and my knuckles to my cars for 16 days in a row, and on the 17th day, it's not my fault if something happens to me and I didn't have my keys in my knuckles. So the idea of consent is a little bit more the gray that goes along with the idea of I've said no and bad things are still happening to me.
James Loy:
Can you talk more about consent? I think that's a big issue around what is causing a lot of anxiety for young people trying to date, have relationships, especially if some people may have learned more of these outdated or traditional ways of thinking that they may have seen on TV or maybe gotten mixed messages from all kinds of different sources. Can you walk us through what you tell students about consents, maybe especially if they haven't been exposed to that yet? What are some of those tips and tricks that you mentioned that you would offer into your class or students?
Richelle Frabotta:
Sure. Well, I mean the easiest thing that anybody who's a concrete thinker can wrap their mind around is no means no, yes means yes, be enthusiastic, do check-in process. Right? But yeah, the nuances that go along with that are difficult. I think we have to maybe interject in this part of what do we teach around consent, especially to 20-year olds in a new environment, in regards to talking about relationship that may or may not have a sexual component to it. We have to talk about being vulnerable. We have to talk about being embarrassed. I think we have to talk about discomfort.
Richelle Frabotta:
Again, in a consensual situation among two people who are getting to know each other, it is my takeaway from working with so many students here and from what they write anonymously, as well as what they speak in classroom in our conversations, that being vulnerable is a difficult thing. I certainly understand that and would agree, but being vulnerable is something that comes with being in a relationship, being vulnerable with something comes with looking for an intimate partner. I don't mean vulnerable to violence. I mean, vulnerable to exposing yourself in a way that leads you to maybe feel embarrassed, or to actually be rejected, or to be told, "Wait, that's not what I signed up for, or you're not who I thought you were."
James Loy:
Mm-hmm (affirmative).
Richelle Frabotta:
And then I think being comfortable with that is really the essence. I say this because what I read a lot in anonymous, I call them one-minutes where it's basically free-write during a class period in my human sexuality course, what I read are things like, "I didn't really like what was happening to me. I knew I could have said no. I didn't say no because I didn't want to be embarrassed. I didn't want that person to feel like I was rejecting them. If I said no now, I didn't know if there would be a possibility for a relationship next week. I wanted to leave my options open, so I just put up with what was happening now." And that's really, again, underscoring power dynamics, underscoring personal agency, underscoring a binary definition of consent. We really need to get into that idea of fluid exchange where individuals can say what they need to say, feel vulnerable, and then move forward from that, not be devastated from rejection or not be devastated if feeling you are rejecting somebody.
James Loy:
How do you respond to comments like that? Do you have advice for students in how they can avoid finding themselves in similar situations in the future, or maybe for students who may not want to have to deal with that experience in the first place? How do you follow up with comments like that?
Richelle Frabotta:
Yeah, semantics is important so let me address what you said. First of all, I have no advice. Second of all, I'm a translator. So I'm going to pull from research. I'm going to pull from medically accurate, scientifically supported information about not only human sexuality but frankly transdisciplinary work, behavioral health, psychology. I have a communication degree. And so what are the things I'm going to offer in a teaching situation in a classroom is, "Hey, how are your conversation skills? Do you have eye contact? If you do, why? If you don't, why not? How is your comfort level with saying words that are correct names for body parts or slang terms? If somebody said this word in your presence and wanted to do it with you, would you really understand what they were asking to do? And so, I think communication is a huge component to this.
Richelle Frabotta:
Again, in thinking about what could happen for 20-year olds prior to getting here, I'm always going to default through a K-12 comprehensive sexuality education work nationally where communication skills are a primary standard.
James Loy:
Mm-hmm (affirmative).
Richelle Frabotta:
And the communication skill of just saying no... Oh my gosh, we go back to the 70s now with that. It's not working. And if it was working, we still wouldn't see the sexual violations that we see if current consent were binary. So having said all that, I think communication, the idea of connection, and how even when we have a relationship, when we care for people, things will creep up that are uncomfortable and that we can address that discomfort directly and openly with a vulnerability that says, "Hey, if I didn't care, I wouldn't be having this difficult conversation with you," or, "If it's not difficult for you, it's difficult for me. So can you respect my challenge that I'm having? I really want to move our relationship forward. I want us to stay connected, so we really do need to cover difficult things."
Richelle Frabotta:
Yeah. I think that's where I go with it in a classroom is, so much of what 20-year olds think about, I'll say sex in this case, comes from adult erotica. Most people call it pornography. I'm calling it adult erotica. And although I think many of us recognize that what you see on a screen is not reality. Those are not documentaries, right?
James Loy:
Right.
Richelle Frabotta:
Either through parental conversation or K-12 comprehensive sexuality education, when we don't have a system set up to help young people becoming not so young people are recognizing navigate fantasy from reality that those ideas of difficult conversations don't come into play.
James Loy:
Do you think misinformation is a problem at all, especially when you reference things like pornography or adult erotica? I mean that's more prevalent or at least more accessible than it's ever been before. In addition to, I can imagine what else is just freely available on the internet. So is misinformation a problem?
Richelle Frabotta:
James, that is not the problem at all. It's addressing and navigating the misinformation with a direct, open, and in my world, medically accurate, scientifically supported, research oriented, with personal values, not mine as a teacher, yours as a parent, in the conversation. For me, that is the miss, not the exposure to the unwanted. It's the lack of addressing it, and more in particular, the skillsets that aren't being built to address things like embarrassment, or to deal with rejection or vulnerability. There's plenty of data out there that suggests those skills really need to be taught. And I think it's a co-teaching issue. I think parents, guardians, family structures absolutely are mandated to jump into those conversations so that those family values can be addressed, discussed, known, revisited, and solidified.
James Loy:
That's true. That communication piece is interesting because I think for a lot of people, probably most people, having uncomfortable conversations is something that just intrinsically feels like it's something that should be avoided. People just naturally want to avoid it. But I think to reevaluate or just to adjust your perception to see it instead as a good and positive thing, like you said earlier, it does signify that you do care in a way but that takes an adjustment, right? It's something that doesn't come naturally.
Richelle Frabotta:
Right. And then you have, well, a bad situation. So let me be clear because I'm not a victim blamer, right? So, I do want to state quite clearly, when somebody is uncomfortable, it doesn't have to be a verbal no. We should be capable and able enough of respecting what we're picking up directly and indirectly as not embracing what's happening a hundred percent.
James Loy:
Mm-hmm (affirmative).
Richelle Frabotta:
But then there are folks who just ride right over that, and those are the no means no people. Stop perpetrating is what I say to my students. If we want to stop challenges around this binary understanding of consent, then quit being a jerk, don't hurt people, and don't back up and say, "But I didn't realize I was hurting them." Because I'm pretty sure, when there's intent to perpetrate, when there's intent to violate consent, that that is the focus. Right? And that's when I'm saying, stop that. Now, when there's no intent but a product of the situation or by-product of this situation is an uncomfortable situation that turns non-consensual then yeah, then we go back to this conversation of how do we best prepare 20-year olds to come to campus in situations where they perhaps for the first time, and frankly, I don't really think so, but for the first time are going to face decisions that will be difficult to make.
James Loy:
So we've talked about consent a little, but I want to ask you about the cup of tea analogy. It's a popular internet video about using making a cup of tea as an analogy for consent. I wonder if you can talk us through what that video is, how it relates to consent, and whether or not it's a helpful model to use.
Richelle Frabotta:
Well, you can go to YouTube, you can search tea is consent video. There'll be a couple of versions and then there's some parodies of it. But basically, it's situation after situation after situation where tea is used as an analogy for sexual consent, and situations are benign and then situations are very complex. Like if somebody comes over for tea on a Saturday, it doesn't mean that they want you to make them tea on Sunday. Or if somebody comes over and you had tea three weeks ago, it doesn't mean that they want tea again. And then it gets a little bit more like if somebody has been drinking alcohol and then they asked, "Hey, would you make me some tea?" then don't make them tea, they've been drinking alcohol. Or if somebody's passed out, then you don't make them tea. And again, as we watch this and I believe it's just maybe a three-minute video, it's not very long.
James Loy:
Yeah. It's pretty quick.
Richelle Frabotta:
Yeah. It is so simple. I believe most people walk away going, "Oh, I get it."
James Loy:
Mm-hmm (affirmative).
Richelle Frabotta:
Yeah, too simple. That's what I mean by too simple. It's not nuanced, that's another way to say it. It does say like, maybe you start having tea with somebody and then you decide you don't want it, you're allowed not to want the tea and they should not make you have the tea. Don't make anybody drink the tea. Again, too simple because... What students tell me, "But I drank the tea because I thought that's what he, she, they wanted. I'm a people pleaser." Okay. But now you're not pleased. So how do we get an intervention in there, so that consent is truly given and truly owned? Right? Is it a violation? Yes. Is it a grave violation? Yes. So not in blaming the victim spirit, but in the idea of personal agency spirit.
Richelle Frabotta:
That tea example, it's stick figures. So you can't really assign a sex or a gender, but I think that's also misleading. I think there are some power dynamics that aren't addressed among same sex or cisgendered heterosexual, transgender identified folks, folks who are non-binary in their gender presentation, or folks who own the label queer that those simple presentations of just don't do it may get muddled because identity is not either this or that. So I think we need a tea as consent video that actually teases out what I would call SOGIE inclusive, so Sexual Orientation, Gender Identity, and Expression inclusive.
Richelle Frabotta:
Yes, you're right. I'm seeing your face. You're right. It's the same message for everybody. But how that message is interpreted by somebody who doesn't buy into traditional gender roles and presents as a non-binary identity when you've grown up in a culture that says, man on top, woman on bottom, you navigate new rules, you navigate new, new all the time because that old script doesn't work for you. And then the person that you're with, maybe never thought about navigating the old script. So I'm a fan of the video. I think it's a great conversation starter. I'm more of a fan of the conversation where we can dismantle the simplicity and talk about the complex, and live with a more concrete, less nuanced understanding of what comes up in these situations.
Richelle Frabotta:
And again, I'm just going to loop it back around, before 20-year olds get here, it'd be really great if these conversations literally happened within their family constructs. And not suggesting parents aren't doing those conversations, but maybe suggesting parents aren't doing those conversations in a way that allows for a person with burgeoning autonomy in a developing understanding of personal agency who is maintaining family values and wants to maintain family values, but just by the nature of being the age that they are in a new place is understanding that there are other things than those family values.
James Loy:
Mm-hmm (affirmative).
Richelle Frabotta:
That's a difficult conversation, I think, for parents to have to go outside of what they feel, think, believe, want for their, I'll say, child and then I want to say emerging adult.
James Loy:
It sounds like one of the main themes is that parents embracing the awkwardness to actually actively have these... Well, first of all, having an understanding that relationships these days are most likely very different from what they experienced. So at least coming to the table with that understanding and awareness, even if they don't yet exactly know what the world is like that their kid might be dealing with, at least understanding that it is different world today, and then embracing the awkwardness that might arise as a result of having these conversations. And then of course having them periodically where it's developmentally appropriate, not necessarily just the day before they leave for college, and also just not ignoring it all together.
Richelle Frabotta:
I think so. And I have to say the 30 years I've been teaching this uncomfortable material, it became apparent to me year two, if we don't face it together, if you try to put it in a bottle or isolate it from your child, and then we have experiences like your child goes away to college, your child has access to things and experiences that you never did because of internet, then we really haven't done a good job of offering navigation skills, offering the idea that, "No, sweetheart, you're not accountable to anybody but yourself. So even if it's an uncomfortable no, your "no" is what is priority as opposed to the discomfort." So I really wish these conversations would happen prior to 20-year olds getting here. But when they get here, it's these conversations that my students tell me are most beneficial.
Richelle Frabotta:
Honestly, I don't care if somebody can spit back an unplanned pregnancy to statistic, or what's the perfect user rate of birth control pill versus a human user rate of birth control pill. That's not the data I care about. It's the understanding how it's applied to one's life and the choices one makes and why one makes those choices. That, I think, leads to the conversation that we've been having all along about what a 20-year olds need to be prepared for when they get here for their beginning.
James Loy:
Mm-hmm (affirmative).
Richelle Frabotta:
And that's understanding autonomy and recognizing that personal agency is going to continue to develop in a whole different way. And then how to say no is a great idea in thinking of sex and sexual behaviors right now, but the saying no can be very convoluted by factors that perhaps haven't even been discussed or considered in the family home or in an educational setting prior to being in the situation.
James Loy:
Yeah. I don't know if it's ever been easy to establish and maintain relationships, but it seems like a lot of people feel there's more uncertainty now than ever, or is this just par for the course? It's just part of how these are new ways people are looking at old issues, or is our current climate somehow are more confusing than ever?
Richelle Frabotta:
I don't want to say confusing. I want to say it's a more open, more broad, more multilayered, more complex conversation than ever before. Because when we started this conversation, I talked about traditional gender roles, and I do think 20-year olds these days are not buying into what I'll just again reframe as a 1950s approach to life.
James Loy:
Sure.
Richelle Frabotta:
And what can we do to support that? We can recognize it, that it's a... I was going to say brave new world but I don't want to bring that nuance into it. It's a very different space today than it was 20 years ago, than it was 30 years ago. We ought to broaden the conversation.
James Loy:
Richelle Frabotta is certified by the American Association of Sexuality Educators, Counselors and Therapists, and she is currently one of only 23 people in the country to hold that distinction.
James Loy:
And this is the Reframe podcast. Thank you so much for listening. If you have any friends, colleagues, or students who will also find this episode helpful, please pass it along. Reframe is always available, wherever podcasts are found.