Reframe Podcast: Episode 23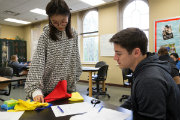 STEM Educators Need to Keep Curiosity and Creativity Alive
Nov 15, 2017
In this episode, we talk about the growing importance of teaching a STEM-based education today, why these STEM fields that include science, technology, engineering, and math are crucial for students of all ages, and how some teachers are getting creative with their approach to STEM in the classroom.
Read the transcript
James Loy:
This is Reframe, The podcast from the College of Education, Health and Society on the campus of Miami university.
In this episode, we talk about the growing importance of teaching a STEM-based education today, why these STEM fields that include science, technology, engineering, and math are crucial for students of all ages, and how some teachers are getting creative with their approach to STEM in the classroom. 
(Music Fade)
(Background Audio: Ambient classroom noise. Students discussing how to proceed with their project.
As teams of students sorted through the random materials heaped upon the table, they were trying to solve a very specific engineering and design problem -- one that required the ability to synthesize a number of different skills, and in pretty unexpected ways, as Miami Senior Emma Costello explains . . .
Emma Costello:
So, you learn how to like communicate better because sharing ideas is always better than if I were to do it by myself. And then it is something that obviously none of us have ever done before. None of us have ever built an actual shoe, so it kind of gives us some hands-on experience and obviously a lot of trial and error experience as well. 
James Loy:
I imagine most people haven't built their own shoe before.
Emma Costello:
Yeah! So we were kind of shocked when we got the project because we were like, "Did she actually say build a shoe?" Like a miniature shoe or . . .  So yeah. It is definitely going to be tough but, yeah, we are rolling with the punches. 
James Loy:
So the students had to build a shoe. But just one. Though, to some degree, it had to be functional, which the students would soon test during a final presentation.
And the goal wasn't necessarily to unlock the next breakthrough in footwear technology. The point was to get students to think about what that type of process actually requires.
Here's Ann Haley MacKenzie, EHS associate professor of teacher education, talking about this particular class and what this project tries to accomplish. 
Ann Haley MacKenzie:
This is called Creativity and Innovation in STEM Education. So they really go through the engineering design process where they come up with the idea. They go through a design phase and then in the implementation, as they uncover problems, they have to come up with a strategy to address those problems. And then ultimately decide on a final design that meets the constraints they were given.
James Loy:
So the students flexed lines of clear tubing. Tugged on strings. And carefully considered the form and function of each item, while debating whether or not a sponge would provide enough cushion and support, or if a rubber glove could be retrofitted for a foot, or if sand paper increased traction.
Throughout her classes, MacKenzie often uses these kinds of problem-based learning experiences to emphasize creativity and collaboration. Other projects have challenged students in other ways. One project had them find some way to mail an unbroken Pringle chip back to themselves, for example, and to construct a support that can hold 10 text books using nothing more than a sheet of newspaper and some tape. 
Back in her office, after the Creativity and Innovation class was over, MacKenzie talked more about her goal to nurture the lateral thinking skills that make STEM education so profoundly useful in society today.
Ann Haley MacKenzie:
There are still some teachers that want to hold onto the lecture and to the power and to science as a body of facts. But that's just not in keeping with the world of 2017. If you look at interview questions that Google asks, that Amazon asks, they are not factoid interview questions. They are creative lateral thinking and that's why in the STEM class that you saw we really focus on what does lateral thinking mean, how do we practice it, what it means in terms of all careers. It is critical in this day that we live in, that kids can still critically think, be creative, and stay curious. And it's just powerful because it is the way new ideas are generated. It is the way you take an old idea and transform it into something new.
James Loy:
STEM is most commonly referred to as the group of four subjects that comprise the now ubiquitous acronym. But as a way of approaching knowledge and information, it is more than just a collection of fields that include science, technology, engineering, and math.
STEM also represents a way to understand, explore, and engage with the world, and in a way that critically analyzes and synthesizes information to find original solutions to problems that are both old and new.
And these are precisely the kinds of skills being increasingly prioritized across a wide range of careers, especially as the marketplace continues to leverage the foundations of STEM to innovate in a complex and quickly evolving global society. 
Tony Kabealo:
The opportunity to work in a STEM career is increasing and I think it is important for teachers to adapt so that students are ready for the upcoming workforce. And I think it is also important in how we are training students to think critically about the world, and their place in the world. And STEM education does that beautifully and the topics that STEM encompasses is extremely vast.
James Loy:
That's Tony Kabealo, a graduate of Miami University who now teaches 7th grade at Phoenix Middle School in Columbus, Ohio, where he recently started a Robotics Club, and with absolutely no prior experience. So when one of his students expressed an interest in learning about robotics, she was lucky enough to have a teacher who was willing to take on the challenge. 
Tony Kabealo:
I had never coded before. I never even really built a robot before. So I started to look into it and she and I sat down together and kind of came up with a foundation of what a robotics class would look like and was really true learner alongside of my students. Which was pretty cool, actually.
James Loy:
And according to MacKenzie, this is the kind of STEM-based education that more schools and teachers should embrace. But she worries that not enough are adapting to the growing need to prepare students to thrive in a 21st century environment. 
This can be a problem at the middle school and high school levels, which is when interest in science tends to fade. And it's especially true for female students and for students of color, who are still among the least represented groups in STEM fields.
Ann Haley MacKenzie:
Kids are so naturally curious and creative. But then they get into school and we have this mode of standardized testing now that teachers feel like the only way to prepare kids for the test is to drill the information into their heads. Not all teachers, because we know that that's an ineffective method. 
James Loy:
So if teachers would just hold on to that spark of creativity and curiosity that kids naturally come into the classroom with, she thinks more people would pursue STEM. 
Of course, not every student may be suited for a STEM career and not every student will even want one. But it's important, nevertheless, to ensure that the opportunities exist.
Ann Haley MacKenzie:
We want to make sure the door is open, that access is there, and that it is an equitable access to whoever wants to go through, and to make sure that all kids know that it is an option. But by middle school you hear, especially from girls, well, I'm not good at math. Or math is hard. Or they don't want to appear smart in front of the boys. And teachers are on the front line to combat that.
James Loy:
So while the opportunities across STEM fields may be growing, the readiness is not. Or, at least, not fast enough. But it all starts with the teachers in the classrooms. 
They are in the position to show students of color, for example, that there are successful scientists and engineers who look just like they do. And it's these same teachers who can also embrace creativity and problem-solving as a way to keep curiosity alive and to make science feel exciting for more students in general.
But teachers also need to be willing to make the effort. Even if it means, like Kabealo, diving into STEM concepts that might be outside of their expertise or comfort zone. And especially if it means letting go of rigid lesson plans that still see science as just a bunch of facts to memorize.
Because that is just not the world we live in. Not anymore.
Tony Kabealo:
Oftentimes teachers are viewed as the holder of all the knowledge and the reality is that we are not. And I think it is important for teachers to be able to say that they don't know and to be able to jump in with their students and be able to figure things out. Problem-based learning asks teachers to say that they don't know all the time. You know, when you start a problem-based learning unit or module, you don't know where it is going to go. You don't know the answer that the students are going to come up with. And so you have to be a learner alongside the students. That is the only way there is to do it.