Reframe Podcast: Episode 13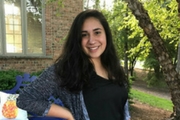 Newest Smithsonian museum welcomes EHS student for the summer
Jun 14, 2017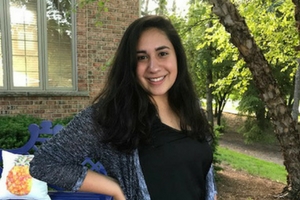 Some would call it an incredible learning opportunity. Others would see it as a fantastic summer adventure.
Read the transcript
James Loy:
This is Reframe, The podcast from the College of Education, Health and Society on the campus of Miami university. 
Some would call it an incredible learning opportunity. Others would see it as a fantastic summer adventure. But for Maria Kahn, the chance to work at the Smithsonian National Museum of African American History & Culture is absolutely both.
Maria Kahn:
So about a year ago, I just started thinking about different museums and I thought, "Oh, how cool would it be to go to D.C. and work there and spend a summer there. So then I applied and basically crossed my fingers and never in my wildest dreams did I think I would end up interning for them this summer. 
James Loy:
Kahn, a Miami University sophomore studying social studies education in the College of Education, Health and Society (EHS) with a dual major in history, speaks with the electric enthusiasm of someone fully aware of the scope and significance that his opportunity holds. 
And she's eager to get started, and for very good reasons.
The Smithsonian National Museum of African American History & Culture (NMAAHC) is the newest addition to an iconic group of 19 institutions, which are nearly universally renowned as world-class educational and research centers. The NMAAHC is now expanding upon this rich legacy as the only cultural institution dedicated exclusively to exploring the African American experience, its relevance, and impact on society.
The museum stands, as President Obama stated during the recent dedication ceremony, "not just as a record of tragedy, but as a celebration of life . . . an important part of our shared story." And since opening in September 2016, both public interest and visitor attendance have exceeded all expectations. 
The Associated Press has called it the "hottest ticket in Washington, D.C." Thousands of tickets continue to evaporate just as quickly as they're made available and, so far, nearly 1.5 million visitors have already come to take in its messages of hope and optimism, of struggle and resilience, of pain and progress. 
In June, Kahn will begin her internship in the museum's education department where she will help facilitate a number of programs designed to promote these themes. Among her various responsibilities, which will include writing and event coordinating, Kahn will also be directly involved in a professional learning workshop for educators and students called "Let's Talk! Teaching Race in the Classroom." 
Maria Kahn:
So often I think we barely get . . . it gets barely scratched on the surface because a lot of people are uncomfortable talking about it. They don't want to offend anybody. They don't want to  . . .  it is an uncomfortable topic, but it is something that needs to be talked about. So I think that's something really cool that they are doing this summer, which is to try to -- I would say -- make people comfortable being uncomfortable.
James Loy:
As a student of both history and education, Kahn's interests clearly align with the type of content and programing that NMAAHC offers. But while it may have been her history background that first sparked the idea to apply, she admits it was ultimately her EHS experience that inspired the next steps.
Maria Kahn:
After being at Miami for the past year, I have met a lot of great faculty and staff. Within EHS there is a lot of great people who I think have definitely pushed me to look further into certain things. And while I think history was my initial reason for doing this, it has become clear as the days go by that EHS, and the people in that building, in those departments, have definitely had an impact on me. 
James Loy:
Across Miami, EHS is poised, perhaps more than other university divisions, to initiate and advance more salient conversations about race, diversity, inclusion, and acceptance. Here, many of the changes sweeping across our increasingly integrated global community are already reflected throughout the curricula and research of various EHS faculty.
Many hope to establish and advance the holistic, integrated, and ethical educational approaches that can ultimately lead to increased social justice and racial equity. And this has become part of Kahn's goals as well. She's learning how to engage difficult issues and why it's important to transform curricula in culturally relevant ways.
These are among the skills she's already gaining as an EHS student and it's what she hopes to continue exploring this summer at the National Museum of African American History & Culture.
Maria Kahn:
Wherever I end up teaching, that is something that is a given, including social justice into the curricula, because it makes classes more meaningful. Because that's what wakes people up and it's like, "Oh, that makes more sense that we are learning about this." So I think having this type of internship and gaining the type of knowledge that I will hopefully gain this summer – that will further my skill set to be a better teacher in the future.
James Loy:
So even beyond what lies ahead this summer, Kahn also plans to carry this approach into her future career as a teacher, as an educational leader, and as a socially conscious member of society who, very much like the National Museum of African American History & Culture itself, is dedicated to spreading messages of tolerance, inclusion, diversity, and understanding.