Students tackle big data all weekend at DataFest
Miami teams sweep top 3 spots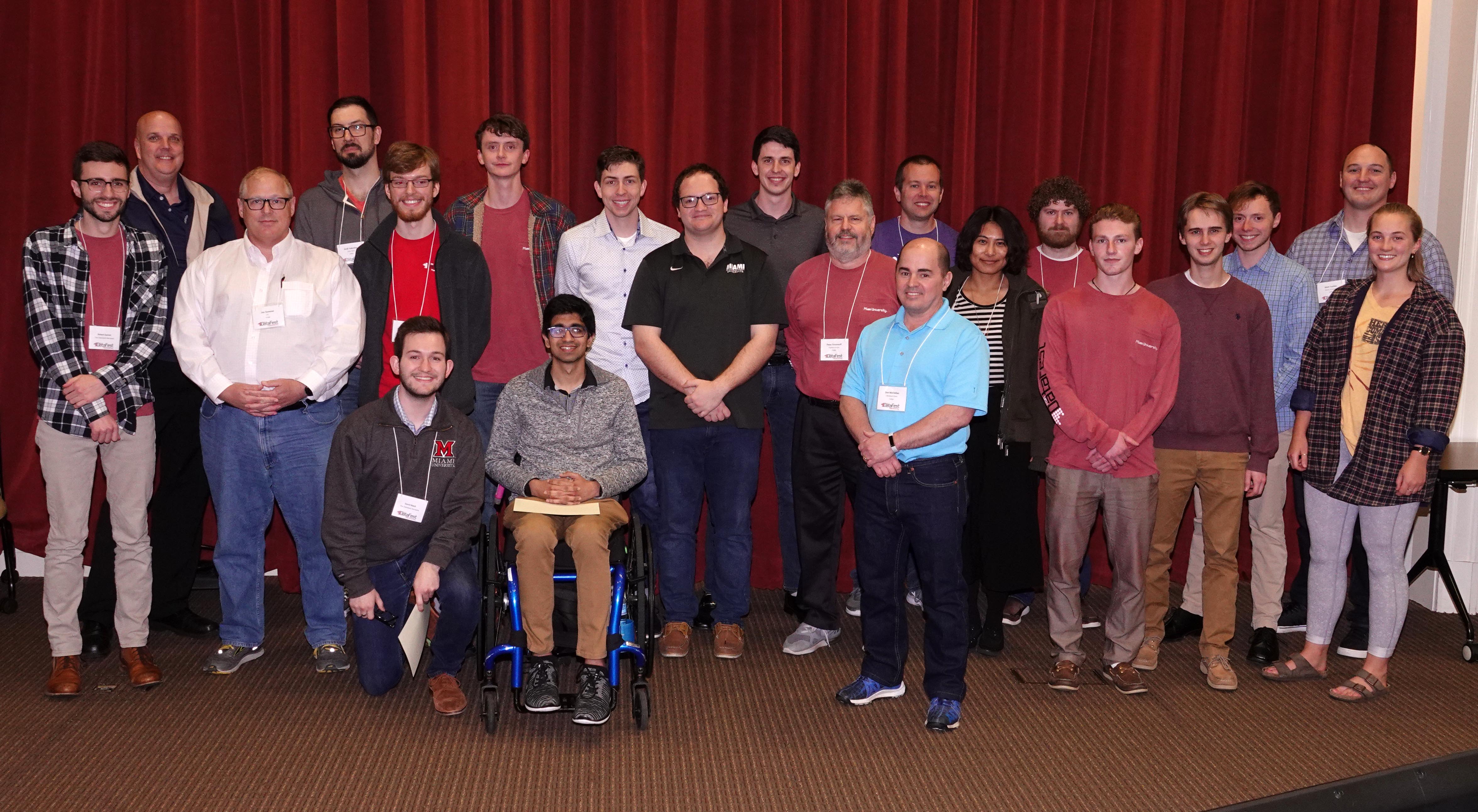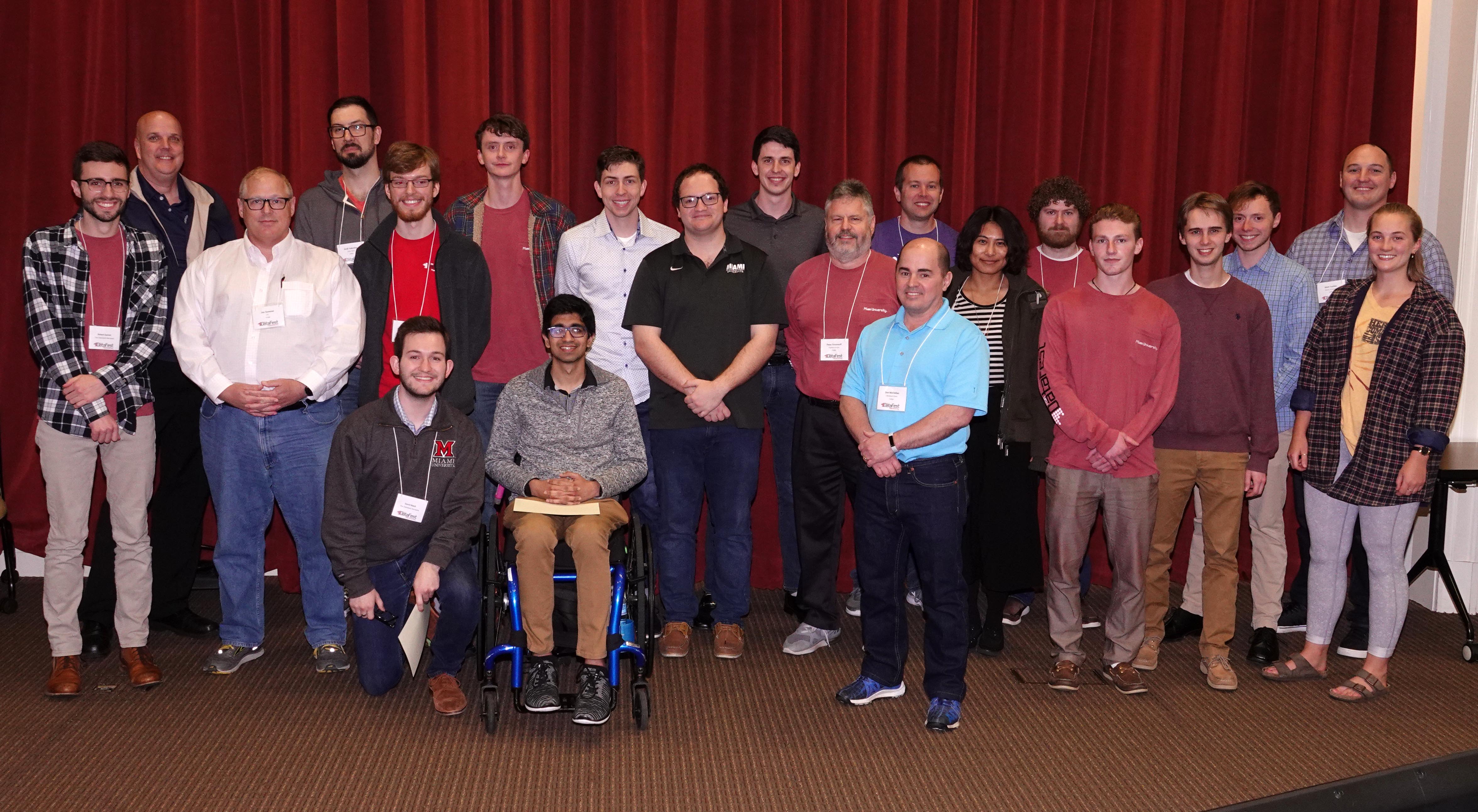 Winning teams and judges at DataFest
Photo: Jay Murdock
Miami teams sweep top 3 spots
Apr 08, 2019
More than 150 students from four universities spent much of their weekend huddled around tables and laptops in the Farmer School's lower level, finding a story to tell in hundreds of megabytes of data at DataFest.
"What I really enjoyed was being put out of my comfort zone. Working with such a large data set, I think everyone's a little overwhelmed when they first get it," senior sports leadership and management major Lauren Anderson said. "We were able to take away from this experience the understanding that we have the skills and we can put them to use. It's going to be a great thing we can talk about with employers."
Associate Director of Operations of Center for Analytics and Data Science Lindsay Holden can't give many specifics about the data because other DataFests around the country haven't taken place. But she said that it wasn't like the data that was used in previous years.
"The type of data is very unusual. It's not just a flat data set with revenue in and revenue out," she explained. "The students have been really interested in the data project. But it's also probably different than anything they've seen in most of their classes. They spent a lot of time thinking about a lot of ideas before making decisions on which directions to go."
The 36 teams that signed up narrowed to 20 who made initial presentations on Sunday morning, nine of which made the finals, where three Miami teams were crowned the winners:
3rd place: The Flying Walri – Colin Amy, Brian Fotheringham, Tim Romer, Isaac Stephani, and Will Tekulve
2nd place: SLAM – Lauren Anderson, Ty Jablonski, Jackson Polish, Alex Erisey, and Rory Tekulve
1st place: The Standard Deviants – Prasidh Arora, David Black, Robert Garrett, and Bob Krueger
Garrett, a mathematics, statistics, and analytics major who, with Krueger, was part of last year's winning team, said taking part in DataFest helps him learn new things and grow intellectually. "Every time you have to deal with a new type of data or a new data set, you have to learn something new," he said. "It forces you to learn new tools that you may have no idea about, and for me, it's led to me creating some of my own tools."
Doug Meiser, vice president of data science at 84.51, was one of several judges for DataFest. "It was a great use of data, and it was really fun and exciting to see the students all this passion and nerdiness into data – nerd is a really good term," he explained. "What's really cool is that it's open-ended, so students come and see a bunch of data and try to make meaning out of it. It's not a textbook problem, and there's no canned solution. It's really hard to find valuable insights when there's this much data sitting on the table."
"I hope that students walk away realizing that the things they are learning in class can be widely applied," Holden said. "They have a lot of options for what the future looks like in terms of career. Every industry, every company is using data, so they don't have to think in very narrow terms. They have lots of ways to go to use their skill sets."