Gift from alumnus Robert D. Johnson creates leadership director
Dr. Megan Gerhardt to be director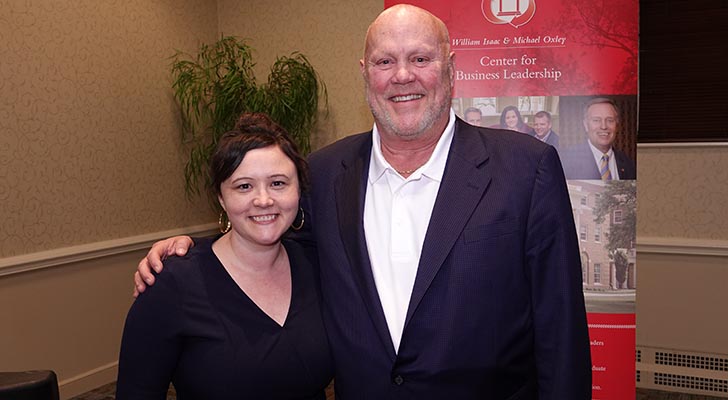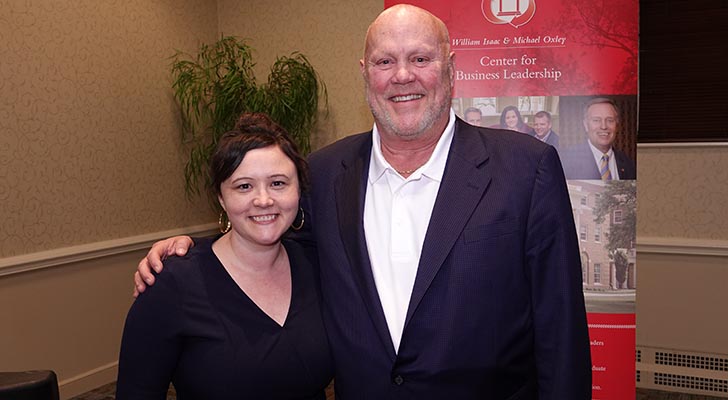 Megan Gerhardt and Bob Johnson
Photo: Jay Murdock
Dr. Megan Gerhardt to be director
Apr 10, 2019
The Farmer School of Business is pleased to announce a gift from alumnus Robert D. (Bob) Johnson '69 to create the Robert D. Johnson Center for Business Leadership Directorship Fund.
Bob started his career at GE Aircraft Engines, spending 12 years in operations followed by another 12 years in key financial management positions, including a post in Singapore. He has served as CEO and Chairman of Honeywell Aerospace, CEO Dubai Aerospace, and was the Chairman of Beechcraft. He is currently the Chairman of Spirit Aerosystems. Additionally, he serves on the boards of Elbit, Spirit Airlines, Roper, Spirit Aerosystems, United Way, DragonTech, Arizona State University and Xact.
Dr. Marc Rubin, Dean and Mitchell P. Rales Chair in Business Leadership remarked, "Throughout his stellar career, Bob has remained engaged with, and supportive of, the university and the Farmer School in meaningful ways. The Robert D. Johnson Center for Business Leadership Directorship Fund is the most recent example of his support for the students and faculty of the Farmer School. This transformative gift will create a named director for the Isaac & Oxley Center for Business Leadership, underscoring Bob's belief that exemplary executive leadership is a critical component of success for any organization."
Dr. Megan Gerhardt, Director of Leadership Development and a co-director of the Center for Business Leadership, has been selected as the inaugural Robert D. Johnson Center for Business Leadership Director. Gerhardt received her Ph.D. in Organizational Behavior from the University of Iowa. In 2009, she received the Richard K. Smucker Teaching Excellence Award from the Farmer School. She was again honored with the award in 2016.