Business fraternity chapter wins big at Nationals again
Chapter sweeps top three awards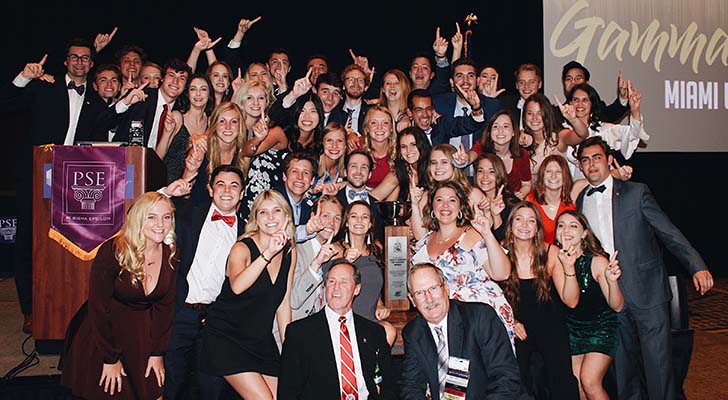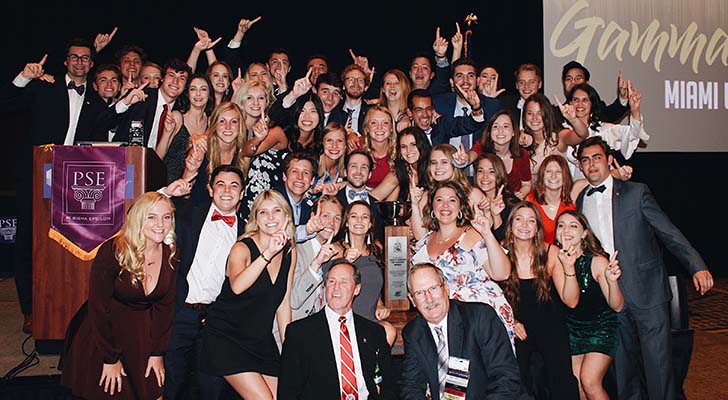 Gamma Gamma chapter members pose after Top Chapter win
Photo: Morgan Burnell
Chapter sweeps top three awards
Apr 01, 2019
It was another big year for the Gamma Gamma chapter of the Pi Sigma Epsilon marketing and sales fraternity at the 63rd annual national convention in Jacksonville last week. Miami students qualified to compete in 15 of the 22 categories, and placed first or second in 12 of the 15.
For the second time in four years, Miami swept first place in the top three categories: Whan Challenger/Top Leader, Top Management Team and Top Chapter in the country. It was the 14th time in the last 21 years that the chapter was named the best in the country.
Senior marketing major Blake Cortez said he was proud to win the Whan Challenger award. "The award is given to a collegiate member who has provided leadership, acted as a role model for their chapter and has unwavering commitment to PSE," he explained. "I feel incredibly honored to have won this award as I have dedicated countless hours to the growth of my chapter and its members. I am so thankful for the opportunity to have represented Gamma Gamma in this capacity."
Senior finance and accounting major Michael Murray won the President's Award for Interchapter Development, while senior marketing major Sara Foley took home the top prize in the Speakers Competition after making the finals last year.
"After being so close, I wanted to truly think about why I love public speaking so much. It's all about telling a story and giving the audience a new perspective to think about. I leaned on this throughout my speech this year knowing my 'why' would push me further," Foley said. "I was truly proud of what I had accomplished and I knew the audience had not seen another speech like it."
Miami students also took first or second in marketing research, social media, project management, consulting (non-profit and for profit), community service, case study, professional development, and member development. Cortez and Murray, as well as Chase Bettner, Daniel Borne, Eden Eisel, Anne Marie Rice, and Diana Ridgeway won a combined $7,500 in scholarships.
"These students are the face of the University at this national event and represent Miami well, not only in their victorious performances but also in the camaraderie they show to students and faculty from other schools and representatives from the many corporate partners of this event," marketing instructor and co-faculty advisor Pat Lindsay noted. "They exemplify the pillars of Miami with the highest character, respect, gratitude and humility."
"PSE has given me a chance to display my passion for public speaking and shown me a new passion in sales. It has helped give me the confidence to land my dream job and I love being able to give others that chance as well," Foley said.
"At the end of the day, everything I do is for the members of PSE and I am excited to see everything Gamma Gamma does in the future," Cortez said.