Beta Gamma Sigma chapter adds nearly 50 new inductees
Society honors students at top of class rankings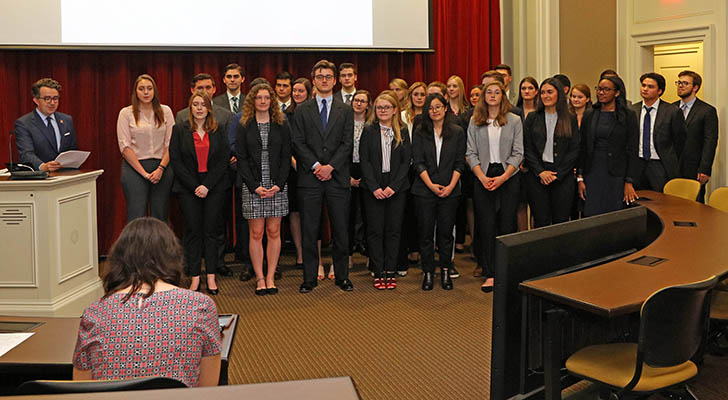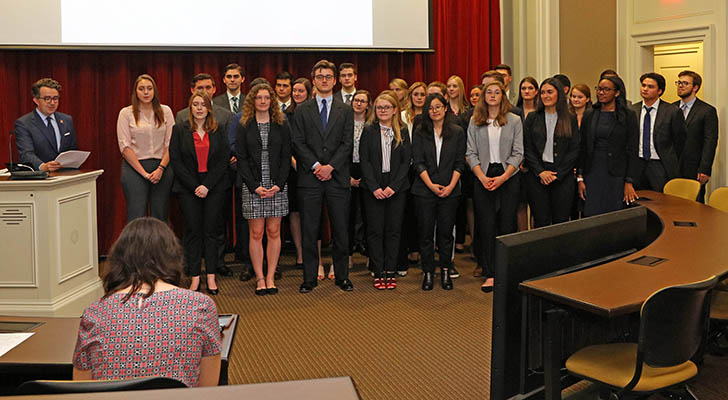 New Beta Gamma Sigma initiates take the oath
Photo: Jay Murdock
Society honors students at top of class rankings
May 03, 2019
Forty eight Farmer School students were inducted into the business honor society Beta Gamma Sigma on Thursday.
The society's purpose is to honor and encourage academic achievement in business studies and to foster personal and professional excellence. To be invited, seniors must be in the top 10 percent of their class, while juniors must rank in the top seven percent.
This year's inductees are:
Juniors:
Emily Black, Katherine Challoner, Arnav Damodhar, Brittany Fleischer, Claire Galberg, Frances Hillyer, Lauren Huggins, Evan Jones, MaryClare Kellner, Michael Klass, Madeline Krueger, Kenneth Kruse, Rachel Martin, Lettie Mitchell, Kathryn Poth, John Rudie, Ki Sakuma, Gabrielle Seni, Morgan Sturm, Allison Tamulewicz, Kayla Victor, Benjamin Wachtel, Grace Weaver, Dena Werts, John Rooney, Ryan Burghart, Mitchell Fairweather, Eric Grosskopf, Zachary Hahn, and Turner Morris.
Seniors:
Brooke Bogucki-Figler, Christopher Crouse, Matthew Gable, Alexandra Hollister, Natalie Odin, Vincent Ruberto, Miranda Scott, Beatriz Su, Jonathan Tetrick, Jessica Osterfeld, Cameron Devitt, Nikhil Sample, Mitchell Kellett, Cara Kroeger, Zachary Narcross, Zhengtian Ge, and Brett Helsel.