Farmer School Explained: Taylor Auditorium
Taylor family gift of $8.5M created auditorium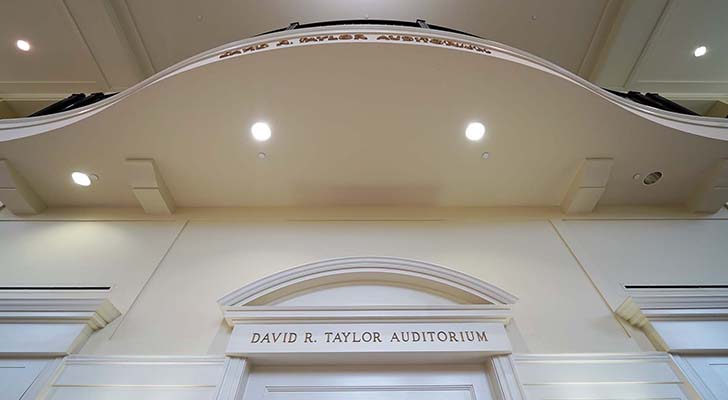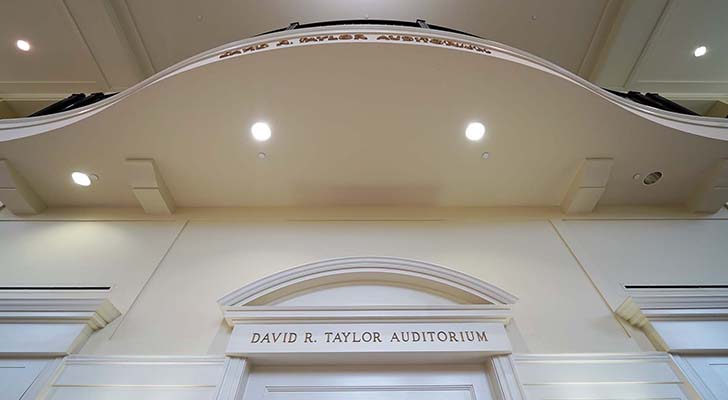 Taylor family gift of $8.5M created auditorium
Jul 18, 2019
If you've taken classes or attended a speaker's event at the Farmer School of Business, you've probably spent some time in the David R. Taylor Auditorium. Located in the eastern wing of the building, Taylor is one of the largest auditoriums at Miami University, second only to Hall Auditorium.
But who is David R. Taylor?
The story starts with his father, Robert Taylor, who graduated from Miami University with a business degree in 1957. After graduation, Taylor got an MBA and spent two years in sales with Johnson & Johnson before he formed the Howe-Taylor Marketing agency in the Minneapolis/St. Paul region.
With $3,000, Taylor founded his own company, Village Bath Products, in 1964. That company later became the Minnetonka Corporation and became a leading manufacturer of gift soaps, bath oils, and shampoos. The company created and marketed SoftSoap, the first hand-pumped liquid soap, in 1978.
According to a New York Times article, Taylor prevented the bigger soap manufacturers from following him into the liquid hand soap market by spending $12 million -- more than Minnetonka was then worth -- to purchase 100 million of the pumps, usually made for dispensing lotion. That purchase tied up an entire year's inventory of the pumps made in the U.S.
"The best way for an entrepreneur to compete in today's marketplace," he said, "is to avoid competition -- or at least find ways to circumvent it."
In 1980, Taylor purchased Calvin Klein cosmetics for about $1 million and introduced the popular Obsession and Eternity perfumes. Obsession alone brought in $30 million in sales in its first year, thanks in part to a $15 million ad campaign that was later spoofed by Saturday Night Live. Nine years later, Taylor sold the company to Unilever and pursued other business interests, such as hair care products and the Monterey Bay Clothing Co.
Taylor and his wife, Mary Kay, made an $8.5 million gift to the university in January 2008 as the current Farmer School building was being planned. "Given the number and stature of speakers who visit the Farmer School, the need for this kind of facility was clear. We are impressed by the design and overall usefulness of the auditorium to the Farmer School as well as to the university as a whole," Taylor said at the time.
They chose to name the auditorium after Robert's son from a previous marriage, David R. Taylor died in an avalanche in Utah in 1984. He was 22.
Taylor was inducted into the Farmer School of Business Entrepreneurship Hall of Fame in 2012. After a battle with cancer, he passed away in 2013 at the age of 77.
His wife told the Times while going through his papers, "she found handwritten notes under the heading 'What you need to be a successful entrepreneur.' One item advised, 'Unique idea — fill a gap!' Another said, 'A plan — success is a matter of attitude.' Of building businesses, he wrote, "Each one gets easier — never easy.'"