2 FSB students, 2 graduates named to Cincy Inno Under 25 list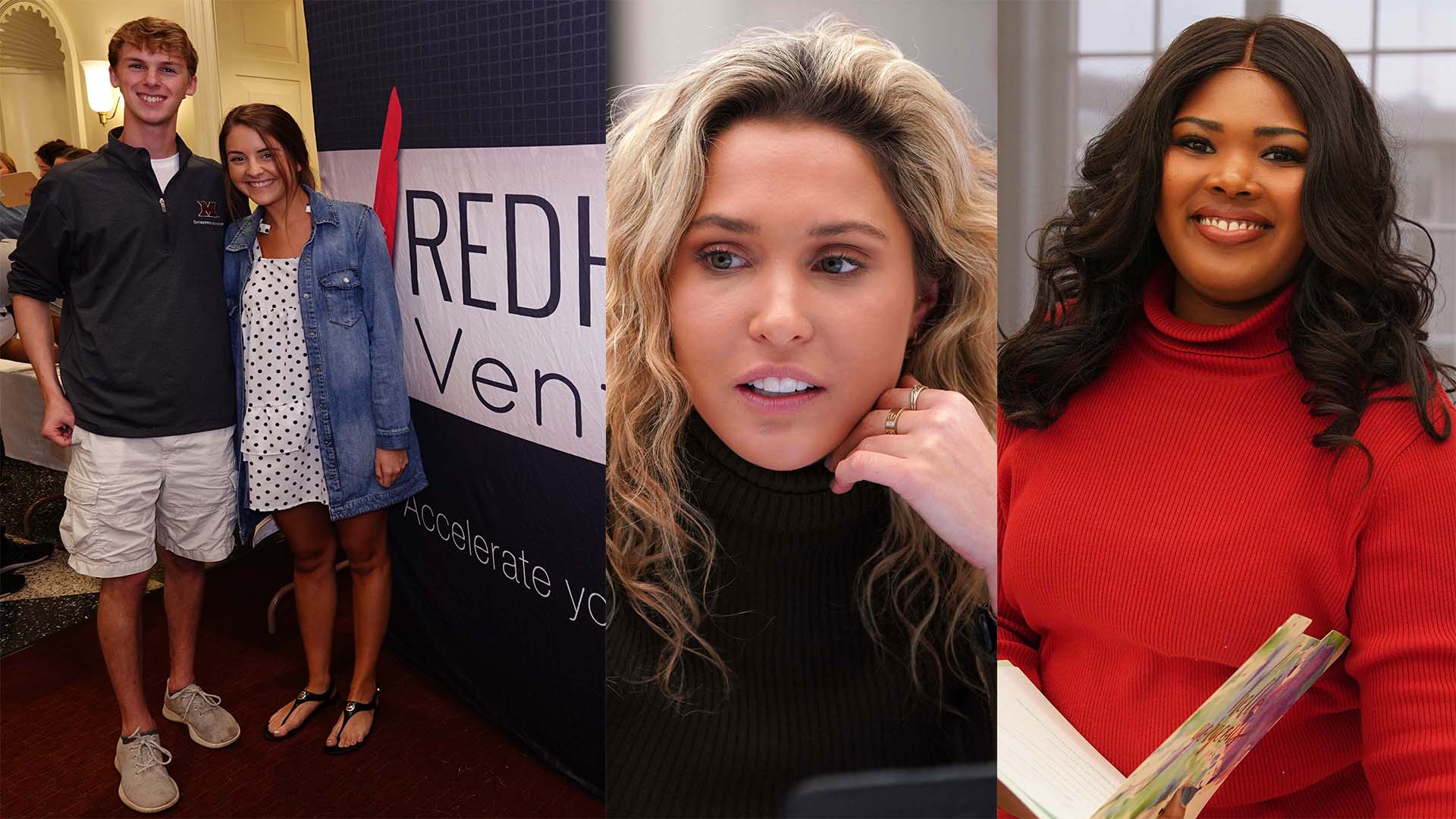 Sep 20, 2019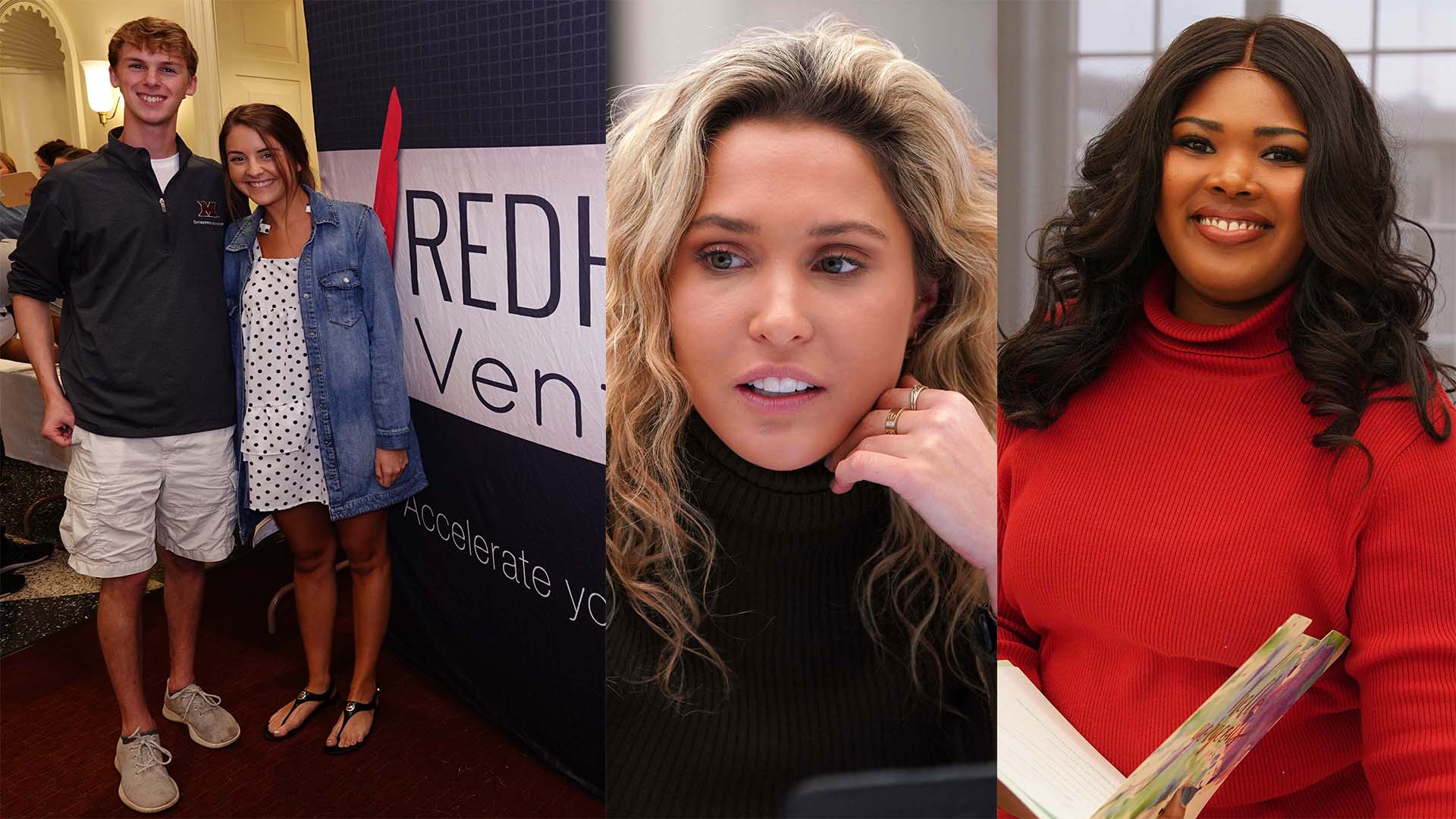 Two current Farmer School students and two recent graduates are among 14 people named to Cincinnati Inno's Under 25 list for 2019. "The innovators on our list are from all over the Queen City, tackling a host of unique problems in different industries and companies," the magazine explained. "All are doing the kind of work that both bolsters the Cincinnati tech and startup ecosystem and has the potential to impact the whole world."
Laura Mena, a senior marketing and entrepreneurship major, and Andy Newman, a senior finance major, made the list for their work with RedHawk Ventures, a student-led seed stage venture capital fund with the John W. Altman Institute for Entrepreneurship that recently announced a plan to raise a $1.5 million fund to invest in startups created by Miami students and alumni.
"I was thrilled to be included in the list! Redhawk Ventures has given myself and a lot of other students the chance to flex their entrepreneurial muscles in a way a traditional classroom setting just can't. We're getting to work with rapidly growing startups every day from the investor side of the table, and there's been a lot of amazing opportunities for investment coming through our pipeline this year," Newman stated. "Laura and I are looking forward to giving future generations of students the same wonderful experiences that we were able to have with this second fund."
Christie Currie, a 2019 marketing and entrepreneurship graduate, is the founder of Zandaland, a digital platform and "virtual world" for children's hospitals to help empower pediatric cancer patients to handle the experiences and difficulties associated with treatment. Currie, a pediatric cancer survivor herself, won the 2018 Venture Pitch Competition and was part of the John W. Altman Institute for Entrepreneurship RedHawk Launch Accelerator's fourth cohort.
"I am very honored to be featured next to so many other peers who inspire me through their own work and stories," Currie explained. "I believe this is a huge testament to the Miami entrepreneurship program and its ability to help students realize and successfully pursue their passions and ideas. I am proud to have been a part of the program and to be starting this company at a time when people are constantly bringing the concept of impact into almost every conversation around entrepreneurship. I am very excited for this next chapter and everything to come with Zandaland."
Kamilah Dotson, a 2019 social justice studies, management and leadership, and entrepreneurship graduate, is founder of KCD Cosmetics, also part of the RedHawk Launch Accelerator's fourth cohort. Her cosmetics line is aimed at women of color, a segment that Dotson found to be underserved by other cosmetics companies.
"I am really honored to be on this list that is recognizing young innovators in one of the best areas for entrepreneurship and innovation in the country. The opportunities that we, as young entrepreneurs, have in this city are available to us because of the vision of the entrepreneurs who saw what this area could become," Dotson said. "We are reaping the benefits of their work and I hope that we continue to make great strides in the community." 
"The Farmer School of Business and John W. Altman Institute for Entrepreneurship takes pride in preparing tomorrow's entrepreneurial leaders to be 'beyond ready' when they graduate, which is one reason we are excited to see our seniors and recent entrepreneurship graduates named to Cincy Inno's list of top entrepreneurs in StartupCincy for 2019," Dr. Tim Holcomb noted.