CBL helping students see value in team work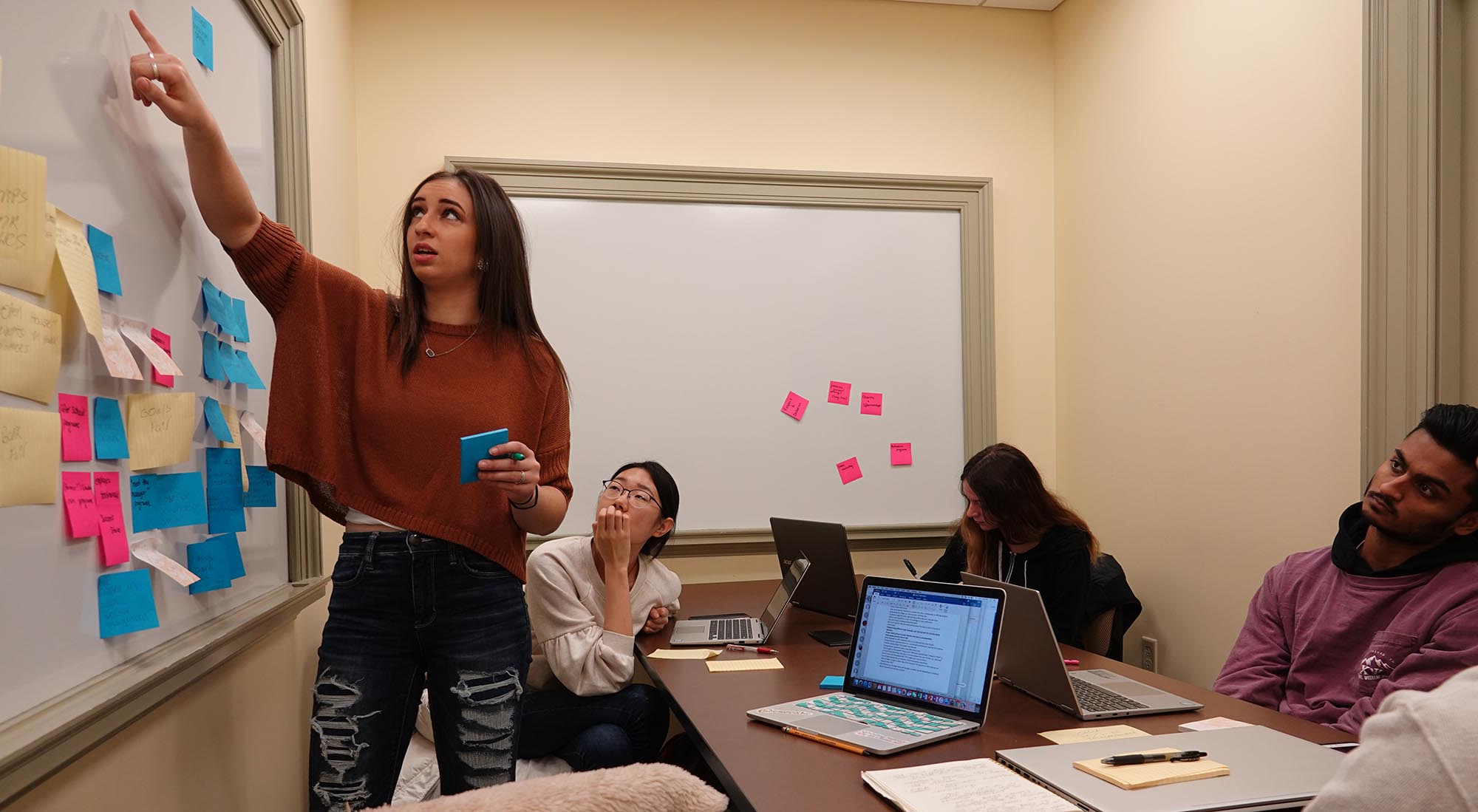 Oct 23, 2019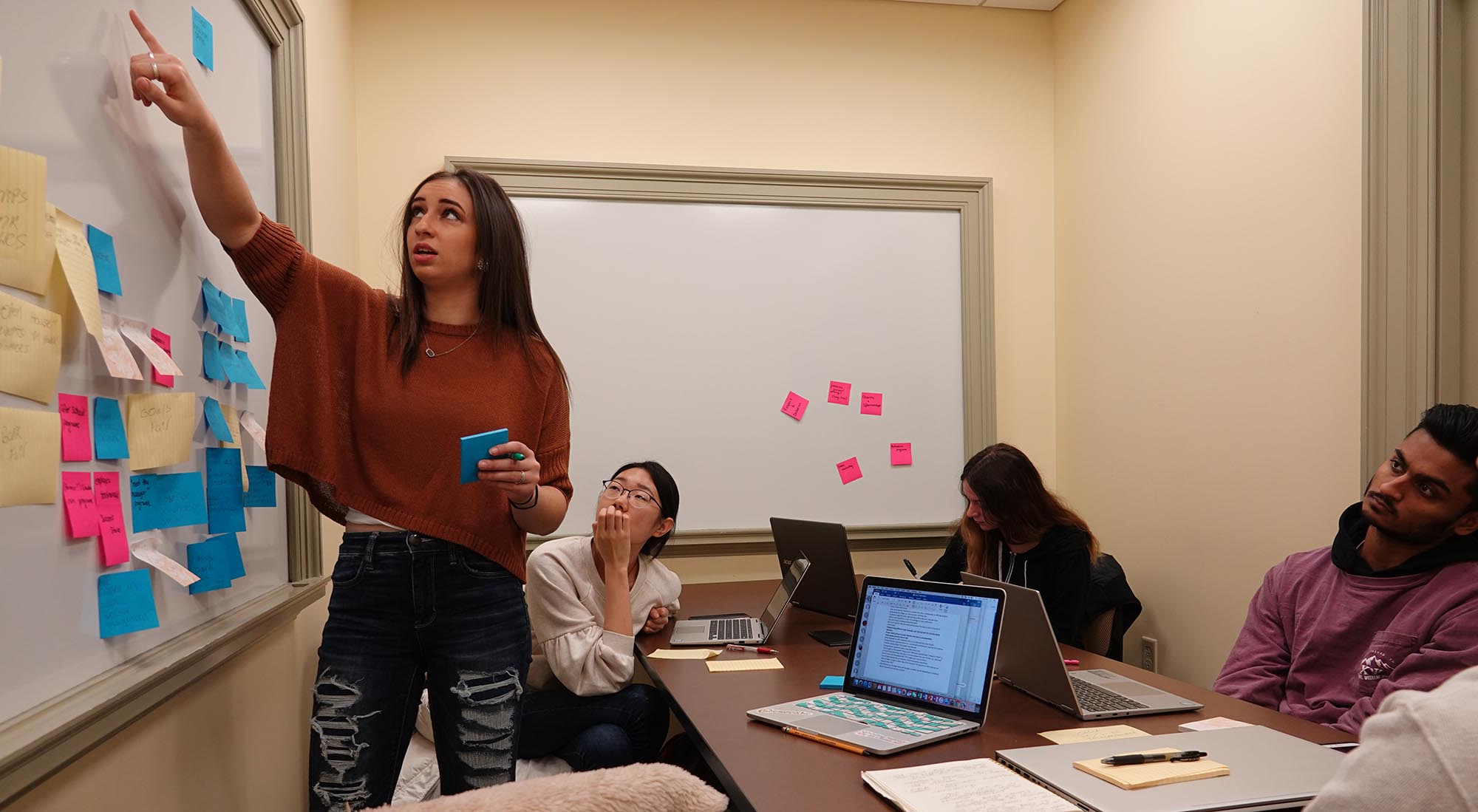 Farmer School students are graded on a lot of things that they do by themselves, and many of the skills they learn will help them be better employees in the business world. But a new initiative led by the William Isaac and Michael Oxley Center for Business Leadership is working to emphasize a broader work unit: The team.
"It's great to be strong as an individual performer, but it's a different dynamic to think about, 'How do you lead a team?' 'How do you share leadership in a team?' 'How do you work in a team in a way where it makes it worth the investment of time and energy, and being able to create something that individually is not possible?'" CBL Co-Director Megan Gerhardt explained.
Gerhardt said the Farmer Team Initiative started a few years ago when CBL Student Fellows taking part in an intensive two-day Team Lab workshop pointed out that the things they were learning were only going to be truly effective at the Farmer School if everyone knew them. So the Fellows did research and worked with First-Year Integrated Core assistant lecturer Cindy Oakenfull to develop ways to teach the skills that make teamwork more effective.
They then tested their work by coaching some of the FYIC's Business 101 teams last year as they worked though their Client Challenge, then surveyed the students to measure the impact. They found that while only two percent of all team members agreed that they "would want to work with the people on this team again," 33 percent of the coached teams' members agreed with the statement. Nine percent of the students said "Our team communicates effectively," but nearly half of the coached teams' members agreed with that statement.
"So we shared those findings with the Dean's office last year and they were very enthusiastic and encouraging that we continue to build the work. This summer we applied to the FSB strategic initiatives fund, and they funded what we're now calling the Farmer Team Initiative to launch this across the school," Gerhardt said.
The initiative is based in part on Google's Project Aristotle, which identified five areas in which high-performing teams were most effective:
Psychological safety – An environment where members feel safe taking risks
Dependability – Members get things done well and on time
Structure and Clarity – Everyone has a role and understands it
Meaning – The work is personally important
Impact – Members think their work matters and creates meaningful change
"We based this on team best practices from both academic research and business. It's based on helping our students understand the difference between a group and a team," Gerhardt noted.
"Interacting on a peer-to-peer level with first-year students is really exciting," CBL Fellow Rachel Cleveland remarked. "We hope that over time we can work to train FYIC undergraduate assistants on best practices as well, so they can be front-facing people with the FYIC as well as the faculty."
While the CBL's work is primarily aimed at students, it's also been important to bring Farmer School faculty into the fold and show them how to more effectively assign and work with team projects. "Learning to understand, when you're assigning a team project, how do you set up the process? How do you evaluate teams? How do you discuss with them why something is a team project rather than an individual project?" Gerhardt said.
"We have a fully formed and functioning site for faculty to access tons of tools.  Videos that we've worked with Miami E-Learning to create here in the center, team charters, team planning tools, team evaluation tools, and several best practices from industry -- Harvard reviews, Deloitte articles," Cleveland explained. "We packed a ton of resources into the site to make digesting some of this a little bit more accessible."
The long-term goal is to help students be beyond ready to take on a situation that can come up often in the business world. "Ideally, our students will see the model their first year. They'll see it again later, maybe in a core class, maybe they'll see it again in a capstone. By the time they graduate, they'll have had several opportunities to use this framework to understand that teams and teamwork can be a very productive and beneficial process."