'Getting wins' makes a difference for FSB alum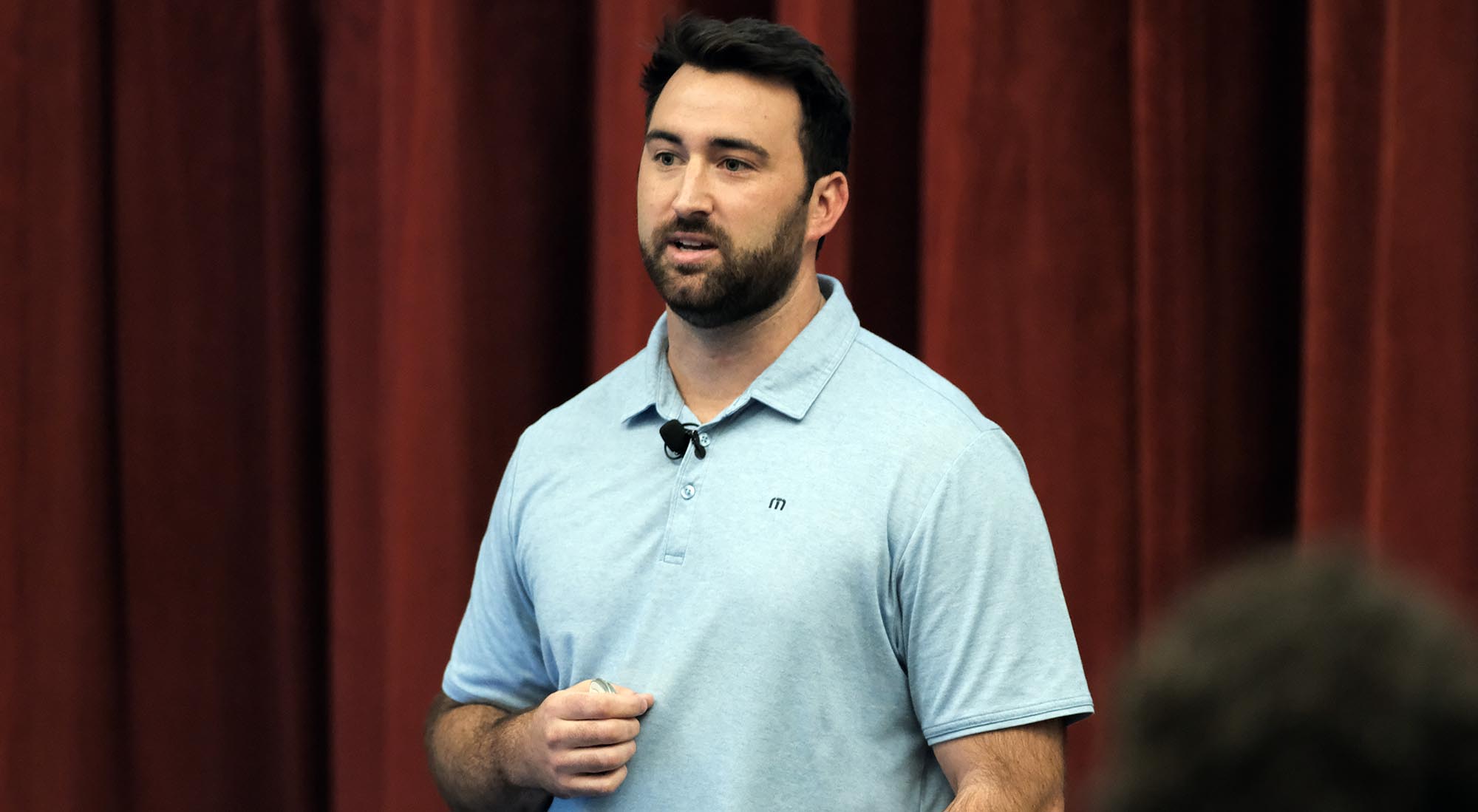 Oct 22, 2019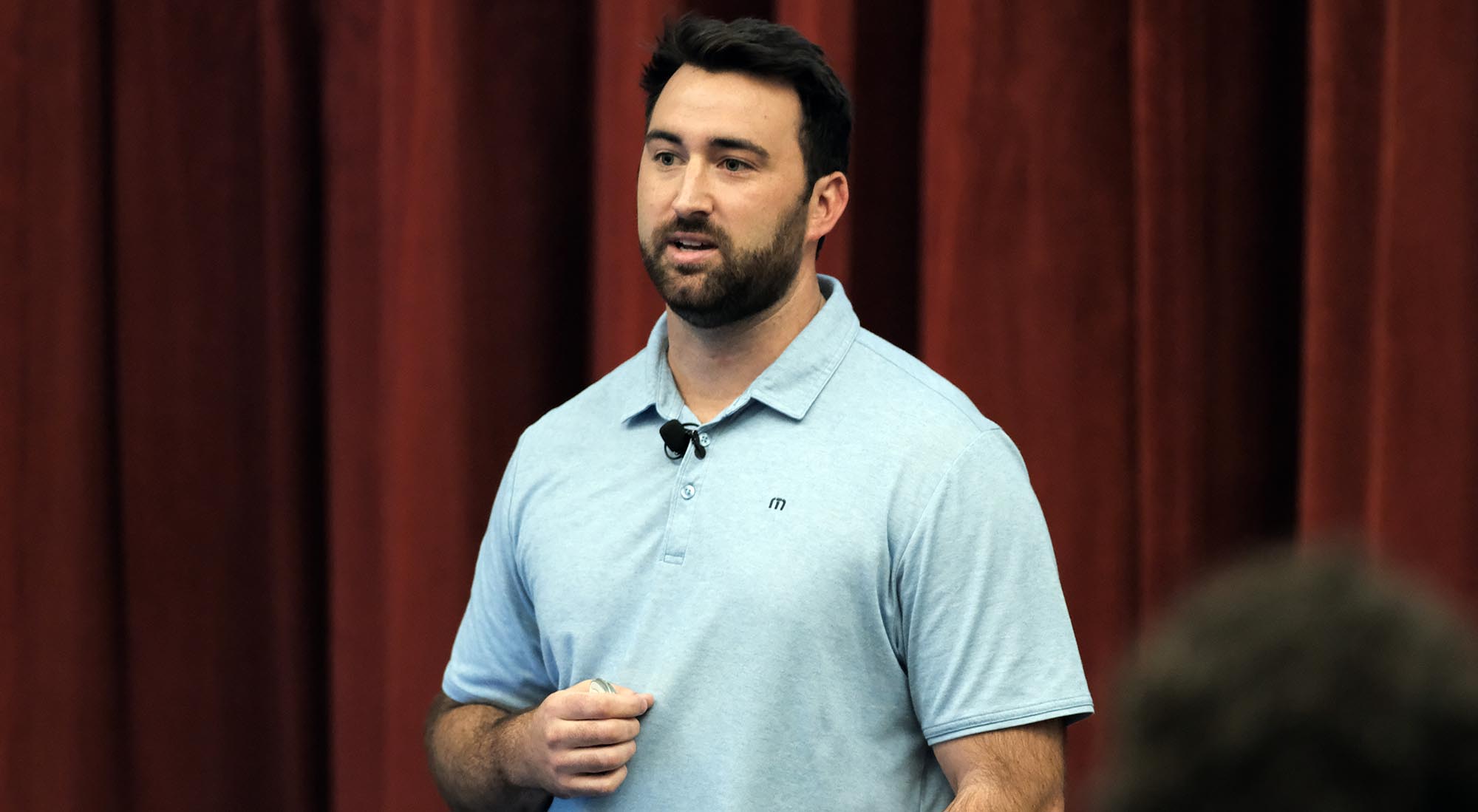 He may be the co-founder and CEO of one of the fastest growing third-party logistics companies in the nation, but it might still come as a surprise to learn that Matt Pyatt started no fewer than three businesses while he was a marketing student at the Farmer School of Business.
"The first one was a health supplement business. The second, we had an online Green Beer Day site, which surprisingly was a very profitable venture, and then we had a small marketing company," he recalled.  "So what I think is really important for everyone in this room to understand is the value of getting wins."
The company that Pyatt and fellow Miami alum Eric Dunigan created, Arrive Logistics, is what's called a freight broker, connecting shipping companies with locations to store or transfer the goods that need transporting. It's an industry that was barely noticed 20 years ago, but now commands a lot of attention in the business world. "We started the business with $1 million in 2014, and what's really cool is we were able to get from $1 million in funding to about $250 million without any additional capital," Pyatt said.
"More and more shippers are getting comfortable with the services that we're offering, and the reason is that we're investing a lot of money," Pyatt explained. "We're spending tens of millions of dollars every single year developing a proprietary technology that allows us to offer customers a very different type of service than what they're used to."
He said Arrive Logistics has been successful in part because it works hard to create a positive workplace – and that doesn't mean having ping-pong tables in the lounge. "It's really about creating an environment where you're giving all of your employees a chance of being successful. We keep our ratios really tight. We're constantly hiring new managers or promoting people, creating continuing education, giving people resources to be successful, whether that's new technology or new departments. And that really is the culture," Pyatt pointed out. "People want to feel like they're doing something that's different at a company that cares about them. We can't make up culture. We create environment."
Pyatt gave the students some advice on what they should be doing while at the Farmer School:
Learn everything they can about technology
Practice persuasive communication
Build up their professional network
Seek out jobs that provide the best training for their long-term goals
Take as many business classes as possible, even electives
"If you're able to really focus on the core skills which are necessary to get the business off the ground, you're going to have a lot more success," he said.
Pyatt also told students about the things he's learned in his first five years in business:
Organizational structure is constantly in any CEO's head
Bunts are a great way to get comfortable in the batter's box – not everything has to be a home run
Learn to delegate, even if you could do the job 20 percent better yourself
Tough conversations are going to happen: Get ahead of them before they happen
Investors are more than just cash and partners: Choose the right ones
"Start a business, build a website, build a marketing plan, and get a small investor base behind you, believing in what you're doing. Learn how to build financials, understand financials, learn how to build great relationships," Pyatt advised. "Do all of those things on a small scale, build up a $500,000 company. Because that's going to give you the ability to take that experience and then do it again and again and again."
Check out this Beyond High Street podcast episode featuring Matt!