Pair of entrepreneurship classes build skills beyond classroom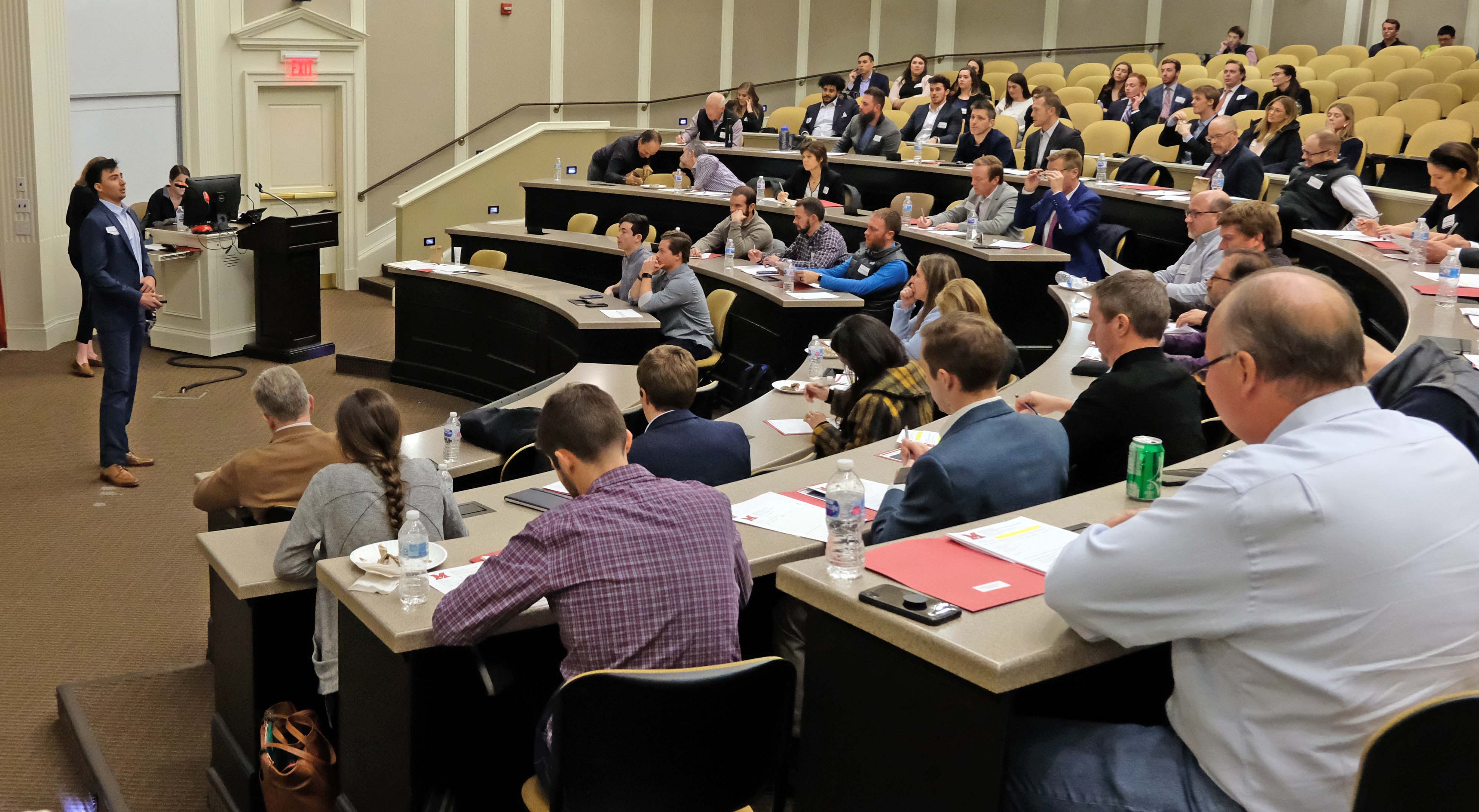 Dec 11, 2019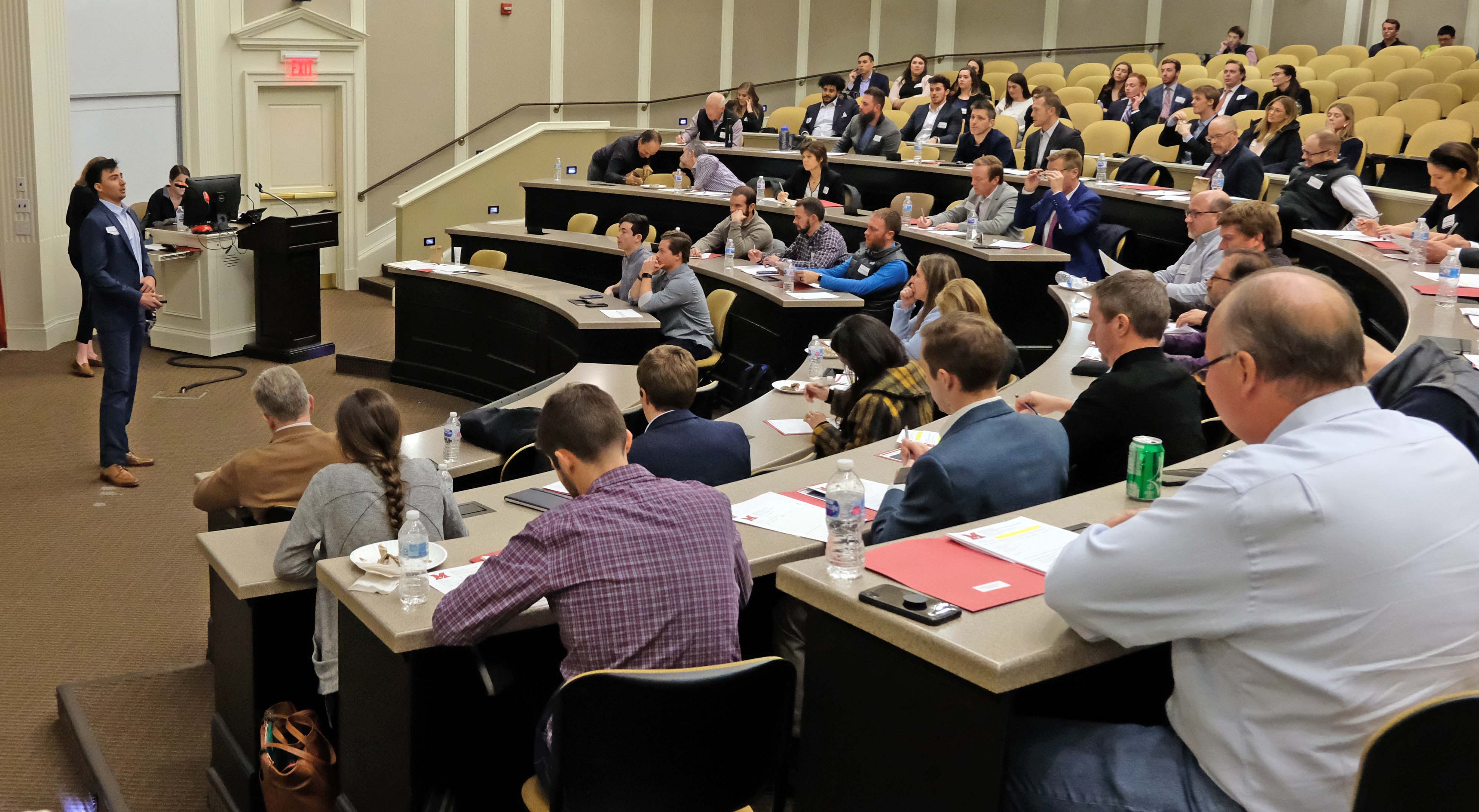 It was about economics and finance and entrepreneurship. It was about funding, planning, and answering the tough questions. It was about teamwork, confidence, and the desire to create something bigger than any one person – a business.
Students in a pair of entrepreneurship classes spent a semester working through all of the ins and outs of creating a product or business, then had eight minutes to lay it all out for a panel of judges, some of whom had been students in these same classes a few years before.
The RedHawk Venture Pitch Competition and the Business Case Road Test were the culmination of ESP 401: New Ventures and ESP 201: Introduction to Entrepreneurship and Business Models, respectively. Kaleigh Gallagher, CEO and co-founder of Flutter Social and a 2009 marketing and entrepreneurship graduate, was one of the judges who had been in the Venture Pitch spotlight before. "I'm extremely grateful for my Miami experience. I remember pitching as a student, so it was cool to be able to pay it forward and help the next generation of entrepreneurs as a judge. I also loved connecting with alumni, students and staff -- there's a lot of cool stuff happening with the Miami ecosystem."
Both courses work to help students understand the various paths and potential pitfalls that they may face as they head into the business world, whether as an entrepreneur or not. They also help the students realize the importance of various aspects that are part of working in teams.
"I think the biggest thing I learned was just how valuable and beneficial it is to have a strong positive relationship among your team. Not only did it make everything more enjoyable, but it also improved our chemistry and helped us all stay active and engaged throughout the whole process," Nick Murphy explained. "It was because of the great relationship that we all had that we were able to work so hard and so efficiently towards our shared goal."
"My biggest takeaway from this class was how important it is for an entrepreneur to fall in love with the problem over everything else. So often you hear about entrepreneurs who had what seemed like a great idea that never ended up going anywhere," Andy Newman said. "The startups that really change the world go after a problem they know needs fixing, and try idea after idea to solve that initial problem."
"When creating the startup and pitching to investors, they understand that so much of what you plan will end up being wrong, and that's OK!" Ireland Adgate noted. "What's really important is showing that you have a strong team that has the ability to think critically, understand assumptions, and work through setbacks."
Newman and Adgate, along with Lexi Silver, won the Venture Pitch Competition with their idea for RXFX, a scalable SaaS solution that addresses the problem of cascading prescriptions and the risk of poorly managed drug combinations. Murphy, Shelby Anton, Adriana Cooper, Gabby Dini, and Leia Withee took first in the Business Case Road Test with Soar, an app designed for parents of children with disabilities.
"They owned their ideas and were creative and enthusiastic in their approach.  Each team had high energy and interest and obvious collaboration," Roger Babik, president of Master Provisions, noted. "I hope students realized the importance of using giftedness within a team toward project success. Collaboration is essential for success, as is learning to present to groups."
"I was extremely impressed with the students and their pitches. The level of preparation spoke to the quality of the teams as well as the strength of the Entrepreneurship program," Gallagher said. "The success of a startup is largely tied to connectivity and Miami has a highly connected community. I hope the students continue to both access and contribute to the Miami network."
While coming in first was an accomplishment, Newman, Adgate, and Murphy said the class and the project will have an impact in their future college and professional careers as well. "This class provided me with the best team experience I've had, and I will definitely look for similar dynamics in the future," Adgate recalled. "I truly valued their opinion which made it so I never felt like I was sacrificing what I wanted - it truly felt like we had one cohesive team brain. I learned that people, not just an idea are really what make a great startup."
"With everything I've learned from this class, I will be moving forward with an even greater appreciation for the effort and strategy required to create a high-growth startup. I've always been fascinated by the strength founders in the real world have, and this class has only reaffirmed that appreciation," Newman said.
"I think the value of entrepreneurial thinking goes far beyond the careers and classes themselves, but really, I see application of the lessons I've learned from this program in my regular life on a daily basis," Murphy noted. "I plan on continuing to learn and develop as an entrepreneur, and a thinker, working hard to improve myself every day."