FSB programs give non-business students important business skills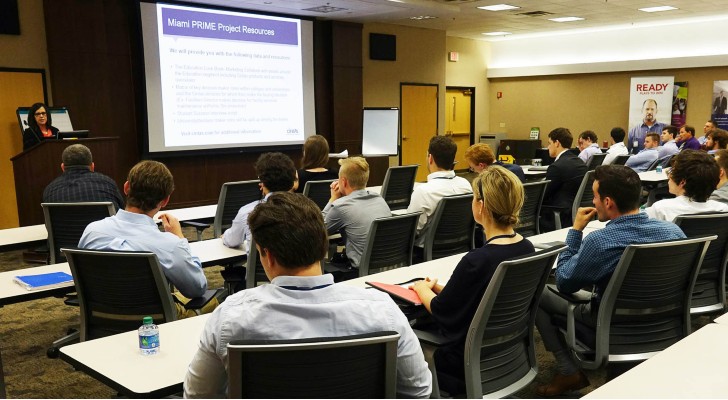 Mar 26, 2020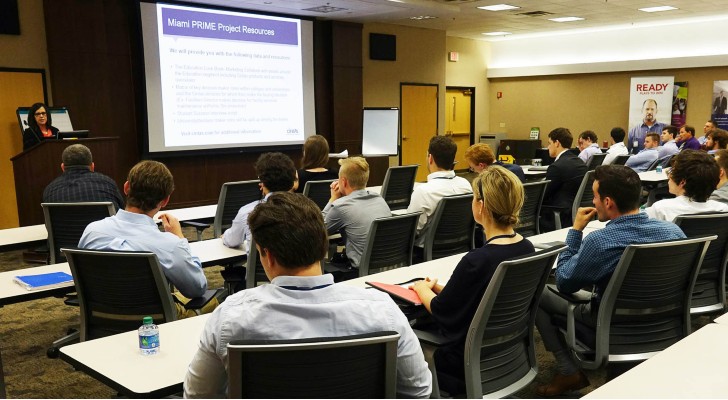 While a career in business isn't for everyone, an understanding of business concepts and the ability to apply them provides an advantage that benefits students and graduates in any field. That's why the Farmer School has both undergraduate and graduate programs specifically designed for non-business students and graduates.
For undergraduates,
Miami PRIME
(Professional Institute for Management Education) is a four-week summer program designed to teach students fundamental concepts in business. PRIME students will develop an integrated knowledge of how business works, strengthen their networking and career search skills, and apply these new skills.
"No matter what job they're in, they need business principles," accountancy professor Dr. Jon Grenier explained. "There's resume workshops, mock interviews, networking events with real employers. They work with an actual client on a project as well."
Other ways that PRIME can benefit non-business majors:
Fulfills the thematic sequence requirement
Counts as half of the General Business minor, which most PRIME students pursue
Coupling PRIME with the ACC minor allows students to apply to the Master's of Accountancy program
Counts as major degree requirements in Arts Management, Fashion, Political Science (related course requirement), and Sports Leadership and Management
Coupling PRIME with the Actuarial Science minor or Engineering Management major results in a General Business minor
"Even if you don't need those business credits, I don't think you're going to find a better way to learn about business than Miami PRIME," music/arts, entertainment and media management major Spencer Campbell remarked.

This summer's PRIME will take place online, but will remain high-touch. In addition to classwork with instructors, students will take part in virtual individual resume consultations and a mock interview, as well as virtual small-group networking events. Students will be working virtually on a project with Cintas and will make their presentations online.
Meanwhile, a new master's degree available starting this fall is meant to bring business skills to recent graduates who don't have a business degree – in response to employer demand for workers with these exact abilities. 
The
Master of Science in Business Management
is a one-year, 30 credit hour program with an embedded certificate in business management. "We will leverage core critical thinking skills from the liberal arts foundation of our graduates and add value with a trifecta of essential business skills, business knowledge and hands-on experiential learning," Farmer School Associate Dean for Curriculum Barnali Gupta explained.
Unlike an MBA program, the MSiM degree is designed for students who haven't started, or have very recently started careers. "We want to make sure that students are either just out of school or out of school very recently," Gupta noted. "We want them to have the experience of being in school very recently, bring that experience into the classroom and then layer all of these other skills and knowledge upon it."
Graduates of the MSiM program will be prepared to:
Analyze business problems
Use data-driven decision-making
Problem solve creatively
Think entrepreneurially
Make decisions ethically
"The very attractive part of this program is it doesn't matter what your major is. We want to respond to market needs for students to have core business skill sets," Gupta said. "It's a program that gets students' careers started."