Alumni recall Great Recession, coach students on moving forward during, after coronavirus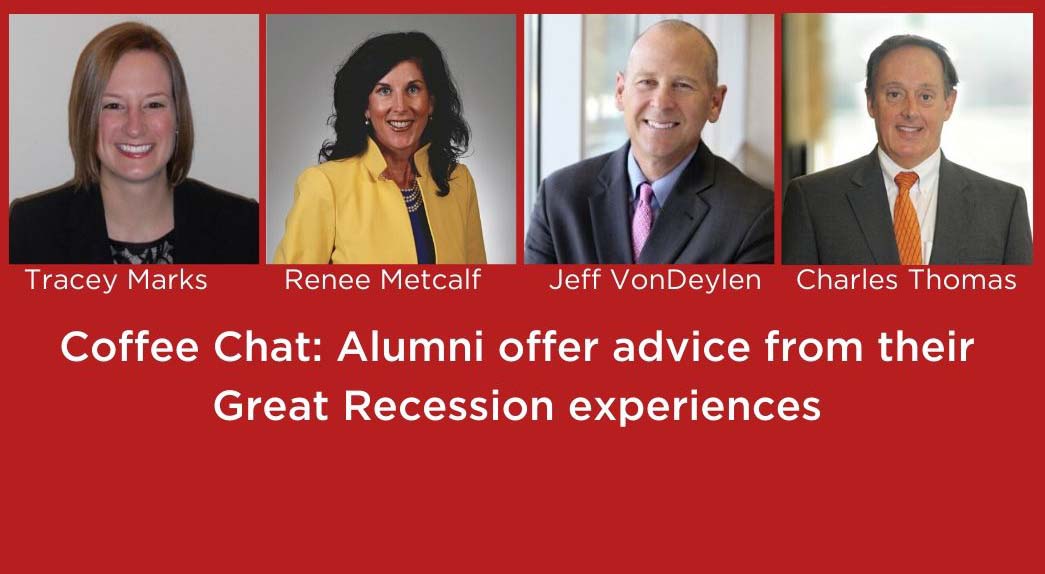 Apr 28, 2020

When it comes to learning what to do in an unexpected economic downturn, it can be helpful to hear from those who experienced that last one. Miami graduates Tracey Marks, Renee Metcalf, Charlie Thomas, and Jeff VonDeylen joined the Farmer School Career Services Coffee Chat last week to talk about their experience during and after the Great Recession that took hold in 2008 and how students can move forward.
For Marks, now a product manager at Progressive Insurance, her timing was similar to that of seniors graduating this May. She finished her degrees in finance and decision sciences just as the recession was rippling through the economy. "I graduated in 2008, and had interned with a company in the summer of 2007 and received a job offer and accepted it, as did a bunch of my peers at Miami," she recalled. "I was lucky enough to not have my start date affected. However, a lot of people I knew were much delayed and my consulting firm kept pushing start dates off and off. I know there was a lot of frustration there -- people glad to have a job but very worried that they would never start."
The group gave suggestions and advice to students about what they should be doing and thinking about, both now and down the road. "Be open to different opportunities. When I started in consulting, I knew I really wanted to be in this division called higher education consulting. That was what was what really stood out to me, something that I was passionate about," Marks said. "That didn't work out because that division was not hiring. So I ended up in a healthcare division instead. I know that at the time I was frustrated. But it was really the soft skills that I picked up in my first couple of years of my career that have propelled me forward -- it really had not a lot to do with the fact that I was in healthcare."
"The things that I picked up, they were industry- agnostic. So be flexible if you don't get the exact job that you think you're going to get, or the exact internship opportunities, because you can still learn a lot and leverage a lot from those first couple of years that you'll be able to use for years and years and years to come," she noted.
Metcalf, a marketing executive at Bank of America, echoed the idea that challenges are opportunities. "When there are these challenges, the traditional roadmap of everything disappears. No longer is success always the winner. Failure is something right now that can bind you into something special," she pointed out. "People are going to try new things, they're going to do new things, they're going to learn skills that they weren't even set up to learn. But all of a sudden, maybe you learn one of those skills and you happen to be exceptional at that and it leads you down a path of opportunity."
VonDeylen, CEO at Ensono, told students that opportunities to grow as an employee become even more important at a time like this. I think the difference between good employees and great employees are the ones that have their heads down doing their job versus, in a crisis like this, the folks that have their heads up and are thinking about 'How could I help, how could I help my team, my peers, my boss, be more successful?'" he remarked. "Those people with their heads up who are really willing to take on something that may be a little bit out of their comfort zone, I think that is a big deal."
Thomas, vice president at Eagle Realty Group, said that fostering creativity in yourself and others is critical, especially now. "The innovation that some of these people that have come up with to attract people to some of our senior housing and active adult properties has just been amazing to me. The success of those properties depends a lot on the creativity of the people working in those different properties," he said. "I think the creativity some of these people have shown has really been a big skill that has helped us through this time."
Ultimately, Marks said, the students have already made important choices that will help them weather the coronavirus pandemic's economic impact.
"I wanted to let you guys know that, even thinking back on the recession, it wasn't a career defining moment for me at all, nor was it for many of many of my peers at Miami," Marks said. I think you also have to think about the fact that you're at the Farmer School of Business at Miami and you're not average. So you already have put yourself ahead of the game by getting a great degree in a wonderful institution. So you probably will not come out of this worse off."