Social Innovation Weekend 2021: 'Best event I have ever attended'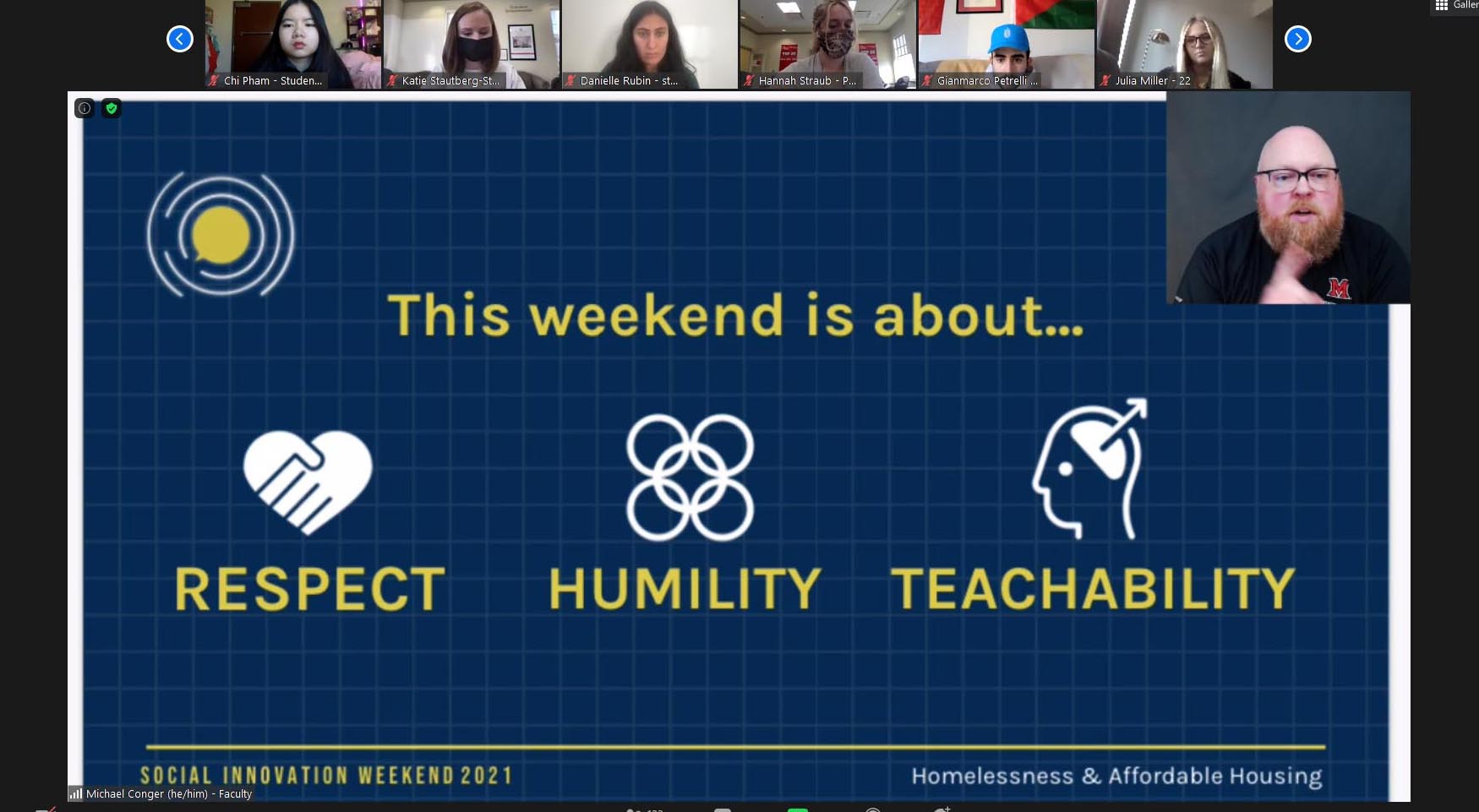 Mar 08, 2021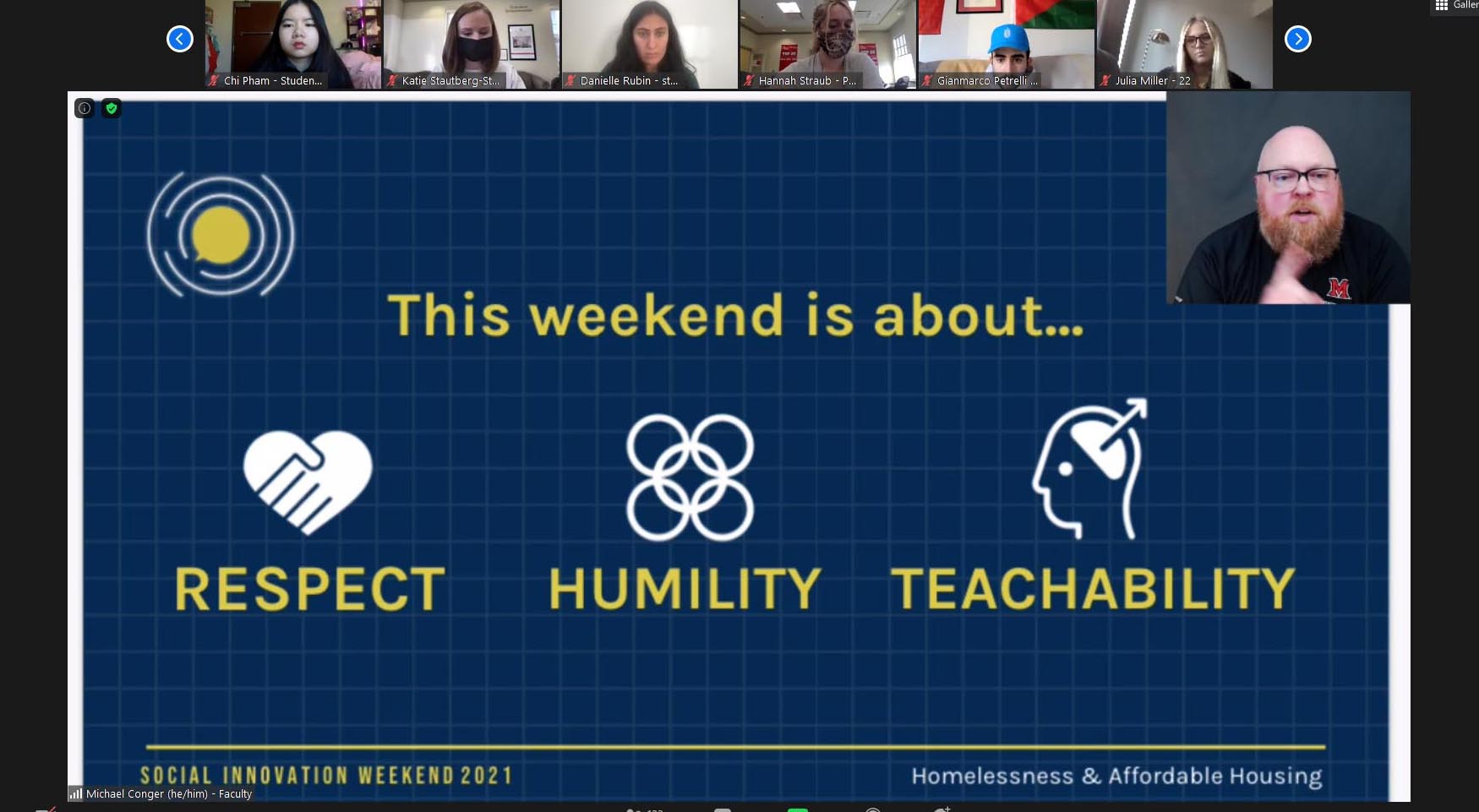 Andrew Davis, a junior women's, gender, and sexuality studies major, didn't have a typical college student weekend this weekend. "It was such a surreal experience and I am so impressed with how everything turned out. I had absolutely no idea what I was getting myself into by participating in this event, but I am so glad that I did!" he remarked.
Davis and more than 120 other Miami University students spent much of their weekend working to find solutions to some aspect of homelessness and insecure housing at Social Innovation Weekend 2021. Their final ideas ranged from mobile showers and laundry stations for the homeless to transportation and housing services for women of color fleeing violent relationships.
In the end, Davis and his team – Cassidy Schlotterbeck, Matt Huber, and Sydney Bruns – took first place for their idea Safe OutCome, a data-driven analytical approach to deciding the correct time for LGBTQ+ persons to come out to family, hopefully avoiding situations that may force them to leave home unexpectedly. "I learned so many skills that I will carry with me forever. There were so many other amazing projects that have serious potential to change people's lives and I am so grateful that I could bring attention to the serious challenges facing LGBTQ+ youth across this country!" Davis said.
"I ended up getting very invested in my project, and I enjoyed working with my group so much. We all are such different majors and were able to come at our product in so many different ways and perspectives. Even though this was a very draining experience, I learned so much," Bruns, a sophomore primary education major, explained.
Second place went to Level (Alejandro Roman, Emmett Jones, Hussein Murray, and Chris Irby), a program of professional development for transgender individuals and training for companies who may hire them. Third place was Framed Stability (Caroline Weiner, Emily Jones, Carly Schweitzer, Tyler Kolocouris, and Dawn Falokun), a program designed to help foster children with tools and housing to help them transition into the adult working world. Safe OutCome won the People's Choice Award, while Josie Dalton received the Mentor Star Award and Jake Ransbottom won the Social Star Award.
More than 80 mentors and volunteers from the business and academic worlds consulted with the 20 student teams to provide insights and feedback throughout the virtual event. "We couldn't have won without the help of everyone surrounding us. All the different mentors and perspectives really are the reason we won and I could not thank them enough," Huber, a senior marketing and entrepreneurship major, noted.
"There are 17,000-some students at Miami University and the 100-some of you who have given your entire weekend to learning, creating, questioning, and building are in the 1%. Thank you for thinking critically about this important topic of housing and homelessness for our communities," mentor Clare Blankemeyer, executive director of GreenLight Fund, told the participants.
"Great work everyone. Really encouraging to see how far you were able to get thinking through a very complicated challenge," entrepreneurship instructor and mentor Geoff Zoeckler said.
"Congratulations to all the teams! You all did great work!! You all are awesome and I cannot wait to see you all out here in the career world!" mentor and judge Charla Hale, coalition coordinator for the Butler County Educational Service Center, said.
"The mentors and faculty pushed my group to succeed. Every faculty member that my team and I talked to added new perspectives and insights that helped create our final pitch," Schlotterbeck, a sophomore finance major, said.
"The mentors were absolutely amazing and were, by far, the most important aspect of this weekend. Their insight was so powerful and I cannot wait to network with them in the future!" Davis remarked.
The event brought in students from 16 departments at Miami University, something that several participants said made a big difference in their SIW experience. "One thing that I love about SIW is that it is open to all majors. I usually only get to work with peers within the business field, so working with peers outside of my specific college was very interesting and impactful," Schlotterbeck said. "Collaborating with a team of three amazing, intelligent individuals of different backgrounds and majors motivated me to succeed."
Organizers said that the virtual nature of this year's SIW allowed many more mentors and judges to take part in the event, an aspect they hope to bring to future events that are otherwise in-person.
"Overall, this has been the best event I have ever attended in my time here at Miami. I would encourage everyone to sign up for this event and push themselves for 48 hours. It's amazing the amount of work that can be done and ideas that can be formed," Schlotterbeck said.
"My biggest takeaway is just how important it is to bring people together across all different fields in developing innovative solutions to some of the most pressing problems," Davis said.
"Winning was great, but looking forward to what will come from this is what really excites me," Huber noted.