KeyCorp CEO: 'The journey is even more interesting than the destination'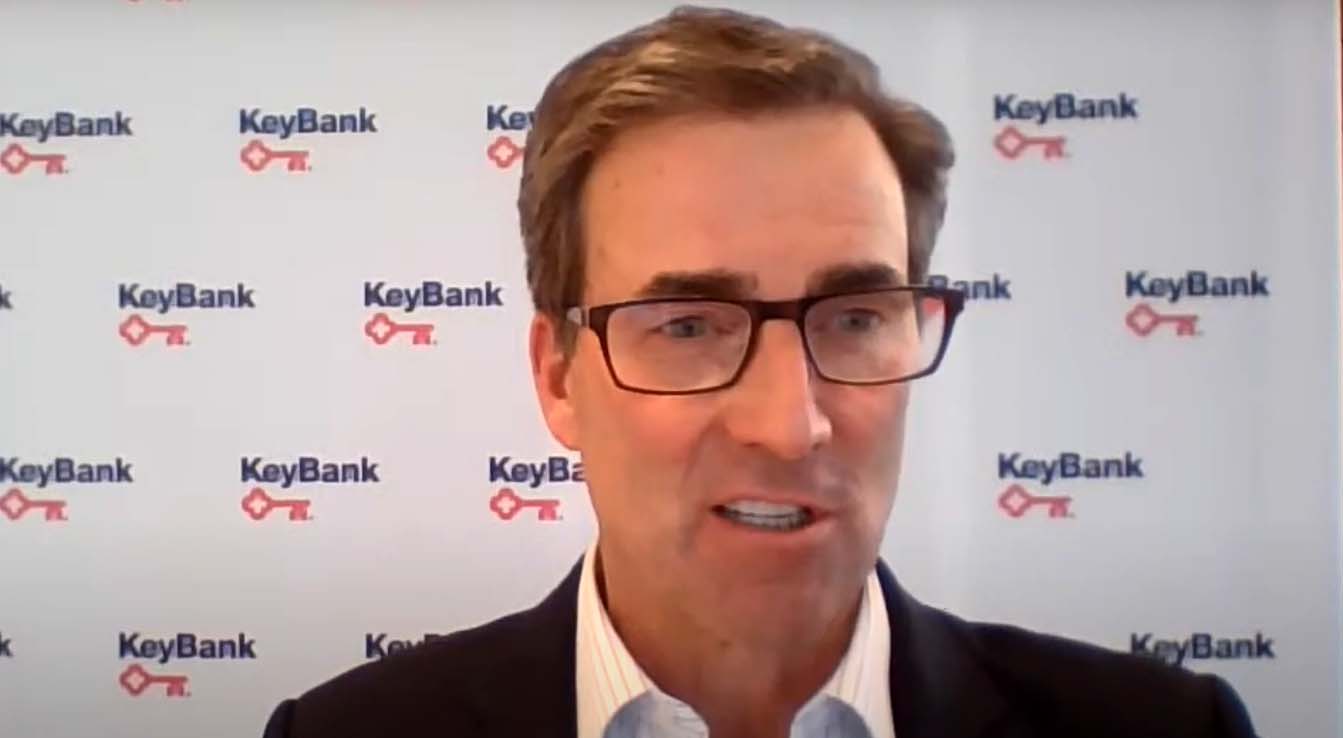 Apr 14, 2021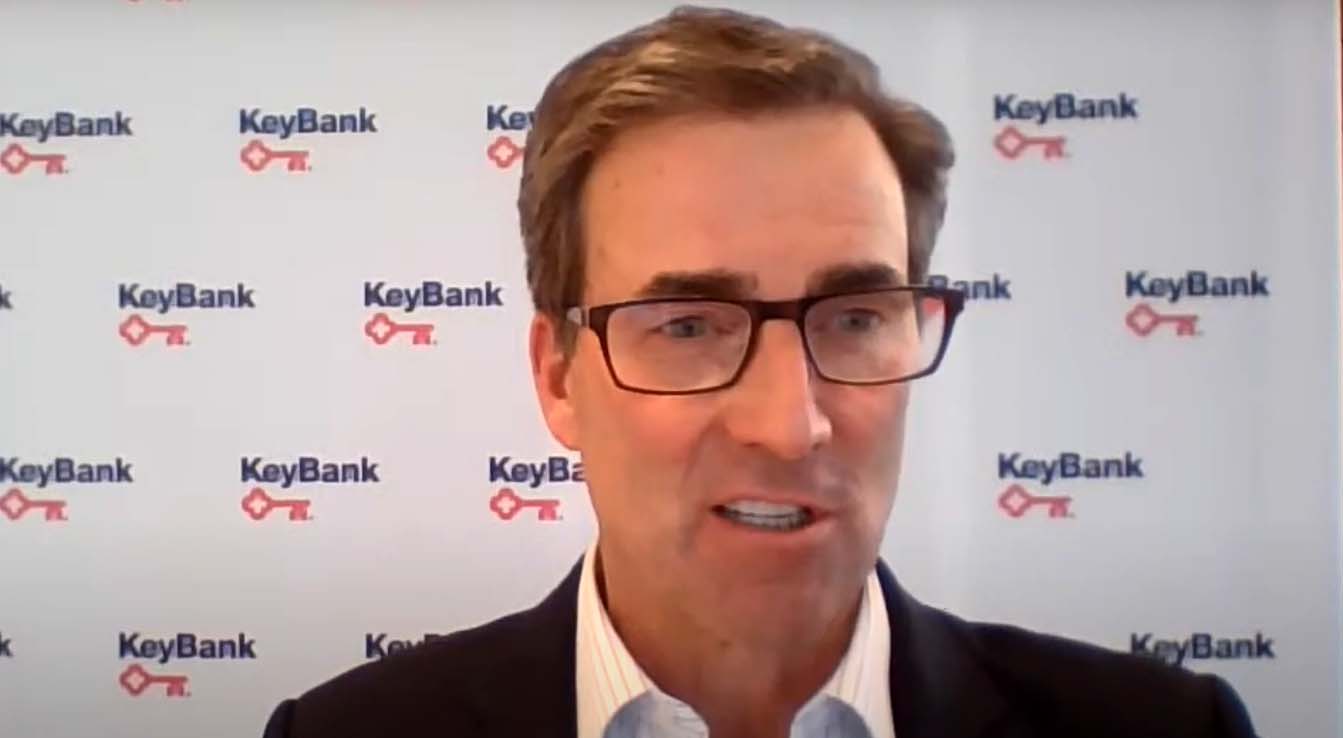 The Farmer School of Business has a sizable reputation for providing a great undergraduate business education today. But even back in 1979, before there was a Farmer School, KeyCorp CEO Chris Gorman said it was Miami's business program reputation that drew him to Oxford.
"I knew I wanted to go into business. I've always been interested in business. As a kid, I always had a bunch of businesses that I was involved with – now you'd call them side hustles," he recalled during his Executive Speaker Series talk. "I just really, really liked the people at Miami. I thought it was a fun place to be and I was looking forward to being there. In fact, it was after that weekend that I came home to my house and announced that I would be going to Miami because I just thought it seemed like such a natural fit for me."
Graduating with a finance degree in 1983, Gorman began his career in banking, working for several companies that eventually had one thing in common. "I've worked for five employers throughout my career, and three of them are part of KeyBank. So I think I was just destined to be here," he remarked.
Gorman has been in management positions with KeyBank for more than five years, becoming chairman, chief executive officer, and president of KeyCorp just under a year ago, just as the Covid-19 pandemic impacted much of the world. "We had to help our teammates and our clients through this crisis. Our purpose is to help our clients and communities thrive, and when there's a pandemic, it's never more important than then. So the first thing was help people through the pandemic. But the second thing was that I knew we had to really reposition Key for success coming out of it," he explained, noting that KeyCorp worked to strengthen its digital properties and capabilities through acquisitions and investment while spending tens of millions of dollars to protect clients and coworkers.
"I define success as, first of all, growing the business. Secondly, doing the right thing by our clients. And then it's all about being focused," Gorman said. "Successful businesses don't try to be everything to everyone. They try to be really focused. And the way I define success is if within our notion of targeted scale, are we the go-to bank for those folks?"
When asked about leadership, Gorman said the most important thing a leader has to have is a good set of ears. "I think to be a good leader, you have to listen. The way we figure out how to serve our clients is to spend time truly listening to them and listening to our teammates. I think that requires that you're out in the field, you're on the ground, you're seeing what your team is dealing with," he pointed out. "And I think one of the most important things to do is listen to people that have a different perspective. I think the worst thing you can do in business is to just surround yourself with people that think just like you. So I think it's very important to listen, but also go out and seek different views."
Gorman pointed out a few traits that he has found are beneficial to people who want to succeed:
"Resilience and the ability to deal with ambiguity, I absolutely believe, are the biggest two determinants of success. If you're resilient and you can deal with ambiguity, you are in a good position to be successful in business."
"Be a team player and take an enterprise perspective. What people really want are somebody shoulder to shoulder with them that wants to take this long-term perspective and create a lot of value."
"Be intellectually curious and do a job that you really are passionate about, because if you're not passionate about what you do, you're going to be competing with others that are passionate, and they'll obviously be a lot better at what they're doing."
But when asked about how to find that passion, Gorman noted that students shouldn't expect to know what it is when they take their first job. "You probably don't know enough on your first job to know that you would be passionate about it, but I think once you get in an organization, pay attention to what is around you and look around," he explained. "In your first job, you'll be hired to do X or Y, but really open your eyes to everything around you because there'll be huge opportunities to move around. So I don't think you can know your passion before you get in the game, but once you get in the game, I think you'll be able to figure it out pretty quickly."
"Ruthless" isn't a term most people would consider a positive, but Gorman told students that there's one area where it's needed in life. "The way you manage work-life balance is, if everything's important, then nothing is important. So figure out what is really important and then just be ruthless about managing your schedule, because a job like this literally could consume every waking and sleeping hour of your life. You need to be very conscious of how you want to spend your time, and it all goes back to prioritization."
Ultimately, Gorman said, the best way to have a good career is to embrace all of it, not just the places you want to be. "The journey is even more interesting than the destination. Every step of the way, I think it's important that you make the most of it and you enjoy it because work doesn't have to be drudgery. Work is a lot of fun, working with people, getting things done. People say, 'Wouldn't it be great to be a CEO?' It is great to be the CEO. But it was also great to get to do a bunch of things, many different things. That's a perspective that I have now that I probably didn't have as much of an appreciation for when I was a student as I do now."