"Founders and Funders" event puts spotlight on Miami, FSB alumni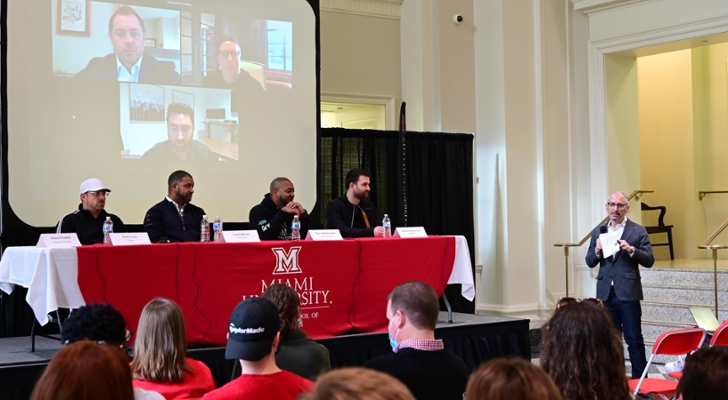 Dec 06, 2021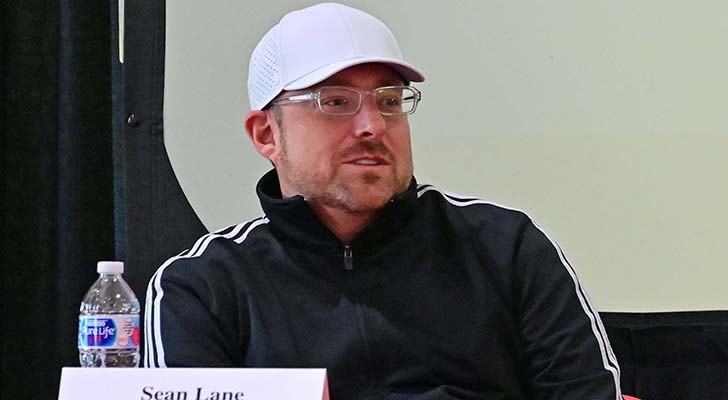 Sean Lane may not have an economics or finance degree, but he knows that his success in life so far is at least partly because of the time he spent at Miami University.
"I think Miami was absolutely fundamental in shaping who I was and who I became as a person. I learned a ton, I met a lot of new people, had a lot of new experiences and it got me excited about the adventure ahead and what the world could provide," he said. "I think it set me up for incredible success."
Lane, founder and CEO of Columbus-based Olive AI, was one of more than a dozen Farmer School or Miami University alumni to take part in a panel called "Founders and Funders: How to grow from a Startup to a Star!"
"I'm here today because I think it's very important for students who are going through this journey to realize that the world around them was created by people just like them -- people who went to Miami, people who are on a very similar journey that they're on today -- and that they can truly do anything," he explained. "They can build the next big company. They can build the next big nonprofit. They will be responsible for shaping this planet. And I think it's really important for them to know that its people like them that are going to do that."
The event, created by the John W. Altman Institute for Entrepreneurship was designed to let students hear from two sides of the business world – the founders who create companies to bring ideas to life, and the venture capitalists who provide funding to help bring those dreams to fruition. 
"The impact and reach of thousands of active Miami University alumni-founders and -investors on the nation's ecosystem was on full display at the Founders and Funders event. The event featured eight Miami alumni-founders representing high growth company that employ almost 10,000 people worldwide, have raised more than $2.25 billion, and have market valuations of more than $15 billion along with seven Miami alumni-investors representing venture, growth equity, and impact investment firms with more than $45 billion in assets under management (AUM) spoke to more than 100 student-entrepreneurs in the Farmer School," Tim Holcomb, chair and director of the Institute, said. "We are grateful for the active engagement of the many alumni that support our program and for their willingness to 'pay it forward' with our students."
One thing the panelists had in common was the feeling that what they learned inside and outside of class at Miami helped to make them the successes that they are today.
Alex Malebranche graduated with an accountancy degree in 2015, but it was travel that led him to create PlaneAhead, a travel concierge company. He said that one thing he took away from his Farmer School experience was the importance of other people. "It's all about the relationships. The people that I met here my freshman year all the way up until after I've graduated, they continue to shape me," he said. "They've continued to shape who I am, the people I work with, and the people I partner with from an investment standpoint, because we all have those same values. And they continue to extend that level of care even past the business side of things."
 "This is a magical place to be. I don't know that I ever took that for granted, but coming back reminds me every time of how fortunate I was to have this experience," Atlantic Street Partners' Trish Lukasik, a 1992 finance and economics major, explained.
"The thing that I learned and took with me from Miami is the sense of humility and how important that is to be a leader," NGP Capital venture partner John Gardner said, noting that in San Francisco where he lives, "There's not a lot of humility."
"The first thing that some people do is try to establish that they're the smartest people in that room," the 1984 economics graduate remarked. "People who operate in that fashion, particularly as leaders, aren't good listeners. And when they're looking to hire people, they look to hire people that aren't as smart as them, as opposed to realizing that they don't have all the answers. What I've realized looking back at this institution is that among my friends here and those that have been successful, there's no sense of entitlement. It's just not part of the ethos at Miami."
Beyond the books, beyond the presentations, beyond the exams, the panelists said the students' time in Oxford should show them their own power and abilities, with others and alone.
"When I look back at my experience at Miami, I do think when you go through the coursework, it can feel transactional – I've got this test, I've got this project, whatever. But don't be transactional with your peer relationships," Arthur Ventures' Patrick Meenan said. "Continue to nurture those relationships and take them very seriously."  
"Know who you are and what you're trying to accomplish, and be true to that. You want to know exactly what you want to do and you want to continue to grow towards that. There are going to be a lot of people who are going to push you or pull you in different ways to fit their needs. And that's a way that you're going to lose yourself in the real world," Malebranche said. "Be confident in who you are and what you're trying to do and continue to grow towards that."
"It's going to be the students' job, their responsibility to build the future, to build the next big product, the next great company, the next community, the next city, the next nonprofit," Lane said. "They are the ones who can do it. It's not someone else, it's truly you. If you're asking who who's going to be the one to change the world, it's you."