Social Innovation Weekend 2022 takes on mental health challenge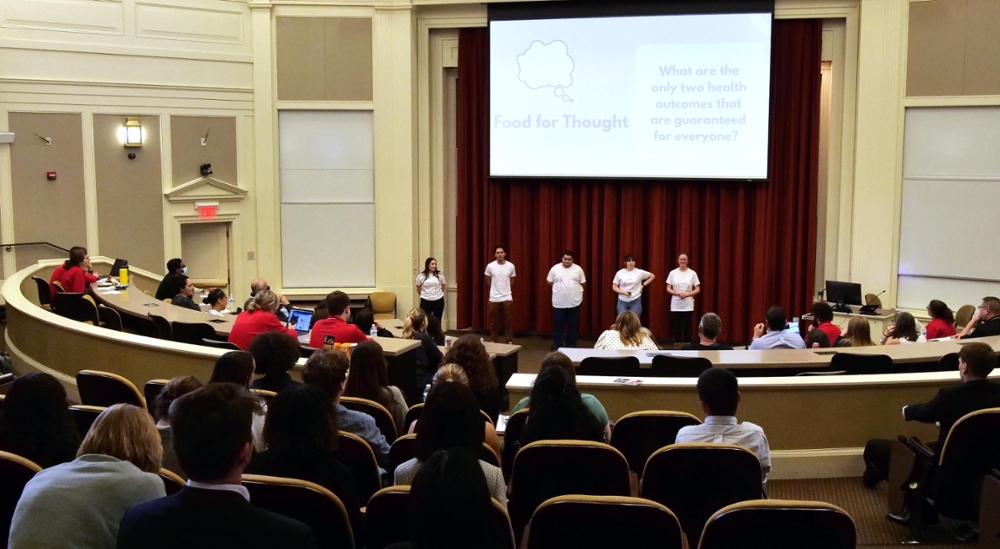 Mar 08, 2022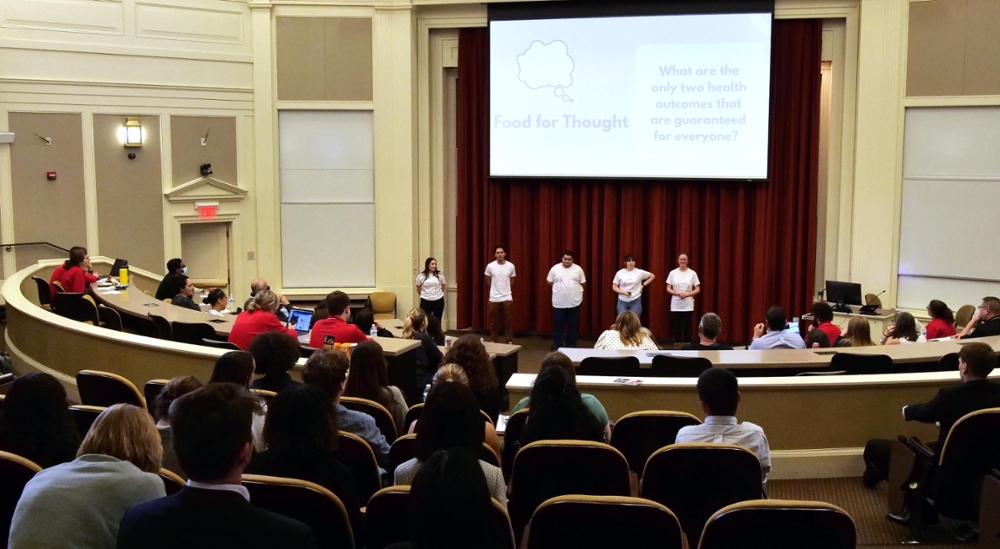 While many Miami University students spent the warm spring-like weekend outdoors, more than 90 of them spent most of their weekend in the Farmer School's lower level, coming up with ideas and plans to effect meaningful changes to deal with a social challenge.
That's the mission of Social Innovation Weekend, a three-day hackathon-style event in which mentors/volunteers consult with small startup teams to provide their insights and feedback as the teams develop new programs / services / products that, this year, addressed some aspect of mental health and resilience.
"I think events like this are important because they allow students to interact with folks from different departments, and that's what you get in the workforce when you get out there," Kurt Reiber, president and CEO of the Freestore Foodbank, said. "That's really important when you think about solving problems and addressing issues that are out there in the entire community. I think it also raises awareness for many of these students who have never confronted any of these social issues that I think are very important to our community."
The topic brought out students from across the university. "I'm here because social innovation and mental health resilience is what I want to do with the rest of my life," psychology and strategic communication major Mary Kreidler said. "My mom's also a clinical psychotherapist, so I grew up with the background of having mental health advocates around me all the time. So if I could make a product or an organization that could help kids that weren't as fortunate as me, I really wanted to step in and do that."
"I think something drew me in about this year's topic, especially because mental health is such an emerging topic that everyone's talking about now," senior marketing and entrepreneurship major Elizabeth Smith said.  "It's really a developing field and there's a lot of opportunity for growth."
"I like making a difference," first-year marketing and entrepreneurship major Samuel Adler said. "Wanting to make a change and having a background specifically in this topic that I presented about today, it all defines who I am and it's something I want to drive for to make a difference in the world."
Adler's team, including Ashley Hoegler, Zachary T. Marsh, Behkah Spelic, and Caitlin Spyra, took first place with Change, a holistic mobile support service focused on community support and mental health resources.
Taking second was RecidiVirtue (Elizabeth Smith, Owen Hardy, Mason Seitz, Harry Vu, and Ashley Hitchler), a program to help paroled prison inmates and their families with mental health issues that can lead to returns to prison. The team also won the People's Choice award from the student participants.
Third place went to Empower (Amanda Simeone, Angel Schlotterback, Brent Baumgartner, John Nguyen, and Madison Vedda), a program aimed at curbing suicide attempts among high school and middle school athletes.
Taylor Beasley, a junior strategic communications and entrepreneurship major, was named the Social Star by the event's mentors.
Much like what brought them to the event, students said they had a lot of different takeaways from their weekend's experience. "Learning to compromise, learning how to take a step back and remember that you're working as a team to create the best possible product and everyone has their own experiences to contribute. That can really create the best product," Smith said. "You don't have all the answers -- the team does."
"The part I like about this is the fact that there's so many teams presenting these amazing ideas, and a lot of these ideas are going to be implemented because there's so many different perspectives coming into play here," Adler said. "Especially in an area like mental health, where there's so much improvement that needs to be made. And we're all making that difference right now."
"I'm taking away how difficult it is to make a business in 48 hours. As a kid who's not in the Farmer School, has never done any sort of business pitch in their whole entire life, it really did show me how difficult it is and just how good of an experience it is to meet new people and make new ideas that you never thought you'd be able to make otherwise," Kriedler said.
"I hope the takeaway from this is really the way to do research and the way to communicate, and not be afraid to tackle some of the big issues in our lifetime," Reiber said.