Winning trend for Farmer School VCIC teams continues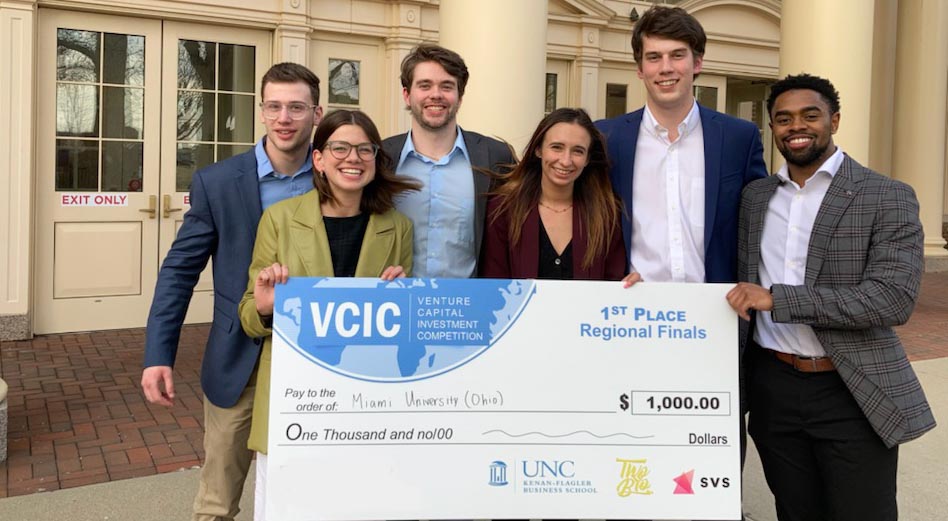 Mar 07, 2022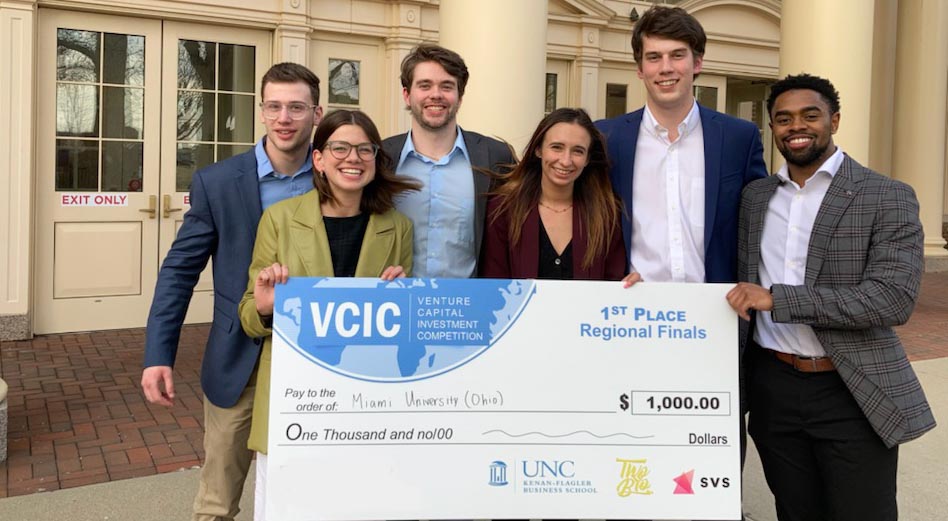 Six times in a row. That's how often a team of Farmer School and Miami University students have won the Northeast Regional competition of the Undergraduate Venture Capital Investment Competition (VCIC). It's also how often a Miami team has even competed.
This year's team members are:
The VCIC is an invitation-only, international competition with student venture capital teams from top business schools around the world. This year, undergraduate student venture teams from 48 universities across the US and Canada compete in eight regional competitions.
Unlike business plan competitions where students pitch their ideas to investors, in the VCIC, student teams assume the identity of a venture firm. On the first day of the three-day competition, each student venture team receives a profile of the firm's venture fund (size, age, investment stage, targeted industries/markets, number and size of previous investments, etc.) and business plans for three seed stage companies.
"We received three pitch decks of real ventures at 5 p.m. Thursday and were given about 36 hours to do in-depth research, industry calls, and debate to choose which one to invest in as well as create a full term sheet as a venture firm," Bolena said. "We had three 10-minute Q&A sessions with each founder and presented our term sheet in a partner meeting to a panel of experienced partners, the judges, and met with them one on one afterward for questions and feedback."
"It was some of the most challenging and intense hours of my life, and as a result, I learned and grew so much in such a short period of time. From our conversations with industry and venture capital experts during our diligence on the companies to the six of us grinding and collaborating in Farmer until 2 am both nights, finishing with the Saturday competition where we got an immense amount of real-time feedback from the judges and coordinators, every moving part of this weekend played such a significant role in making it such an impactful and insightful experience," Harris said. 
To prepare the team, students are required to complete a six-to-eight week Venture Capital Immersion Program that teaches them about venture capital concepts, terminology, and practices. Led by visiting assistant professor of entrepreneurship Theresa Sedlack, the immersion program introduces students to the venture capital model, firm thesis and management structure, fund logic, funding rounds and stages (e.g. Seed, Series A, etc.), due diligence process, quantitative and qualitative deal analytics and valuation strategy, term and conditions, negotiating tactics, venture debt financing, equity crowdfunding, and the general implications of taking on outside funding (e.g., dilution and cap tables, board composition, and follow-on funding.
"The VCIC regional experience was amazing. Our team was able to learn so much in such a short period of time, while also having fun. The time-intensive research forced us to rely on our teammates' strengths as there was too much work for one or two people to do," Coburn said. "The preparation from our advisor Theresa Sedlack allowed us to be successful as well as our previous competitor's generosity of their time and knowledge.
"VCIC has been a journey from meeting the team in November, to asynchronous work over winter break, to the three-hour classes every week, mock competitions, meeting some of the brightest founders, VC partners, and all of the resources Miami and especially Theresa Sedlack provided us," Pannell said. "It all accumulated to make a prepared, hard working, and unified team."
"Learning the behind-the-scenes of venture capital was incredible, and understanding the true grit that it takes for these founders to grow their companies was worth every hour we put into it! We feel really confident in how we play to each other's strengths and definitely bonded along the way. We are hoping to become stronger in our ability to value companies, model our expected returns/financials, and communicate effectively," Bolena said.
The team now moves on to the Global Finals round of the VCIC on April 9-10, held at the University of North Carolina-Chapel Hill, where Miami teams have finished in the top three on three occasions. "Winning regionals felt good, but our team can confidently say the job is not finished yet. We want to win nationals," Coburn said.