Miami Welcomes Dr. Gao for a Lecture Series on Chinese Archaeology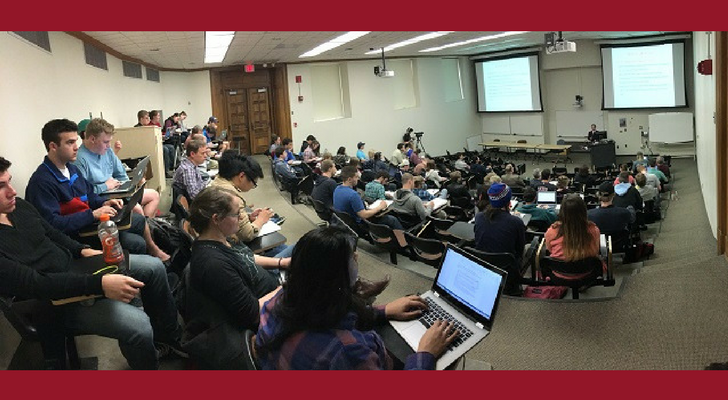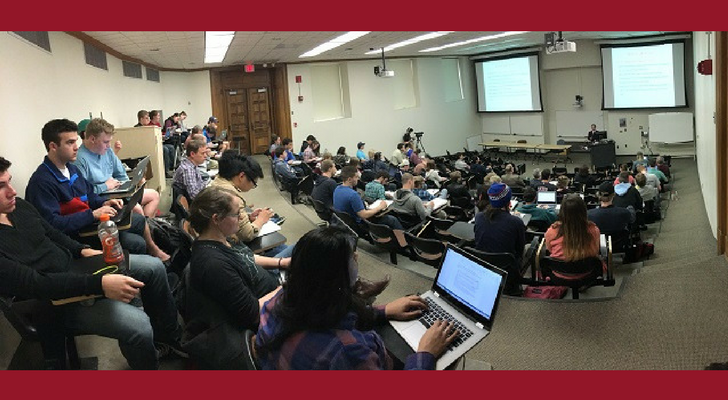 Students gathered for Dr. Gao's Archaeology lecture.
Apr 07, 2016
By Megan Zimmerer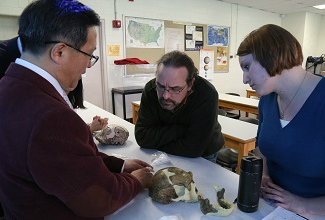 On Wednesday, April 6 and Thursday, April 7 Miami University welcomed guest speaker Xing Gao for a series of lectures and class visits on the subject of his groundbreaking research. Dr. Gao is currently head of the department of the Institute of Vertebrate Paleontology (IVPP) at the Chinese Academy of Sciences in Beijing, director of the Chinese Paleolithic Society, and president of the Asian Paleolithic Association. Recently, Dr. Gao participated in an excavation of the famous Zhoukoudian site (otherwise known as the "Peking Man site"). Dr. Gao plans to deliver another lecture series to San Diego State University after his Miami University visit.
Dr. Gao delivered two in-class lectures to Miami's anthropology students: "New Achievement of Paleolithic Research at the Shuidonggou Sit-Complex" and "New Advance in Scientific Investigations at the Peking Man Site Zhoukoudian." These lectures were well attended and met with a great deal of enthusiasm. Dr. Gao was pleasantly surprised when Professor Melissa Rosenzweig and Scott Suarez in the Anthropology department brought stone tools collected from ZhouKoudian site, which are part of their lab collections, to the class.
Dr. Gao also delivered two public lectures. The first, entitled "Fire-Use Evidence at Peking Man Site of Zhoukoudian," explained the significance of fire-use in terms of evolutionary history, the process of collecting and analyzing data on early fire use, and the controversy surrounding the Zhoukoudian site. After the lecture, one student said, "I always find it fascinating to revisit an archaeological site, because technology develops over time and that provides a fantastic opportunity to learn new things about an old site." Another student, nodding in agreement, added, "I like seeing the debates going back and forth, and what drives skepticism…It was awesome to get to listen to this dialogue."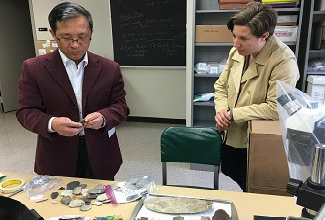 The second public lecture, entitled "Efforts in the Search for Human Ancestors in China," was held in the Miami University Art Museum. Dr. Gao introduced two theories on the origin of modern humans: the replacement (or "out of Africa") theory, and the continuity with hybridization theory (also known as "multi-regional") theory. The search for early human remains is ongoing, and scientists such as Dr. Gao work diligently in pursuit of the truth. During the reception, a member of the Miami University Art Museum staff commented, "I knew a little bit of the terminology from educational television programs, and it was interesting to better understand these two theories and the differences between them."
The final lecture, entitled "Our Ancestry," was delivered in Chinese. Dr. Gao's lectures contained many complex technical terms on archaeology, and this lecture gave Chinese speakers the chance to engage the material in their native language, which enhanced their understanding of Dr. Gao's research and new developments in understanding of their own fascinating archaeological heritage.
Conclusively, Miami students and staff benefited greatly from this unique opportunity to engage a world-renowned expert on anthropology. Students and staff agreed that the lectures and class visits supplemented and cemented material learned in class, and that this experience great enriched their understanding of anthropology.