CIMU Co-Sponsors Annual Chinese Skit Competition


CIMU staff and students posing in front of the stage.
Apr 04, 2018
By Megan Zimmerer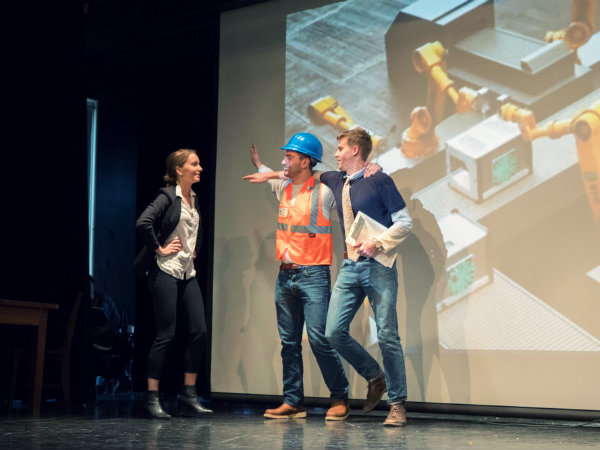 On Wednesday, April 4 the Confucius Institute at Miami University (CIMU) co-sponsored the annual Chinese Skit Competition with the Department of German, Russian, Asian, and Middle Eastern Languages and Cultures (GRAMELAC). The competition was steep this year as students came prepared with hilarious, thoughtful, and linguistically challenging performances.
First, MCs Vincenzo Bianco and Taylor Freiber introduced the judges: Chen Zhao, Liang Shi, Qihou Zhou, Kristin Magyari, and Jing Luo. After the judges were introduced, the skit performances were separated into their respective levels.
There were two wonderful performances at the intermediate level: "Roommates" and "Full House." Both skits took the dynamic characters through hilarious situations, and the actors executed their scenes with energy and enthusiasm. Performers Angel Thwe, Jaden Loo, Juanita Kwarteng, and Alicia Walsh-Clarett took first place in the intermediate division for their skit, "Full House."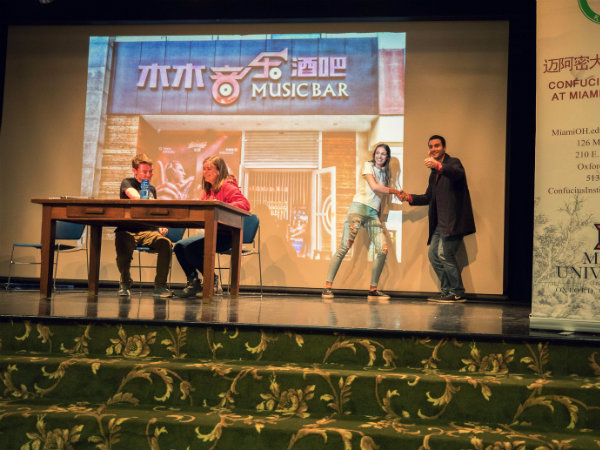 After the intermediate-level performers concluded their performances and received their marks, CIMU performers took the stage during the intermission period and put on two lovely performances. First, martial arts master Zhibin Jin performed a series of tai chi moves. After that, the Hanfu Club performed "Country of Etiquette," wearing clothing and displaying traditional etiquette from the ancient Han Dynasty.
In the second half of the competition, performers from the advanced and business classes performed four scintillating skits, showing off their considerable and hard-earned Chinese language skills. Performers Marie Powers, David Tallman, and Hunter O'Hare won the first place prize with their performance called "The New Production Line Has a Big Problem."
All performers gathered on stage after the competition for a short awards ceremony and to allow the student photographer to capture a few photos. CIMU director Chen Zhao, Professor and Assistant Department Chair of GRAMELAC Liang Shi, and CIMU Associate Director Zhongqing Jiang presented certificates and checks to the winning teams. One of the participating students commented, "Preparing for this competition was very challenging, but it was good for me to practice and build on my Chinese." Overall, this was a fantastic opportunity for students to learn, practice, and showcase their Chinese skills!