Confucius Institute hosts 6th annual Chinese Festival

Sep 27, 2019

The Confucius Institute at Miami University held its sixth annual Chinese Festival on Sept. 27. Participants flooded to Uptown Oxford to visit cultural booths and watch traditional Chinese performances.
This year the event took on a special meaning, as it commemorated the 40th anniversary of the United States and China's relationship. It also marked the 40th anniversary of the state of Ohio's partnership with the Hubei province, which is located in the center of China.
The Chinese Festival began at 5:00 p.m. in Uptown Park. Close to 20 booths filled the park, allowing guests to learn about Chinese language and culture. One booth provided a short language lesson, and crowds of students gathered around to learn simple Chinese phrases.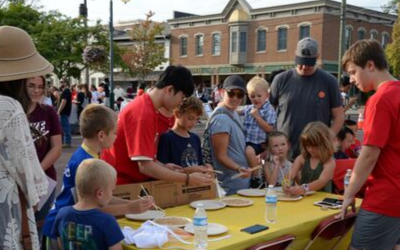 Other booths allowed visitors to make their own panda masks, do calligraphy, try on classical Chinese costumes, and much more. As children visited each table, they collected stamps on a passport, which they could exchange for prizes.
"I love this festival; it's one of my favorite events every year," said Oxford's Mayor Kate Rousmaniere. "It's so fantastic the students come out, and residents come, and people from all around southwest Ohio come … [Festivals like this] bring everything to the city of Oxford."
The show began at 7 p.m. with speeches from Rousmaniere, Assistant Provost Cheryl D. Young, and Director of CIMU Chen Zhao.
They all welcomed the guests and expressed their gratitude to everyone who made the event possible. They also mentioned the significance of this year's festival.
"This year is a particularly important year," Zhao said. "It marks the 40th anniversary of the diplomatic relationship between the US and China. We are very excited for this continued cultural exchange."
Miami students Taylor Freibert and Santiago Puente Davila hosted the show, alternating between speaking in Chinese and English. Both are studying Chinese and have visited the country.
The Confucius Institute's student art clubs performed, including the Lion Dance Club, Folk Dance Club, Chinese Classical Music Ensemble, and Han Costume Club. All the students spent countless hours preparing in order to make this night a success.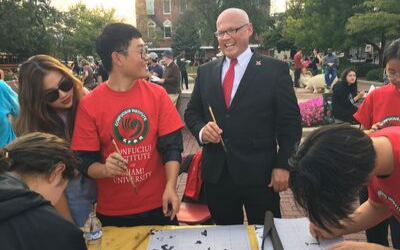 CIMU's new martial arts instructor Zenghui Xing, Hamilton resident Jerome Cook, and a group of students and visiting scholars executed a kung fu routine, which evolved from strong movements to more graceful gestures.
Additionally, students from the Bingyang Performing Arts Center in Cincinnati performed two dances, including one wearing peacock costumes, which impressed the audience. Miami University's DZTB Street Dance Club ended the night with a hip-hop routine.
"I love to see all the different cultural aspects of our Chinese students," said Miami President Gregory Crawford about the Chinese Festival, "and it's just fantastic to see the other Miami students embracing it."
Interested in more events like this?
Come to tea tasting: a sip around the world this Friday!
Try tea from all different cultures.