Beyond the Chateau Walls-Starting off strong: Alec Hoelker begins internship within first weeks in Luxembourg

Sep 20, 2019
By Hannah Straub, MUDEC Newsletter Junior Editor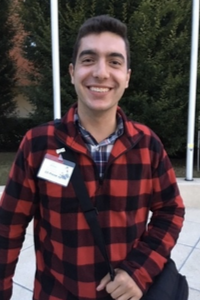 Three weeks ago, Alec Hoelker was packing his bags, facing the unknown that comes with spending a semester abroad. Last, week he was wearing a press badge and taking pictures of the Grand Duke and ambassadors at the official 75th Anniversary of the Liberation of Luxembourg. How did this happen? MUDEC happened.
As a senior Strategic Communications and Political Science double major, Hoelker wanted to study abroad in Luxembourg because he saw it as an ample opportunity to explore Europe before he graduates in the spring. He had been to Europe once before but not independently.
"I had friends that came to MUDEC and all I ever heard were good things," Hoelker said. "MUDEC is perfect because I was able to select courses that applied to my major, so I wouldn't be worried about not graduating on time."
Before arriving at MUDEC, Hoelker was interested in doing an internship or independent study and reached out to the staff, who put him in touch with the US Embassy in Luxembourg. Shortly after arriving, he turned that opportunity into reality. Serving as a virtual intern, he is able to work in the Embassy every Tuesday, with the rest of his time spent writing press releases, organizing news articles over events the ambassador attended, and taking pictures at events like a soldier commemoration and the 75th Anniversary of the Liberation of Luxembourg that happened this past Monday.
"The Liberation was a beautiful and unforgettable experience," Hoelker said. "It was so unique to see how a country gives respect and gratitude towards the sacrifice of US soldiers."
This experience has given Hoelker the opportunity to meet a lot of great people and to bring the feeling of Oxford to Luxembourg.
"It has changed my personal perspective on how people live," Hoelker said. "Here, people really just live by their means. I don't like fancy things, and I enjoy how most people sit out at cafes all night talking about life and town drama. People are not in a rush as much as Americans, and the change of pace definitely suits me."
When asked what advice he would give to prospective students thinking about coming to Luxembourg he said:
"Do it. Whether you know people or not, do it."