Global Faculty Research Profile: M. Elise Radina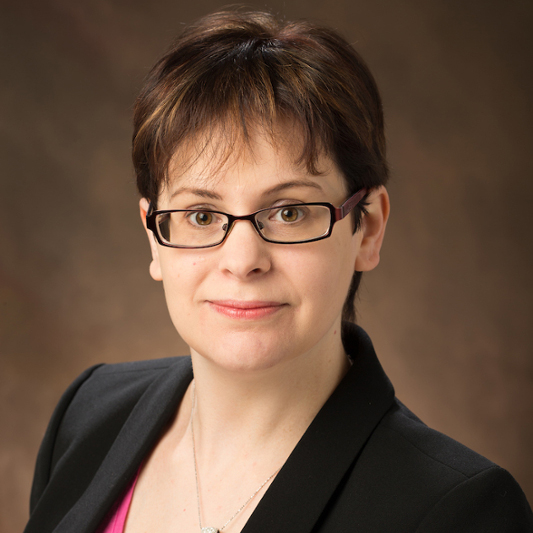 Apr 19, 2021
Associate Dean, Faculty Development and Graduate Studies Dr. M. Elise Radina teaches in the Department of Family Science and Social Work at Miami. A qualitative methodologist whose research focuses broadly on families and health, Dr. Radina's research primarily focuses on mid and later life women in family contexts (e.g., breast cancer survivorship, positive aging, breast cancer-related lymphedema).
What are some of your current research interests and/or projects?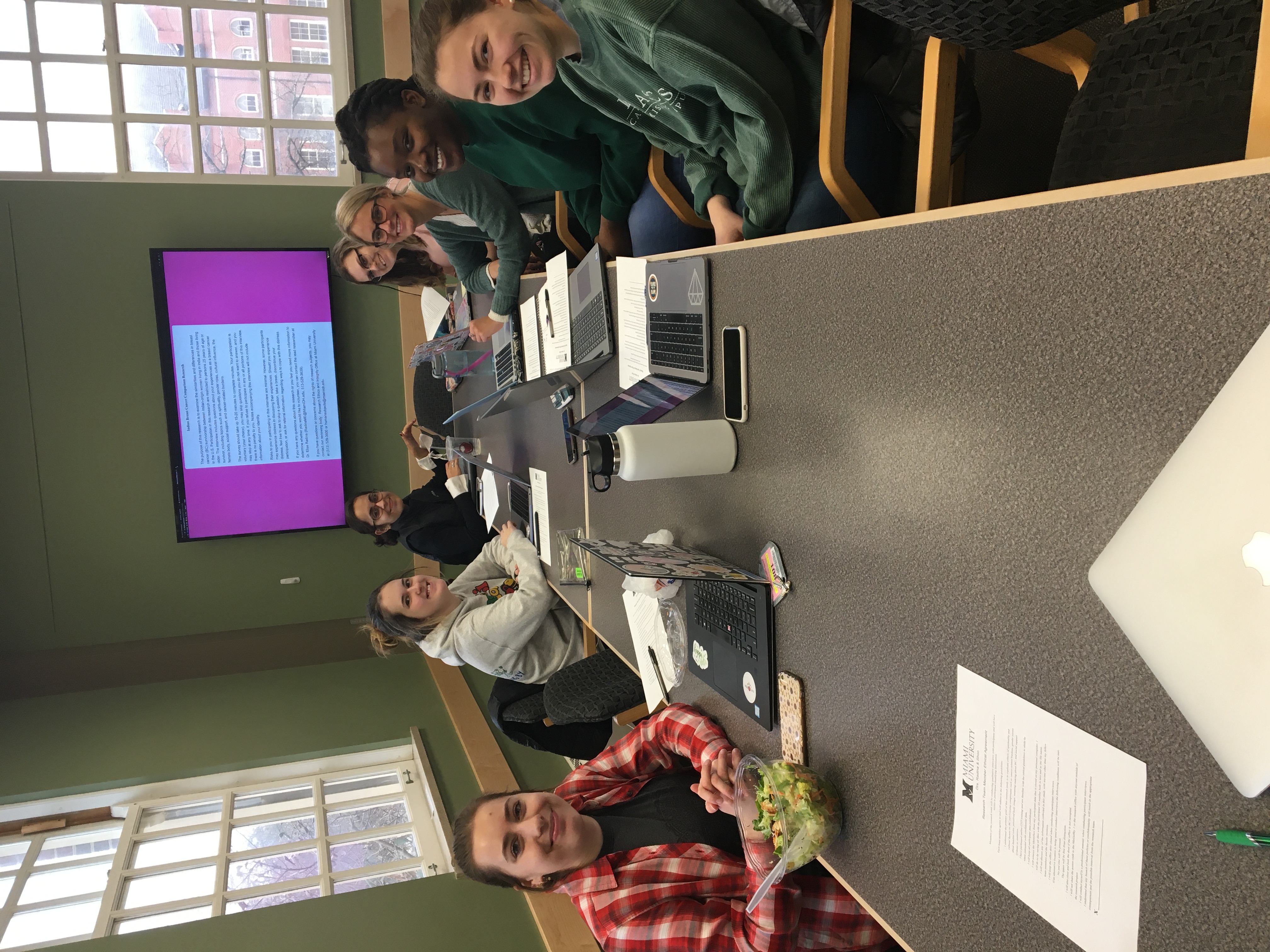 My undergraduate student research team and I are currently collaborating with Dr. Anuradha Sathiyaseelan of CHRIST (Deemed to be University), Bangalore, India, and Dr. En-Jung Shon of Duksung Women's University, Seoul, South Korea. Our project explores the similarities and differences in breast cancer (BC) survivorship among Indian-origin and Korean-origin women living worldwide.
The objective of this study is to explore spirituality and cultural factors on BC survivorship experiences such as cancer-related burdens, gender norms about familial roles, perceived body image, meaning-making about BC, and social support systems or resources.

Breast cancer (BC) is a leading cause of death among women worldwide (World Health Organization, 2019). Prior studies highlight that both spirituality (e.g., Kumar & Parashar, 2015) and cultural components (e.g., Yan et al., 2019) play a critical role in each individual's BC survivorship patterns.
However, few studies focused on how different aspects of spirituality and cultural backgrounds impact BC survivorship patterns of Indian and Korean women living in different countries. It is unclear if similar patterns among Indian and Korean BC survivors in the U.S. and those of similar ethnic origin abroad can be expected.
What are some of the outcomes of your recent research?
To date, we have interviewed four participants living in the US and eight participants living in India. We are currently working to collect survey data from these participants. Recently, we expanded our recruitment to include women of Indian and Korean ethnic background living anywhere in the world.
Has the COVID-19 pandemic affected your research?
Recruitment of participants for such a specific population, particularly in the US was going to be a challenge for us. With COVID-19, it has been even harder to forge relationships with organizations that might be able to help with recruitment. Most non-profits are either closed or working remotely, making it difficult to make real-time connections with their staff. At the same time, since the research team is working remotely around the world, being able to be all in one place remotely at one time to brainstorm recruitment strategies is a challenge.
What are your plans for the coming year?
We hope to continue this work and collect data from up to 20 more participants. We will then work on data analysis and dissemination of results. The undergraduate student research team at Miami is in the process of doing some preliminary analyses of the data we have so far in order to present those findings at the 2021 Undergraduate Research Forum.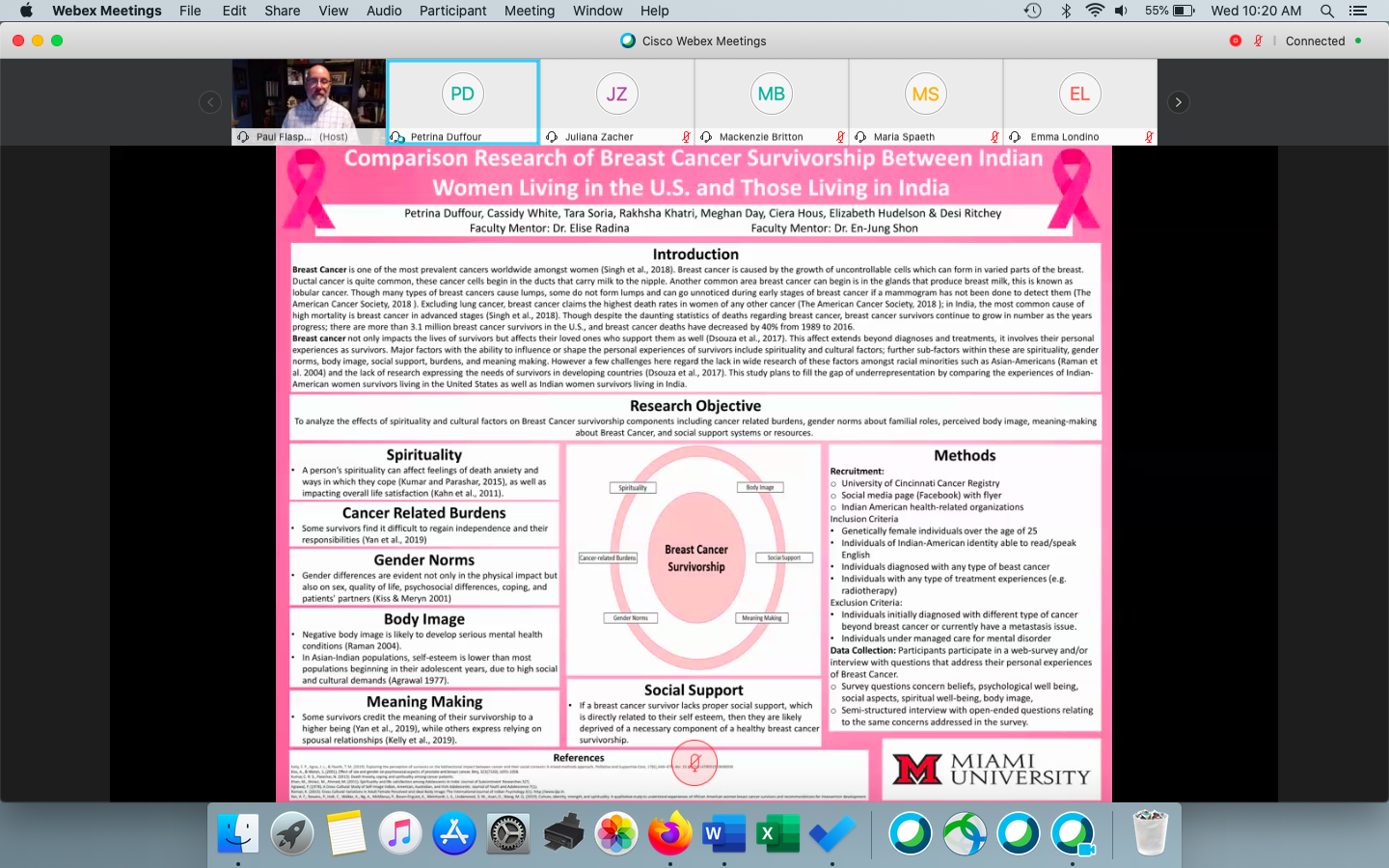 Students presenting their poster at the 2020 Undergraduate Research Forum
About Dr. M. Elise Radina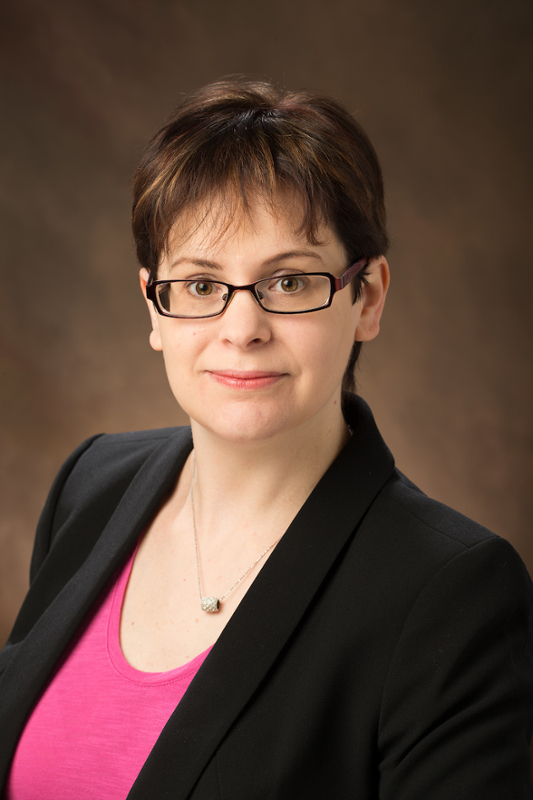 Associate Dean - Faculty Development and Graduate Studies, Professor
Department of Family Science and Social Work
University of Missouri | Post Doctoral Fellowship, 2003
University of Missouri, Ph.D., Human Development and Family Studies, 2002 | Minor: College Teaching
Miami University | M.S., Family and Child Studies (Family Life Education), 1998
Allegheny College | B.A., International Women's Studies, 1996 | Minor: Spanish
Research Interests
Broad focus on families and health, particularly mid and later life women in family contexts (e.g., breast cancer survivorship, positive aging, breast cancer-related lymphedema)
Current Projects
A collaboration with Dr. Anuradha Sathiyaseelan of CHRIST (Deemed to Be University), Bangalore, India and Dr. En-Jung Shon of Duksung Women's University, Seoul, South Korea to explore the breast cancer survivorship experiences among women of Indian and Korean ethnic background.
Undergraduate Research at Miami
At Miami, undergraduates regularly participate in faculty-led research projects. A few of Dr. Radina's students shared their experiences.
Petrina Duffour, Class of 2023
Major: Biology and Pre-Medical Studies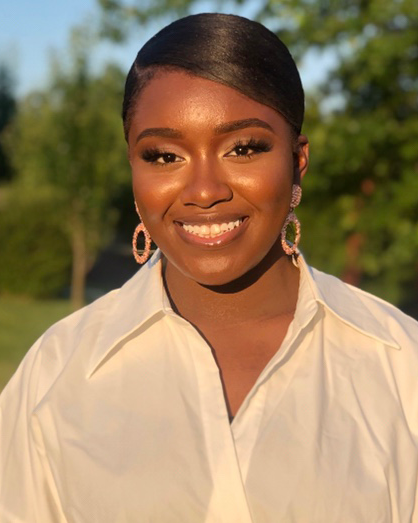 Before joining this amazing team, I had only associated Breast Cancer with discussions of finding a cure and studying from a biological perspective; so this project was a challenge for me initially. However what led me to participate and increased my interest in this project, was the opportunity to understand the experiences of these women. It's one thing to see their diagnosis and treatment, but to hear how they felt, how they felt supported or unsupported, and what kept them going, were some of the many components that kept me involved and interested. My role as an undergraduate researcher in this project has further encouraged me to pursue a career in health; the ability to care for and treat patients holistically with the willingness to listen, is an incredible quality I believe my future patients will appreciate.
---
Cassidy White, Class of 2022
Major: Gerontology/Pre-Medical Studies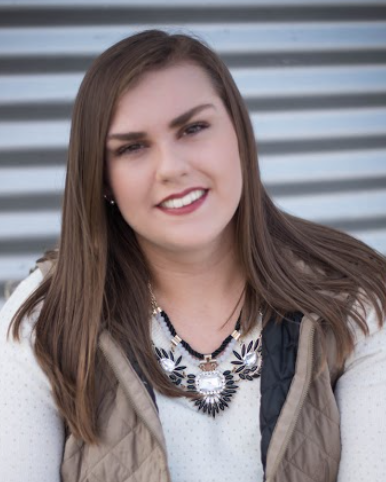 I first joined Dr Radina's research group during the last semester of my freshman year. What led me to her research group was looking at other research projects within the department of Family Science and Social Work. I talked with several other professors, and Dr. Radina's work stood out to me the most. I loved the idea of doing more qualitative research and understanding people's perspectives and how they have overcome such trying circumstances. It's been very fulfilling to know that the data we've gathered could potentially help people in the process of coping with their diagnosis as well as their lives post cancer treatment. This sort of study helps to understand women's health not only physically, but psychologically as well and what external factors contribute to the best overall healing. This is what really drew me in to the group, and every project since then has been based on the idea of understanding people in a more in-depth way.
As a Pre-Med and prospective medical student, this idea of a more holistic approach to medicine has allowed me to see how factors such as family life and mental health are just as important as physical health in diagnoses. Since joining the team, I've gotten a lot of experience with interacting with participants and I've learned how to actively listen to what they have to say. In the field of medicine, this makes such a difference in your ability to diagnose and treat patients. Building rapport and trust with a patient is essential to understanding their concerns as well as improving the quality of care they receive.
As an undergraduate, I have loved working with all my fellow researchers to problem solve and construct surveys and measures for our studies. We all bring such different perspectives and outlooks on a particular problem that can help hone-in on what we really want to look at and discuss. I love working with the raw data for analysis, but I particularly love the interactions I've had with interviewing different individuals and learning their stories in-person rather than through survey results. This way, you get both sides of the research methods, which is what I really enjoy.
---
Miami University will host their second Virtual Undergraduate Research Forum on Wednesday, April 21st, 2021. Everyone is welcome to attend this public event.