Where in the World is Miami Wednesday: MUDEC Special Edition #2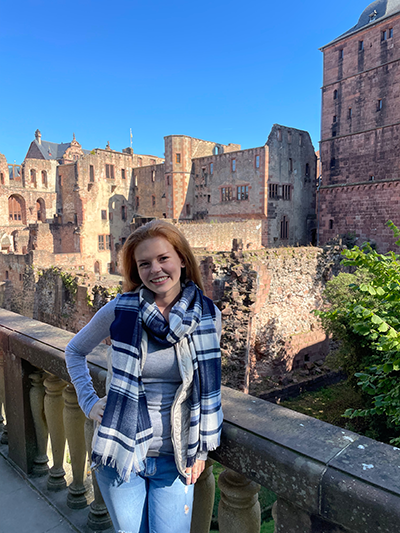 Nov 17, 2021
Editor's Note: As we observe International Education Week this month, we are highlighting some of the students who are currently studying at Miami University's John E. Dolibois European Center (MUDEC).This article is the second in the series.
---
In this week's Where in the World is Miami Wednesday, we meet Grace Dressman, a sophomore Psychology major and Critical Race and Ethnic Studies minor, who is studying abroad at the Miami University John Dolibois European Center (MUDEC) during the Fall 2021 semester.
How did the COVID-19 pandemic affect your experience?
The COVID-19 pandemic hasn't affected my experience in a negative way. It has just made the experience a little different. For example, we are now regularly asked to show our vaccine passports and we must continue to wear masks inside.
Why did you choose your study abroad program?
I chose my study abroad program because it gave me the ability to meet new people who spoke English and would also be adjusting to life in Europe. Miami's campus in Luxembourg lets me gain European experience, and my classes are still taught in English.
What are you studying in your program?
The courses I'm taking will contribute to my Miami Global Plan. My classes involve the study of art from the Renaissance to now, the rise and fall of Adolf Hitler, East-West relations and European culture.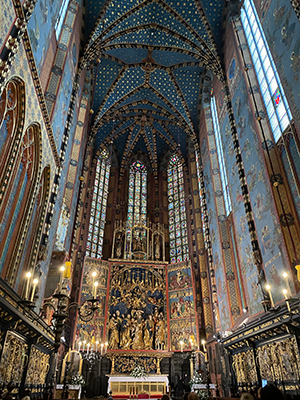 What are the coolest places you visited so far on your program?
The coolest places I've visited are Poland and Amsterdam. Poland is a remarkable country that has faced so many hardships, and yet it still stands. The people of Poland are deeply devoted to their faith despite everything they have experienced.
What is your favorite part of your program?
My favorite part was my study tour to Poland. We all take a class that goes on a study tour to certain parts of Europe in order to enrich our understanding. The class I'm taking is the Rise and Fall of Adolf Hitler. During this week long trip, we visited Auschwitz-Birkenau, ate traditional Jewish food with live music, listened to a Auschwitz camp survivor, and toured around the most beautiful parts of Kraków.
How has the study abroad experience changed you?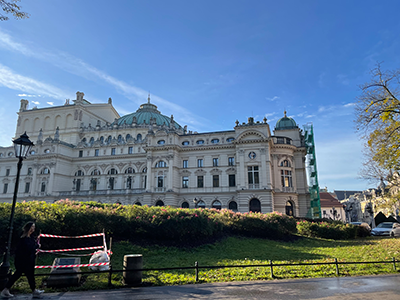 This experience has been life changing in so many ways. I'm able to experience European culture at a deeper level. The study tour was extremely impactful, not just for me, but all of my peers. The first few days were upsetting for all of us, but we all realized how necessary it was. Discussing the great injustices committed by this regime in class, and then being in the same spot where unimaginable suffering took place leaves one speechless. As cliché as it sounds, I continue to understand how privileged I am. My time here is truly unforgettable.
---
Where in the World is Miami Wednesday is a news article series that features Miami students studying abroad/away and international students. Catch us next week as we continue to travel around the world to feature the amazing opportunities that Miami students are taking and the experiences our alumni have had since graduating!
Would you or someone you know want to be featured in a future Where in the World is Miami Wednesday story?