Where in the World is Miami Wednesday: MUDEC Special Edition #3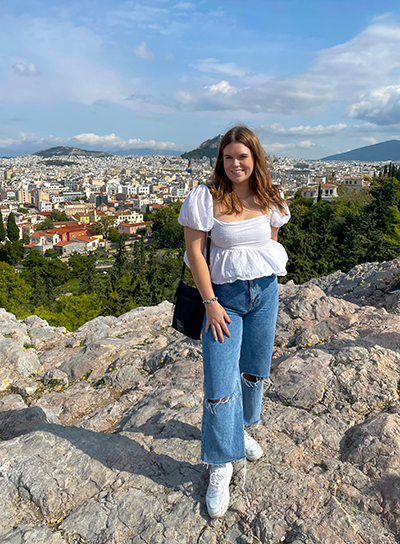 Dec 08, 2021
Editor's Note: As the semester comes to a close, we want to thank all the students who shared their stories during this year. We'll resume the "Where in the World is Miami Wednesday" series in 2022! Happy Holidays to all.
---
In this week's Where in the World is Miami Wednesday, we meet Sydney Bernard, a junior Political Science and Strategic Communication major, who is studying abroad at the Miami University John Dolibois European Center (MUDEC) during the Fall 2021 semester. In Oxford, Sydney is involved with Chi Omega and Miami University Fashion & Design (MUF&D).
What organizations are you involved with at Miami?
I'm the President of Chi Omega because I am inspired by all of the women in my chapter to become a better version of myself every day. They are also some of the most supportive, hilarious and down-to-earth girls I've ever met.

I also am on the PR Committee for MUF&D because I love following the latest fashion trends and being creative, and this club combines those perfectly.
How did the COVID-19 pandemic affect your experience?
Studying abroad during COVID-19 is a unique experience.We were able to travel freely within the EU and Schengen zone, however. With help from MUDEC staff, all of us had our American Vaccine Card transferred to an EU Covid Vaccine Passport (a QR code specific to EU residents).

Without this EU Passport, we would need to get COVID tested each trip or else we may not be able to enter certain countries or even eat in any restaurants.
Why did you choose your study abroad program?
I chose MUDEC because it was a once-in-a-lifetime experience to study in a castle in Luxembourg. I loved the idea of being able to see as much of Europe as possible, and Luxembourg is centrally located, which makes weekend traveling very easy.
What are you studying in your program?
At MUDEC, I'm studying Political Science with a European focus! I am taking classes about Russian Politics, the European Union, and East-West Relations since WWII.
What are the coolest places you visited so far on your program?
The coolest places I've been to so far were Lake Como, Italy and Santorini, Greece!
What is your favorite part of your program?
I love that this program allows you to meet Miami students who you probably would have never gotten the chance to know. I also appreciate the opportunity for weekend travel.
How has the study abroad experience changed you?
This experience has vastly changed my perspective as I have experienced such a variety of cultures and lifestyles. I have realized how focused the U.S. is on convenience, as everything is open in our 24/7 society, and everyone lives to work. We should work to live, not vice versa.
---
Where in the World is Miami Wednesday is a news article series that features Miami students studying abroad/away and international students. Catch us next week as we continue to travel around the world to feature the amazing opportunities that Miami students are taking and the experiences our alumni have had since graduating!
Would you or someone you know want to be featured in a future Where in the World is Miami Wednesday story?