Enter the HWC Poetry Writing Contest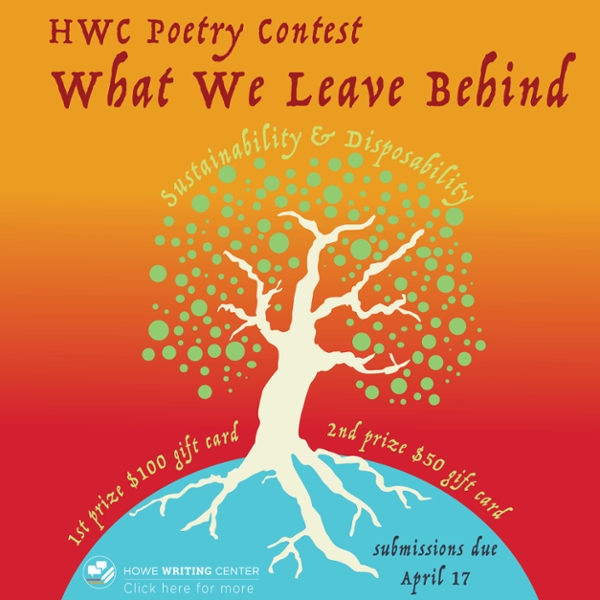 Mar 12, 2020
What We Leave Behind: Sustainability and Disposability
Whether we reuse water bottles, carefully sort recyclables, or carpool with friends, many of us are concerned about the impact we have on our environment. The choices we make and the pieces we write can have impacts that last longer and reach further than we ever imagined. From art to plastic to planted saplings, the Howe Writing Center wants to know what Miami students will leave behind at the end of this school year. Tell us what sustainability and disposability mean to you by submitting your poetry to this semester's Howe Writing Center Poetry Contest.
We recognize that this contest is being held during an anxious moment as the world deals with the COVID-19 pandemic. Whatever environment you find yourself in right now, we hope you're comfortable and adjusting well. In difficult times, we believe that writing can help us as individuals and as a collective. Even Shakespeare turned to poetry when upheaval in his own age closed the Globe Theater. We hope this theme of "Sustainability and Disposability" feels especially resonant, and that writing poetry can help you find meaning and some enjoyment in the coming weeks.
Contest Details:
Please submit two items, both of which will factor into the judging process:
One poem (per submission form) no longer than 3 double-spaced pages or the equivalent. Given that this is a poetry contest, exceptions may be made with regards to formatting.
An accompanying writer's statement, ~150 words, in which you reflect either on your creative writing process or your purpose and intentions with this submission. 
Excerpts from the winning submissions—including the writer's note—will be featured both on the HWC website and in the HWC King location (when we reopen). You can read the winning submissions from the Fall semester contest, focused on the theme "Change of Seasons," here.  
The submission deadline is midnight, April 17. Submissions will be reviewed anonymously. Please ensure that there's no identifying information within your submission.
First place will win a $100 gift card. The runner-up will win a $50 gift card.
Questions? Email Lauren Miles at milesle@miamioh.edu.
We look forward to reading your creative work!