Face Masks and Facial Coverings
All Miami University faculty, staff, students and visitors (including vendors, family members and significant others) are required to wear a face covering-indoors and outside-at all times, with very limited exceptions.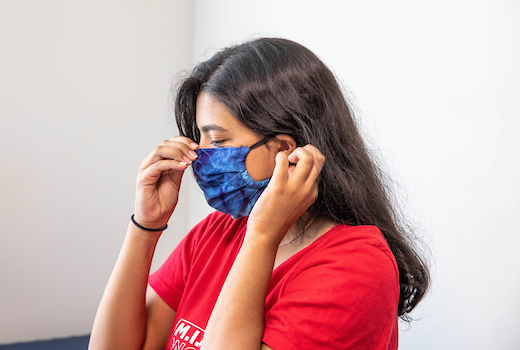 There may be university-approved exceptions to this requirement, such as when students are in their own residence hall room or when staff or faculty are alone in their office.
Some employees will continue to work remotely and will only be on campus for brief periods of time to perform work-related tasks (e.g., to pick up mail, supplies, a file, etc.). When employees come to campus, even for brief periods, wearing a face covering and practicing social distancing is required.
Anyone not wearing a face covering will be first asked to comply. Anyone not wearing a face covering will not be permitted to attend classes in person and can be refused service in dining locations and campus offices. For additional information, please refer to Miami University's COVID-19 Policy.
Miami provided one reusable, cloth face covering to each student, faculty, and staff member at the start of the fall term. Students should bring enough reusable face coverings along to campus to wear a new one every day between laundry days.
A cloth face covering or disposable mask must cover both your nose and mouth. It is important to note that cloth coverings should be cleaned daily, and disposable masks should only be worn for one day and then thrown away. Also, remember to wash your hands using hand washing techniques that include soap and water for at least 20 seconds or use hand sanitizer before putting on your face covering or disposable mask and just prior to taking it off.
In addition to using a face covering, you should still practice other preventative efforts, such as hand-washing and proper physical distancing, covering your mouth with a tissue or sleeve when coughing, and other preventative measures advised by the Ohio Department of Health.
Please note that face shields do not offer adequate protection on their own, and must be worn in combination with a facial covering, such as a mask, bandana, or neck gaiter.
People who cannot wear a facial covering due to medical or disability-related reasons should contact Human Resources, and students should contact the Miller Center for Student Disability Services at sds@MiamiOH.edu and Student Disability Services (Regionals) at regionalsds@MiamiOH.edu.
Classroom Enforcement Procedure
If a student comes to a class/studio/lab without a face covering or refuses to maintain physical distancing, the instructor should first ask the student to comply (e.g. put on a face covering). If the student refuses, the instructor should ask the student to leave the classroom/studio/lab and inform the student that the class/studio/lab will not proceed until the student either complies or leaves. If the student continues to refuse, the instructor should dismiss the class/studio/lab and immediately report the student to the Office of Community Standards. Students reported to the Office of Community Standards may be summarily suspended from the class/studio/lab.
Exemptions to Facial Covering Requirement
Facial coverings in the work setting are prohibited by law or regulation
Facial coverings are in violation of documented industry standards
Facial coverings are in violation of the University's documented safety policies
When the employee is working alone in an assigned work area (a single office or outdoors)
Instructional staff have the right to modify the face-covering requirement for limited periods for instructional reasons, if pedagogically necessary (e.g. voice lessons or wind instruments). In those instances, faculty and other students in the class must maintain at least 6' feet and preferably 10' of physical distance from the person not wearing a face covering.
There is a functional reason for an employee not to wear a facial covering in the workplace and it has been approved in writing by the employee's supervisor and the employee maintains at least 6' feet and preferably 10' of physical distance from all other persons.
If you believe you cannot wear a face covering for some medical reason and need accommodation, contact Human Resources regarding Accommodation and Accessibility.