IT Profile: Josh Senn, Network Engineer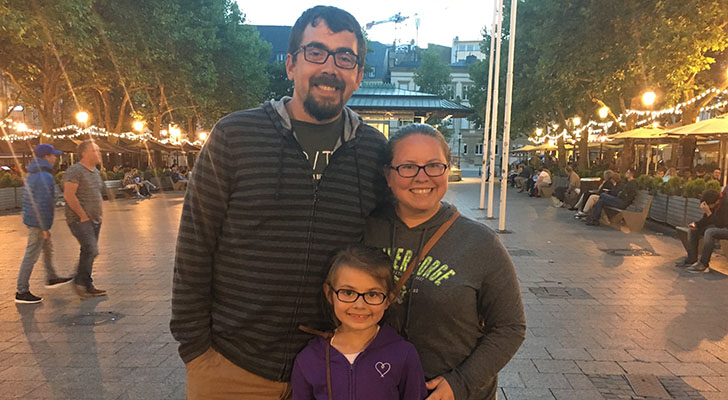 Aug 31, 2017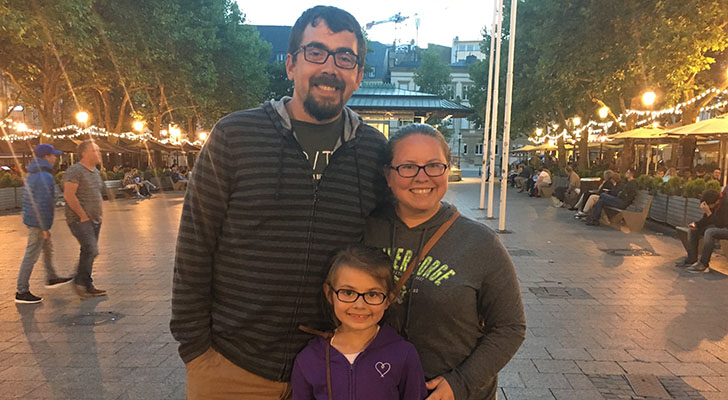 Network engineer Josh Senn with his family
by Elizabeth Jenike, IT Services
There's a lot of behind-the-scenes work that goes into making sure Miami University stays up and running.
Whether it's administrative staff bending over backwards to make new employees feel welcome, construction folks working hard to update office space, or President Crawford petitioning the Ohio government on our behalf - there are a lot of moving parts here. Think of it this way: The University is one big puzzle, with jigsaw pieces that have to fit just right.
Network engineer Josh Senn is one of the key pieces of that puzzle.
How often do you think about how your computer works? As long as it's connected to the internet and has battery power, not that often, right? Josh is one of the people that makes sure the former is true - he helps you stay connected to the University networks.
"My responsibilities as a network engineer include designing, installing, managing, and maintaining all equipment that provides IP connectivity to Miami faculty, staff, and students," Josh explained. "I am primarily responsible for the wireless networks, the DHCP/DNS services, and the data center load balancers that provide service for Miami's applications."
What does all of this mean? Essentially, he's the guy who makes the Wi-Fi work. But more than that, he ensures that all staff, faculty, and students have access to a fast, reliable wireless and wired infrastructure. He spends a lot of time in our Hoyt Hall data center checking systems and keeping us all online.
How does one become a network engineer? For some, it takes years of schooling. For Josh, he learned it on the job. He gathered most of what he knows about networking during his time in the Air Force, where he spent eight years as a computer, network, switching, and cryptographic systems craftsman, and later as a cyber systems operations craftsman.
"They provided me with a wide range of training throughout my career specializing in network equipment," he said.
While he was in the Air Force, he had the opportunity to live and work in some pretty interesting locales. For instance, before coming to Miami University, he was stationed at Naval Air Station Key West, where he maintained four separate networks that helped his team in its mission of counter-narcotic interception and prevention in the Gulf of Mexico and Atlantic Ocean.
Josh doesn't spend all his time fiddling with networks. He loves spending time with his family (that's them in the photo!), playing Overwatch, and keeping up with his favorite Louisiana-based sports teams.
The next time you open your laptop on campus and connect to Miami's wireless network, you'll know that it works because of people like Josh. Thanks, Josh!