IT Services Staff Impacts Local Toastmasters Chapter

Mar 01, 2018
By Randy Hollowell, IT Services
The top of the Toastmasters International website notes: "Every Toastmaster's Journey starts with a single speech." For members of the Oxford Toastmasters Club, that journey really began a little more than five years ago, even before a single word was uttered.
Toastmasters International is a world leader in communication and leadership development. The organization has a total membership of over 352,000 people in 141 countries. Their mission, to "empower individuals to become more effective communicators and leaders."
There are around 16,400 clubs internationally, but until 2013, Oxford did not have one. In March of that year the Oxford club was officially chartered as a community club, which means it is open to anyone to join. But how did this really come about?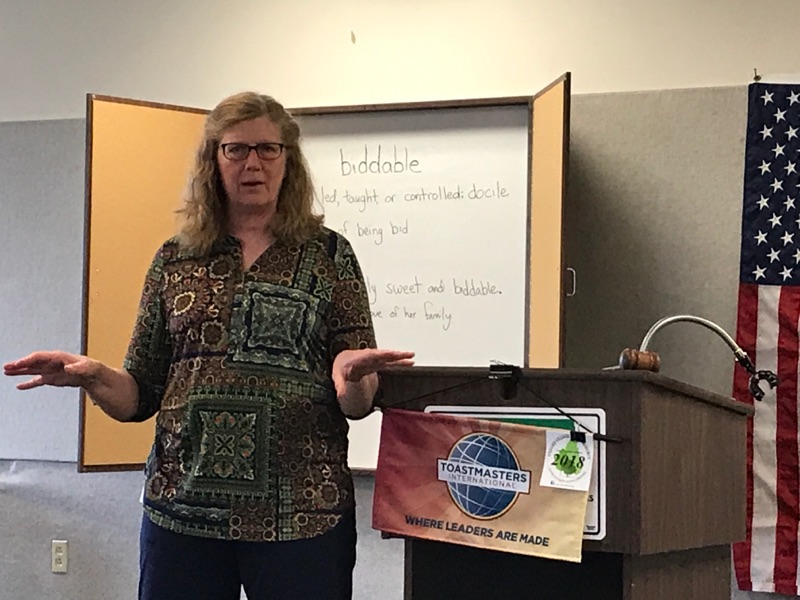 A Journey Begins
The history of the club begins with Holly Gage, a project manager within Miami's IT Services division. In her role as an Area Governor for Toastmasters she was assigned to do site visits to area clubs. One of those she was assigned to visit was the Miami Masters, a closed club on campus whose membership consisted primarily of business-school students. Holly later became faculty advisor for the club, and through this role she received a fairly large number of requests from community members wanting to join.
Because of the closed club status, the general public was not able to join the Miami Masters, but Holly then took it upon herself to start the process for getting an open club started in Oxford.
In order to charter, a new club needs to have a minimum of 20 members. Holly was able to recruit the necessary number of individuals to get the club rolling, and as they say, the rest is history.
What Makes a Club?
There are currently 21 members of the Oxford club, and of those about 12-15 attend each week. Meetings are held weekly at noon upstairs in the LCNB building in uptown Oxford. The one exception is the first week of the month when just the club officers meet.
At nearly every meeting, each member gets the opportunity to speak. Even if you are not scheduled to present a speech, you may be asked to speak on a "table topic," a short extemporaneous speech based on a prompt. Plus, there are always listening opportunities, and evaluations to present to each of the speakers for that day.
IT Services employees who recently have been part of the club include:
Holly Gage (Secretary)
Dana Miller
Festus Ojo
Emily Schmidt
Roxanne Storer (Treasurer)
Over the past four years, the Oxford club has won three President's Distinguished awards, the highest achievement a Toastmasters club can attain.
What Makes a Member?
Holly Gage has been a member of Toastmasters for 9 years, and has achieved the distinction of Distinguished Toastmaster; the highest level of educational achievement in the organization. This is a level that only 3 percent of all members reach.
Holly credits Toastmasters with improving her public speaking acumen. "It has been a major focus of my professional development, as well as being a tremendously fun activity."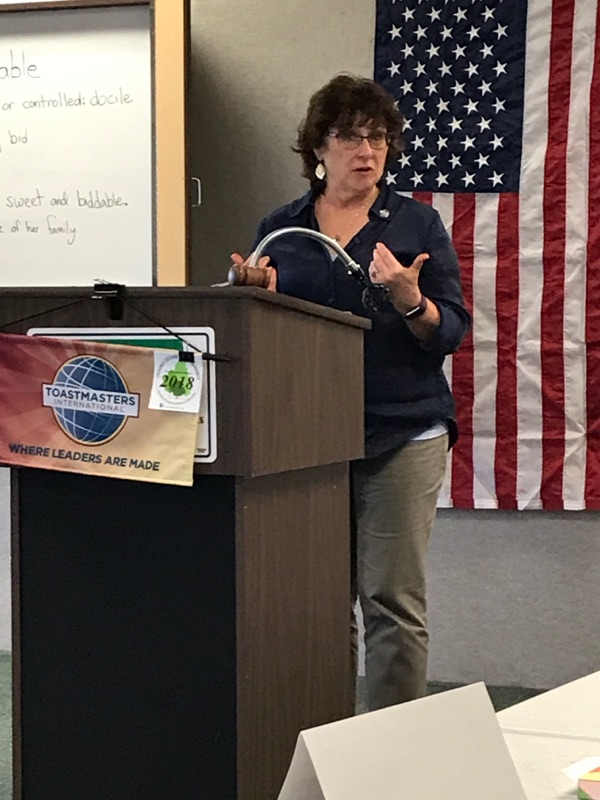 Roxanne Storer, a university data modeler for IT Services, originally joined Toastmasters to help prepare for a conference presentation she was asked to make. But she keeps coming back for the community. "It is really a lot of fun, and is more than just giving speeches," she says. "It also has helped me to become a better listener and evaluator."
Both Roxanne and Holly admit that Toastmasters has become a major part of their professional development plan, in fact for both of them it is part of their yearly goals. "It is really important to have strong management support," Roxanne says. "Although the club meets during the lunch hour, it takes time to get uptown, park, and then get back after the meeting. It definitely takes longer than just an hour to participate."
"What's great about Toastmasters is that it is a safe environment for people to get over any fears they may have of speaking in public," Roxanne said. "Sometimes I may want to skip a meeting, but once I am there, I am always glad I went. And I find that I really miss it when I am not able to attend a meeting."
Getting the Word Out
To let people know of their existence, the club has been involved with several local events, including the annual Oxford Wine Festival, and a float during the Fourth Of July parade. The Oxford chapter is a member of the Chamber of Commerce, and they have posters hanging on campus and throughout the city. But the biggest marketing tool has been word of mouth.
Another key partnership for the group has been with the Miami Classified Personnel Advisory Committee (CPAC). This has allowed members of CPAC to join the club and receive valuable job points.
A Bright Future
The club has received interest from other possible members, but the meeting time is an issue. So, club leaders are evaluating the possibility of creating a second Oxford club that would potentially meet in the evenings. Holly noted that ideally a club would not contain more than 40 members.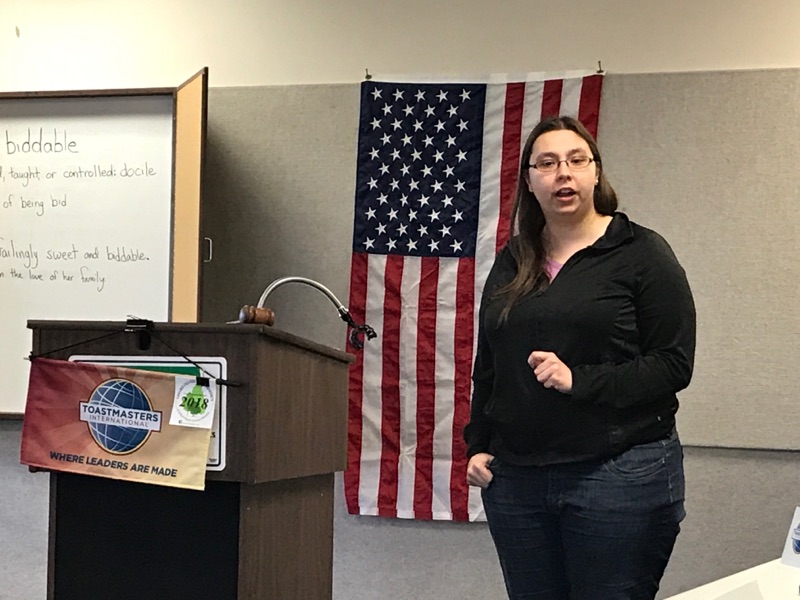 Toastmasters International is in the midst of a transition of sorts, at least when it comes to their curriculum. The new series of speech materials are called Pathways and are systematically being integrated into the local clubs over time. At their February 28 meeting, the Oxford club listened to a presentation on the new curriculum.
Upcoming events for the Oxford club include the Division Speech Contest on March 4, the five-year anniversary celebration on March 28, and their Humorous Speech contest in August.
Anyone interested in joining the club, or just wanting to know how a meeting is run, is encouraged to visit the club. All regular meetings are open to the public. You can also check out the club's website at oxfordoh.toastmastersclubs.org.
For more information about Toastmasters International, visit toastmasters.org.