Gaining cultural understanding: Chinese students take the stage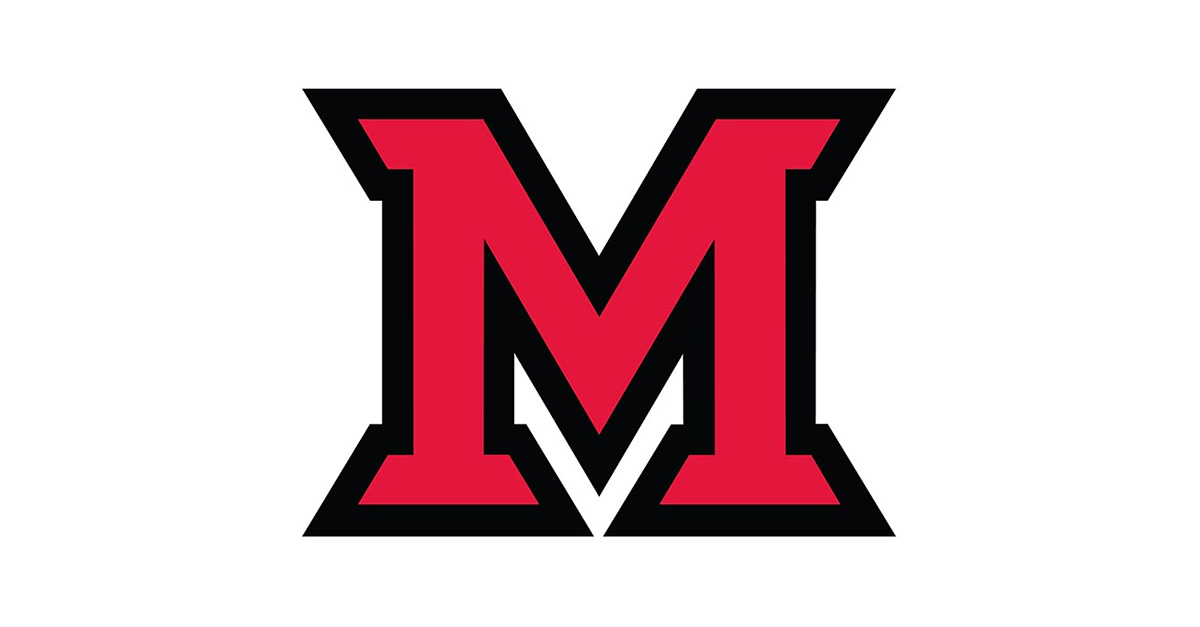 Mar 30, 2018
by Elizabeth Jenike, IT Services
In an afternoon of conversation and learning, Ms. Chen Zhao, director of Miami University's branch of the Confucius Institute, once again gave her presentation "Understanding MU Chinese Students" in conjunction with the IT Services Diversity Committee. Around 31 people gathered in Boyd 107 to hear her speak.
The goal of the Confucius Institute is to provide support and resources to the Miami community in service of multicultural harmony. The institute offers Chinese language classes, sponsors cultural events, and offers scholarships for Chinese language learners. In short, the mission is to promote and educate about Chinese culture so our (often very different) groups can commune more effectively and interact on a deeper level.
One of the most important parts of Chen's job is to go to faculty and staff groups and talk about the Chinese student experience when they come to Miami. This is the second time she's given this talk to IT Services employees (the first was in 2015), and she's a pro at this information.
And she should be: After all, Chen came to the U.S. in 1990 as an international graduate student. She said that she knew less English than the Chinese students coming to Miami do now - because restrictions were different back then. Now, hopeful international students have to take the Test of English as a Foreign Language (TOEFL) exam, which gauges their English language skills before they ever get here.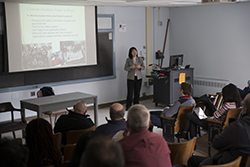 The throughline of Chen's presentation was simple: Chinese teenagers and American teenagers are, for all intents and purposes, the same. They have the same wants, needs, and fears. But because Chinese students are thrust into an environment they don't know, away from their families and friends, and they have difficulties understanding much of what's going on around them - we should be cognizant of those difficulties.
As an example, Chen told the story of a student who, in China, was by all rights a model student. They were in the model UN, participated in various sports, partook in all forms of extracurricular activities, and was at the top of their class. However, when they came to the U.S., all they did - all they had time to do - was study.
From the outside, this looked to classmates and professors like the student wasn't being social or was choosing to be closed-off. But in reality, the student had to work so much harder to simply stay on top of their classes - something that had come so easily to them in China.
Another reason Chinese students may have a different experience than their U.S.-born counterparts is that they are often the only child in a large family. This is largely thanks to China's one-child policy, which went into effect in 1979 and was only just formally phased out near the beginning of 2016. These children become the sole focus of Chinese families, with essentially three families (the parents and grandparents on both sides) devoting financial and personal resources to aid in the child's upbringing and education. This could be a reason for why the students may seem to struggle with everyday activities like cooking or dishes - because they've had a network of adults around who have done it for them.
The takeaway: All it takes is a little empathy and compassion. Instead of asking why Chinese students are 'different,' understand their background and realize they're doing their best to navigate a world unknown to them.
A 'new' perspective
Chen's goal was to put in perspective the challenges faced by many international students. What better way to do that than to include the students themselves?
Near the end of the presentation, Chen was joined by three Chinese students with varying class levels. All three went by English names: Xenia, Erin, and Will. The idea was for the gathered group to be able to ask questions about the students' personal experience and see first-hand the things Chen talked about during her presentation. And, because this is IT Services, the questions started out tech-related.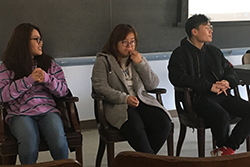 "Have you ever had problems connecting to the Wi-Fi in the dorms?" IT Service management analyst II Pete Ferris asked to scattered laughter from the crowd. (The students said they hadn't!)
Project manager Holly Gage had an important query for when she's teaching students from China: Should she mandate diversity within student groups so that the Chinese students are with English speakers, or should she allow the Chinese students to group up with each other (which is their first instinct)?
And the students mostly said they would prefer being put in a diverse group - with the caveat that they need to be assigned to those groups, because it's unlikely that they would choose that themselves due to cultural differences in propriety.
In all, the event was a success. Thanks for all of the good information, Chen!