The tech you take: School's out for the summer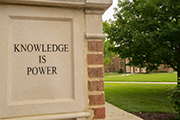 May 15, 2018
by Elizabeth Jenike, IT Services
Classes are finished, exams are wrapping up, and graduation is on the horizon. With the start of summer comes the normal post-Spring semester activities: Students leave campus, faculty and staff pursue research projects or maintain their daily rhythm, and some travel for work or vacation. The world still turns and Miami University still needs technology.
Just in time for the summer: IT Tech Savvy travel tech, Edition 2: Summer fun!
Connect via VPN
For faculty and staff that want to get some work done over the summer without having to be on campus, Miami's virtual private network is a handy tool. By logging in through the VPN, you establish a secure connection with the University servers, and you'll then have access to Miami resources like MyFiles, shared department drives, Cascade, and others.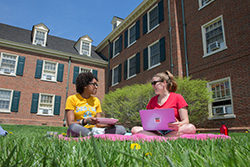 Using a VPN is just good practice in general, as well. Connecting to a virtual private network is just that—private. It creates an encrypted channel for your data to travel through cyberspace.
Get started with the Cisco AnyConnect tool by visiting the Knowledge Base.
Note: Keep in mind that there are some things you can't do via VPN. For instance, updating direct deposit information in BannerWeb can only be done from on campus.
Use Eduroam
For members of the Miami community who will be doing any amount of travel to other educational institutions this summer—for instance, to attend a conference—Eduroam is an invaluable resource.
Eduroam is essentially a wireless network supported by an organization dedicated to providing connectivity for research and academic institutions. There are countless wireless hotspots in more than 90 regions across the world.
Here's how it works. By authenticating with your Miami credentials (your full Miami email and password), you can take advantage of this wireless network. We especially recommend you use this service if you visit another higher education institution—because your Miami credentials will work no matter where you are, as long as that location has partnered with Eduroam. This makes connecting to the wireless network safer, since you're logging in with your secure username and password.
And while you're at it, sneak a peek at the Eduroam content in our Knowledge Base—including an article on how to get set up on your laptop or other device.
Take advantage of 24/7 IT Help
As always, during the summer, IT Help will be available around the clock to service all of your tech needs. Get immediate assistance by calling 513 529-7900, or you can chat with an adviser at MiamiOH.edu/ITHelp.
In addition to calling or chatting with IT Help, we recommend (as always) checking out our Knowledge Base. With over 2,100 articles about all kinds of tech know-how, it's probable that your issue has a solution documented in the KB. Get to Know IT!
Have a great summer!