Introducing David Seidl, CIO and VP of Information Technology at Miami University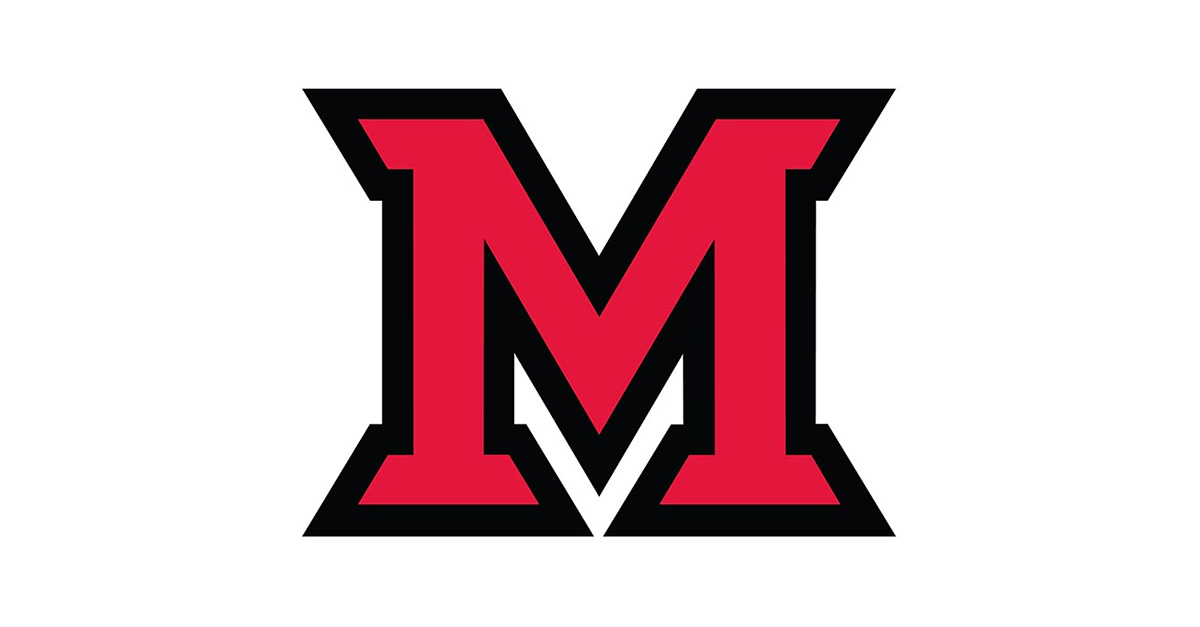 Jan 30, 2019
by Elizabeth Jenike, IT Services
You may have heard around campus: There's a new (technology) sheriff in town.
David Seidl started on December 3, 2018 as the new chief information officer (CIO) for Miami's Information Technology Services division.
Let's meet David
Born in Illinois and transplanted to Michigan at the age of 12, David has held various roles in both the higher education and industry arenas. He did his undergraduate and graduate schooling at Eastern Michigan University, then went on to work in the video industry, providing services to companies like GM and Ford. After a while, he came back to higher ed with a position at Purdue University.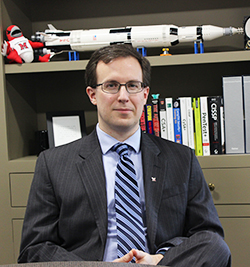 He comes to Miami now from the University of Notre Dame, where he served as the senior director of Campus Technology Services for the last five years. In his time at Notre Dame, he grew into his own as a leader and strategist. He also directed the information security team, taught security courses, and spearheaded Notre Dame's effort to go full cloud—cloud computing, that is—eventually turning ND's on-premises data center into an empty room.
David is a prolific writer, and he's been published numerous times in the academic world for his research. He has co-authored eight books and done technical edits on three editions of the official Certified Information Systems Security Professional (CISSP) certification study guide—which is a big deal if you're a security person! He is often tapped to provide key insight on the current state of technology, such as this recent article from EdScoop's Joanna Grama on the Ohio Data Protection Act. Academically, he has followed his pursuits with rigor, including teaching a class about networking and security during his time as senior director of Campus Technology Services at Notre Dame.
And he hasn't quite left the Midwest . . .
At Notre Dame, he solidified his leadership style . . . but he also decided to make the career change that would propel him into the "manager-of-managers" role that is the CIO position. And, as the universe would have it, Miami University started looking for a CIO in mid-2018.
So why did David throw his hat in the ring to bring his talents to Miami? In short, because he fell in love with the organization and with the town. He saw his role clearly here—that he could have a positive influence on the University and the community as a whole.
In his own words . . .
And then, with a big smile: "And the next thing I knew, I was here."
Ready to put down roots for a better tomorrow
In coming to Miami, David has crafted a vision for how he'd like to solidify IT as a partner across campus. His goals are momentous—but most importantly, they're attainable.
"Partnership and trust are, at the root of it, my major goals for year one," he said. "When campus looks to us as a trusted partner, and we are involved in new projects before they hit the ground, maybe even in the idea phase—we are doing our governance across campus in a way to make sure that we're focusing on the Miami good. That's when people start to trust that when we make a mistake it's for the right reasons."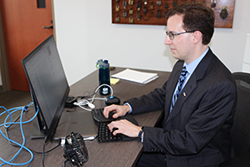 He has a concrete idea of what the future of technology should look like at Miami, as well. That includes better data stewardship, bringing disparate data pools into a centrally located resource. As Miami continues on the path of doing better business intelligence, we will need to have an organizational strategy around data as a shared resource for campus—and David is ready to go to bat for that.
He has a plan for pushing Miami forward, slowly but surely. The tradition of being risk averse has served Miami well in the past, but a truly remarkable future can only be achieved through innovation and risk-taking.
"There's a strength in tradition, but there's also a danger in tradition," he said. "So those things struck me early on as things where we have to start moving an organization forward to take some more risk. It's interesting because for a lot of my career I was the security guy—my job was to destroy risks."
And now, he's the champion of calculating—and then advocating for—those risks in order to move Miami into an even more innovative, forward-thinking mindset. The good news? The building blocks of what he wants to accomplish are there: the right people in the right places to foster that mindset.
… But who is he, really?
David isn't just an avid tech writer and security guru. He has a long, increasingly impressive list of hobbies that inform his personality. When he finds something—an activity or topic—that piques his interest, he digs deep—something he attributes in part to being raised by two librarians.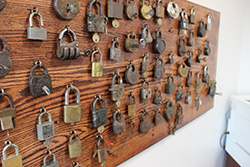 "I think the summary might be that my hobby is saying 'how hard can it be?' and then finding exactly how hard it can be," he admitted. "I like to learn new things, and I like to try new skills, and I like to explore the range of things you can do. I challenge myself to do new things.
In that range is woodworking (a family passion), writing, cooking, and weaving chain mail (for which he claims to hold lunch-and-learn sessions!). There is an erasable LCD board on his fridge filled with a list of hobby topics—something to research on his (albeit seldom) free evenings.
"I'm pretty high energy," he laughed when asked if he ever sleeps. "There are jokes that I could take a twenty-minute power nap and be good to go for another day, which has served me well. Someday it'll come back and bite me, but not yet!"
Leading by example
Not only does David want to be a great manager—but he strives to be accessible as well.
"A big thing for me is approachability," he said. "My door will be open as much as possible, and I will try to respond promptly to emails. I'm really hoping that's part of the partnership approach, so I encourage people to take advantage of that."
He's already putting some of those charismatic managerial skills to work. The first week of the new year, and his fifth on the job, he filled a box with candy and goodies designed to serve as a reward for employees who do good work and are commended by their peers.
The box is fully stocked, it's time to hand out candy bars to #MiamiUIT staff who do awesome work. #MiamiOH, if an IT person makes your day, please let me know! pic.twitter.com/lz2DsxmHjy

— David Seidl (@davidseidl) January 4, 2019
"I really like opportunities to thank IT staff, not only ours but also those across campus," he said. "So if someone does something awesome, I'd love to hear about it and celebrate it."
Above all else, though, David hopes to be a partner and, in fulfilling that role, provide better service to the Miami community.
"The best thing we can do is serve campus."
He's a professor, an author, a manager, a mentor, a mentee—and above all, a public servant looking to cultivate unity across the University.
We're excited to have him here.