AccessMU event brings gaming fun to exam week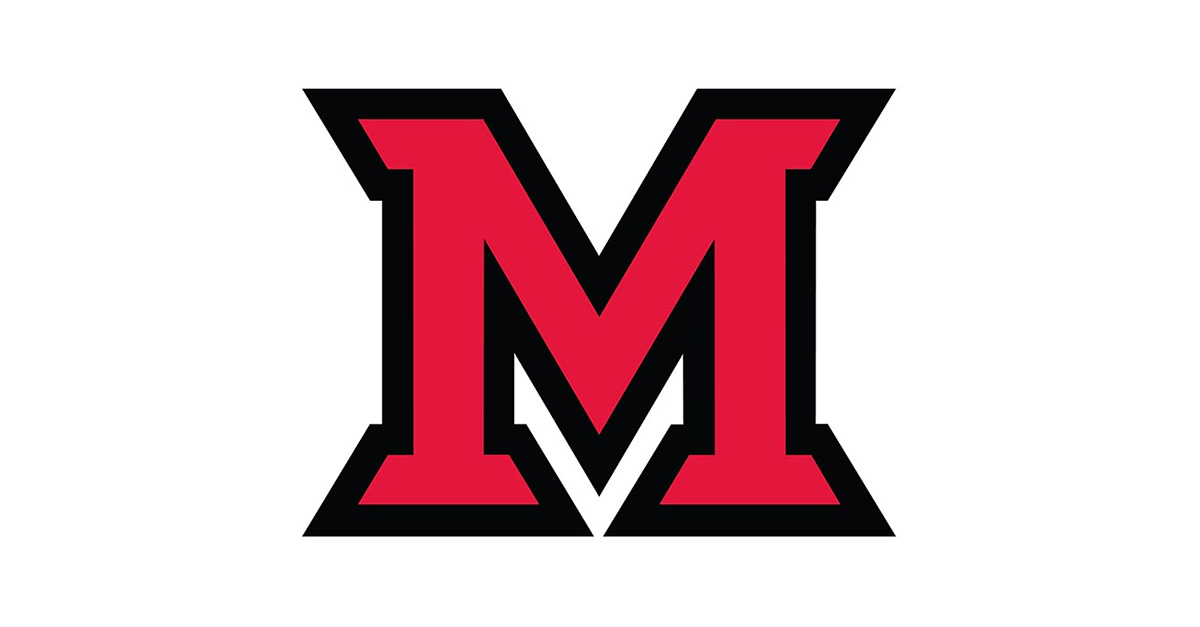 Jun 26, 2019
by Elizabeth Jenike, IT Services
The AccessMU Center does a lot of good work to promote accessibility and improve the availability of assistive technologies at Miami University. The goal is to ensure that every student, no matter what their needs, gets a quality education and has equal access to resources during their time here.
AccessMU hosts several events throughout the year to promote the visibility of accessible technologies and the importance of universal design, like the annual Accessibility Symposium.
This past semester, AccessMU decided to add another event to the calendar: On May 16, 2019, the organization hosted its first-ever Global Accessibility Awareness Day (GAAD) event.
A little bit of background
What is GAAD? For the past eight years, GAAD has been celebrated by an active community of professionals whose mission is to get everyone talking about digital accessibility and inclusion. The tradition started in 2011 when Los Angeles-based web developer Joe Devon wrote a blog post about how developers needed to incorporate accessibility natively in their projects.
You can learn more about GAAD by visiting the website.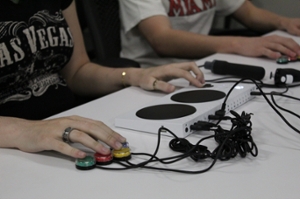 GAAD is always celebrated on the third Thursday of May—which fell during exam week for Miami this year.
Autumn Meade, accessible technology coordinator for AccessMU, said that the center has been trying to think of ways to get involved in GAAD for a while, but because it falls during exam week, it would be difficult to get much engagement from students. However, in working with Dan Darkow and the Student Disability Services Center to order mobility controllers for the SDS Center's new XBox, Meade had an idea.
"SDS wanted to have a welcoming place for people to hang out, not just an office where people come when they have to," Meade said. "They have a beverage station and coffee bar, some really neat chairs and couches, a TV, board games, braille playing cards. All kinds of things people can use. So the XBox was just something they could add to get students to come in more to hang out with them—because they want to build relationships with those students.
"However, with it being the SDS office, we wanted to make sure that every student had the option to play the games," she noted. "That's why we helped them to purchase the adaptive controllers."
In thinking about how her office could participate in GAAD, Meade alit on the idea that AccessMU could use the gaming system to showcase accessible tech—and have fun.
Why we do what we do
AccessMU's contribution to GAAD consisted of inviting students, faculty, and staff to stop by the AccessMU Center and try playing XBox games with adaptive controllers.
The focus of the day was on creating a space for students to go and learn about assistive technology—while at the same time providing some fun to take their minds off the stress of exam week. They played games like Human Fall Flat and Mortal Kombat X, both of which presented challenges in terms of controlling onscreen characters.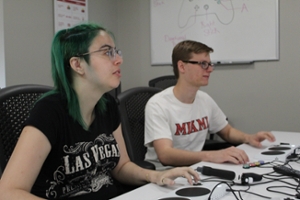 "I enjoyed playing Mortal Kombat X," said sophomore computer science major Spencer Penrod, who works for AccessMU. "It was a pretty challenging game because I had to get used to using my foot to play the game as well."
Penrod noted that the event helped him learn more about how disabilities can affect people.
"The mobility controllers were really unique and can be super helpful," he said. "It definitely gave me a different perspective on how playing video games can be for someone and gave me something to consider when it comes to accessibility in the future."
"It was interesting how many different types of controllers there were to accommodate for such a wide range of disabilities and accessibility issues," said sophomore computer science major Tooba Masood, another student worker in AccessMU who stopped by to watch the games. "I was already familiar with different technologies used for accessibility, but not all, so I had the chance to see some I would usually not interact with."
All in all, the event was a success, with around 30 students stopping in at different points throughout the day.
"So many companies now are striving to make sure everything is accessible for everybody," Meade said. "Whether it be website accessibility, or maybe they go into the architecture field and they need to know that certain things need to be accessible for everybody—it's good for students to get an idea of what it's going to be like when they get into the workforce. It will put them in a better place for when they get into their jobs."
Next year's event is already in the planning stages—Meade is hoping to move it to a more centralized location like the Armstrong Student Center to get even more student participation. Stay tuned for more details!