Learning the language of teamwork: Myaamia Center and IT Services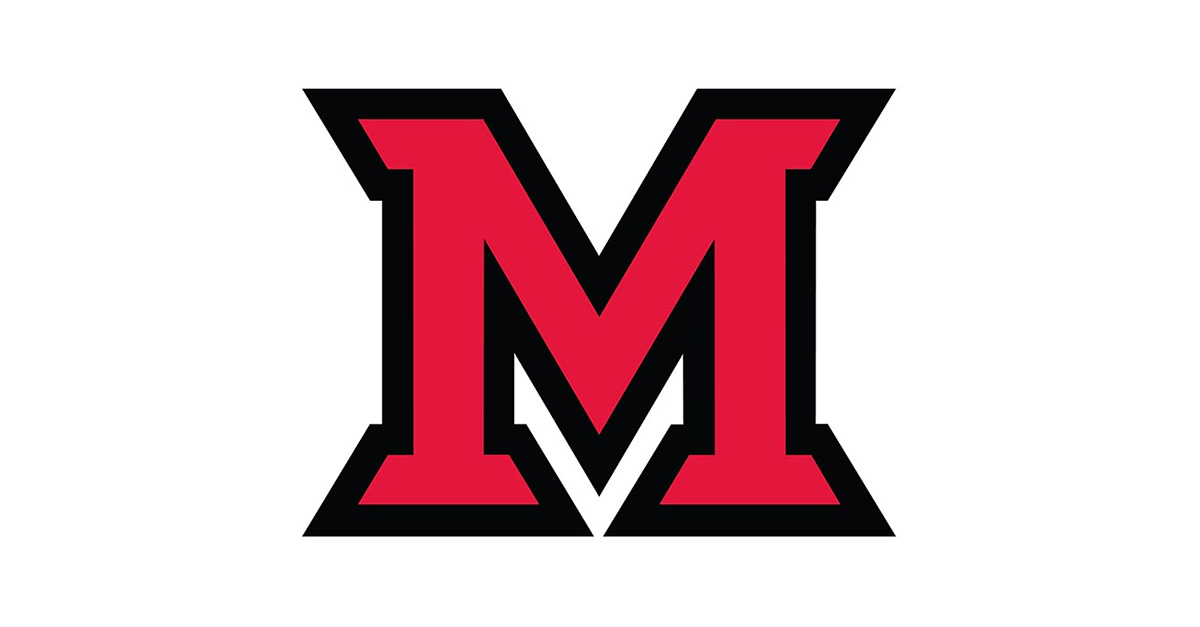 Aug 06, 2019
by Elizabeth Jenike, IT Services (with input from David Costa, Jonathan Fox, George Ironstack, and Kara Strass)
Here in IT Services, we strive to create partnerships and forge pipelines between our different departments in order to foster teamwork and, ultimately, efficiency.
The second part of the division's name—"services"—is a good descriptor of what we do and what we strive to accomplish. After all, we're here to provide key tools to the Miami community, and through these kinds of partnerships, everyone flourishes.
The partnership between IT and the Myaamia Center is one such example.
Where it began: The search for . . . well, a search
Through educational outreach, research, and relationship building, the Myaamia Center strives to deepen the understanding of the Miami Tribe of Oklahoma and expose students to the language and cultural revitalization efforts.
That last is important: A critical piece of the work that the Myaamia Center does is the efforts taken to revitalize the Myaamia language. The language itself became dormant in the mid-20th century, but the Center and others are spearheading a revival by studying and cataloging nearly 300 years of documentation of this language of the Algonquian family.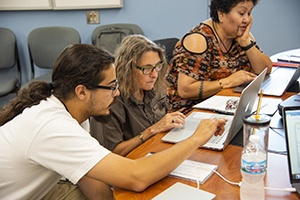 In 2012, Doug Troy of the College of Engineering and Computing began working with his graduate students to create a system that would help store digital copies of historic documents, dating to the 17th century, containing Myaamia language data. These one-of-a-kind handwritten documents are housed in various libraries in North America, making them difficult for Myaamia Center researchers and educators to study. Troy and his students developed the Miami-Illinois Digital Archive (MIDA), which functions as a website, database, and search engine so that these historic language documents can be made available for research and study by Myaamia Center staff as well as members of the Miami Tribe. There are approximately 60,000 entries in MIDA at this time.
The Myaamia Center strives to share their experience in language revitalization with other tribal communities, and has been the institutional home for National Breath of Life (BoL) Archival Institute for Indigenous Languages since 2014. National BoL works with endangered language communities to build capacity around methods in archive-based research for community-directed revitalization efforts. Previously, National BoL workshops facilitated community researchers accessing archives that contained their historical language documents, but after several iterations of this workshop, it became clear that communities needed ways to organize, store, and retrieve the archival documents that they had collected.
In 2016, a new application called the Indigenous Languages Digital Archive (ILDA) was created based on the MIDA project, and shared with researchers through National BoL. The first National BoL 2.0 Workshop, a week-long conference where community researchers from all over the country came to learn how to use ILDA to store, organize, and utilize their unique language documents to further the revitalization of their languages, was held at Miami July 15 to 19, 2019. There are now seven instances of this application, containing nine unique indigenous languages.
Initial funding for National BoL has largely come from federal grants. From its inception in 2011, National BoL has been supported primarily by the National Science Foundation - Documenting Endangered Languages Program (#1160685 - 2011, #1160685 - 2013, #1360675 - 2015, #1561167 - 2017). In 2019, National BoL 2.0 is funded primarily by the National Endowment for the Humanities Digital Humanities Advancement Grant Level III (HAA-261218-18).
The MIDA and ILDA projects are critical from myriad perspectives. For one, these projects give computer science and computer engineering students important experience with developing and deploying high quality software, using state-of-the-art practices, alongside IT professionals—experience they will no doubt draw on in their careers once they leave Miami. For another, MIDA and ILDA have real-world implications beyond the scope of strictly academic projects.
ILDA is being shared through National BoL with the goal of reviving endangered or dormant languages. And linguists are using it to inform their research and communities use it to inform their teaching in the classroom.
So how did this all come about? Why is IT Services involved?
First thing's second: Technical details
Troy and his students began this endeavor in 2012. At the time, the database was hosted off-premises by a hosting service and was not supported by central IT Services. A while ago, however, the decision was made to bring the application in house and utilize the resources in our own data center. According to Chris Edester, systems architect and former Linux administrator, it was a no-brainer that the Myaamia folks should host their project on Miami servers, since it would give them access to support and tools that off-premises hosting wouldn't.
"They had an old custom PHP application that some of the students had worked on," Edester recalled. "And then in central IT, we built a web server for them to host the website using our VMware environment. Eventually, we met to talk about how they could use even more of our processes."
The students now follow the Laravel framework and continuous integration (CI) build process with their application, which allows the development process to be more flexible.
"The students don't have to worry about the hosting now," he said. "They just write the code, and they deploy it using our process. The student workers can focus on the sauce that makes them special: their application."
This isn't Edester's first rodeo with the folks from the Myaamia Center, either. As an undergraduate computer science student at Miami a few years ago, he created a virtual tour of the Art Museum's Myaamia exhibit as part of his capstone project. As a result, he's familiar with the work that the Center does and is happy to help them with these endeavors.
"This is the purpose of central IT Services, right?" he said. "The idea with central IT is that we can combine your efforts and be a central place to be more effective at providing essential services that everyone needs."
To what end?
David Costa, linguist and director of language research at the Myaamia Center, stressed the importance of the ILDA and MIDA databases as research and learning tools that communities around the country will be able to take advantage of. The ILDA database, especially, will provide a good opportunity for scholars and speakers of indigenous languages to both educate their peers and learn more about the languages themselves.
In fact, these databases are already being used as educational tools. When Costa writes his linguistics papers, he uses MIDA as a resource. In addition, some scholars who specialize in colonial history and the Atlantic World are starting to use the linguistic search function and cite it in books and articles.

Jonathan Fox, director, media and technology for the Myaamia Center, has been involved in both the development and the use of the application from the start.
"Dirk [Tepe] and Chris [Edester] have just been fantastic from the beginning," Fox said of the technical gurus responsible for helping them set up the servers. "They've had our back and we've had theirs."
Just the beginning
Costa, who oversees the translation and data analysis part of the linguistic effort, mentioned that there is still much work to be done on the database. For instance: One of the main translators, who works at Indiana University, Bloomington, is currently working on the third of the Jesuit Illinois dictionary manuscripts—and it will likely take him four or five years to translate that completely. Then, after the translations are entered, Costa analyzes them, and that takes time, as well.
All of this is to say: This is just the beginning. IT Services will continue supporting the development and hosting of the application, which will be used for all of these wonderful reasons. The Center has even made Jeff Triplett, manager of enterprise database and systems operation, a Staff Affiliate as a result of his dedicated work that continues to help grow this partnership.
And thus: The partnership between IT and the Center is a good example of something that functions well within the University's mission and within the mission of the Center as well. We're happy to provide that support—and we can't wait to see how this project grows in the future.