IT Services pitches in to assist with Fall 2023 Orientation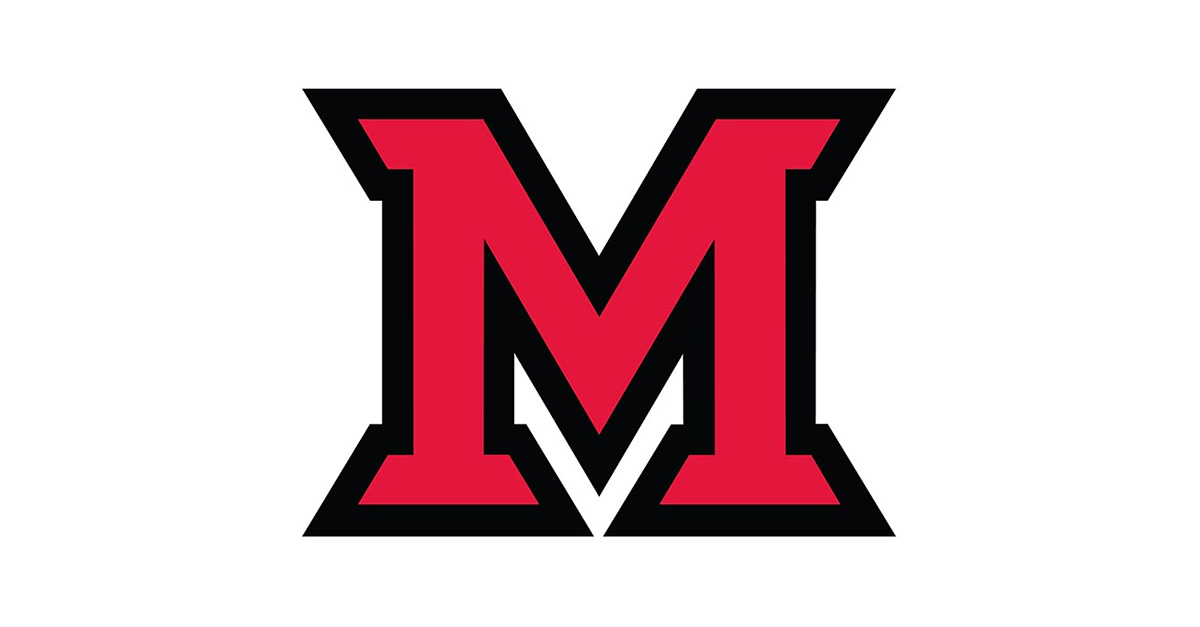 Jul 19, 2023
by Elizabeth Parsons, IT Services
Each year, as Miami prepares for the start of the fall academic season and gets set to welcome the new class of students, the summer months are especially busy for IT Services. We are checking classrooms, replacing Wi-Fi access points, prepping support teams for week-one IT Help calls, and attending summer orientation sessions to provide Miami IT information to the incoming class.
Traditionally, IT Services attends the Orientation Resource Fair and presents to the parents of incoming students about what technology looks like at Miami.
This year, several members of the IT Services team attended Orientation events, including the resource fair and presentation to parents on the second day of the orientation itinerary. Functionally, IT Services attended 18 orientation sessions, gave out more than 500 one-page handouts, and presented to 18 groups of parents.
A resource first-year students need
As orientation got underway at the end of May, IT Services staff stepped up to the challenge of helping Orientation and Transition Programs greet the first-year students as they experienced Miami for the first time.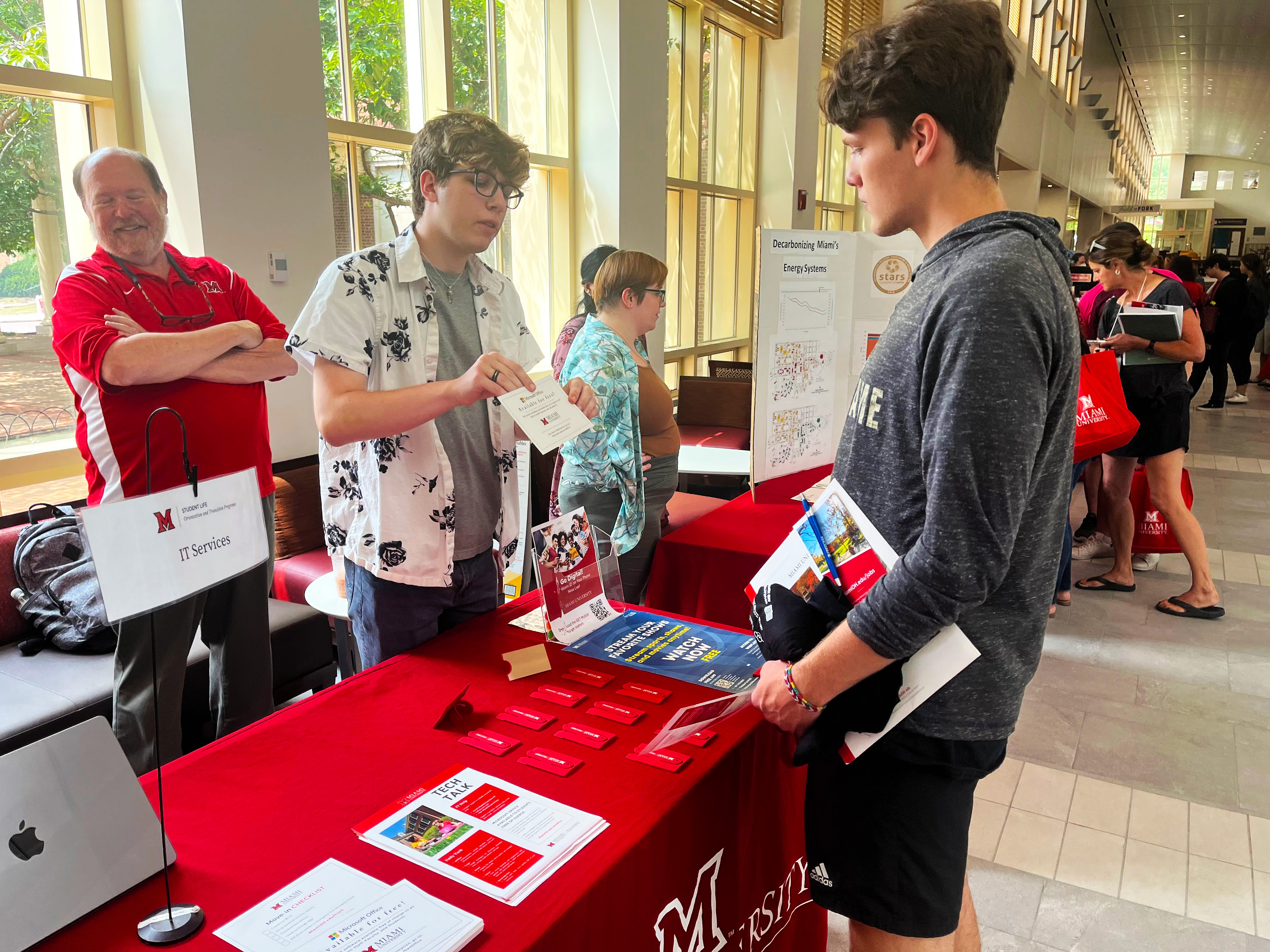 The Orientation Resource Fair is the perfect opportunity for that greeting, as many university organizations set up booths to provide information and swag to students and their parents on their way through Armstrong Student Center. Student Life, Dining, Student Counseling Services, Aetna health insurance, the Libraries, and many, many more organizations set up shop for a couple hours to answer questions, and IT Services joined them.
"Every year, Orientation gives us a chance to talk to incoming students and their parents," explained CIO David Seidl. "The early connection is key—not only to helping them find information and to get to know us, but also to keep us in tune with what each year's cohort needs, wants, and is interested in."
Dylan McConnell, sophomore computer science major and current IT student employee, took that one step further by helping to present IT's slide deck during in the parent information session as well. He was excited to talk to parents about the technology their students would be using during their time at Miami. What's more, Dylan is uniquely qualified, because he's a current student!
"I really enjoyed the opportunity to present at the small group session for parents—really because I just like presenting," he said. "I liked being able to meet all the incoming students and some of their parents as well and being able to be a resource for them. It was also very fun to see all the campus organizations that work together to make sure that incoming students are taken care of and have a smooth transition."
"My favorite part was the presentation to the parents where I probably learned as much as they did," said business analyst Fred Cook, who attended several of the presentations and resource fairs throughout the month.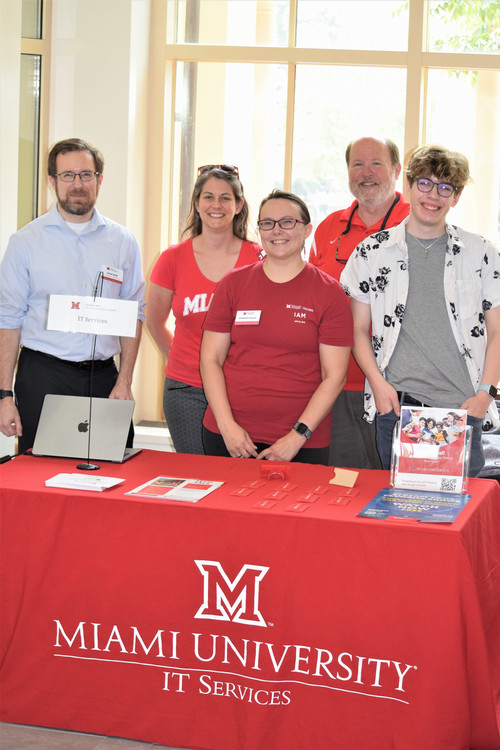 "It allowed me to interact and connect with both students and parents and gave me an appreciation of all the changes they are going through as they prepare for freshman year," Cook said. "It was also good to experience how families seem to have moved past COVID and are returning to 'normal.'"
Indeed, although Orientation resources are still available online via Canvas, myMiami, and the university website, having face-to-face interactions with many parents and students was valuable for both parties.
Working together toward Miami's shared mission
The interactions with newly minted Miami students and parents were not only good for the first-year students and their families—our folks really enjoyed having the experience and context, as well.
In years past during move-in, IT Services would set up a couple folding tables under a tent and provide hands-on walk-up support. That practice fell by the wayside a little before the COVID-19 pandemic began, but IT staff have fond memories of connecting with the University community face-to-face and learning about the users we support even as they learn from us.
"I feel like engaging with our newest students and their families helps me remember the ultimate University mission," said scrum master Joanna Kellogg. "We all work at a place where students get to pursue their personal and educational goals."
"I love watching our IT Services team interact with our new students and their parents," Seidl said. "It energizes me every summer as we race towards the start of a new academic year!"
 Welcome to Miami, class of 2027! We in IT Services are excited to have you here.