Major Insight Episode 23 Building Confidence Through Student Journalism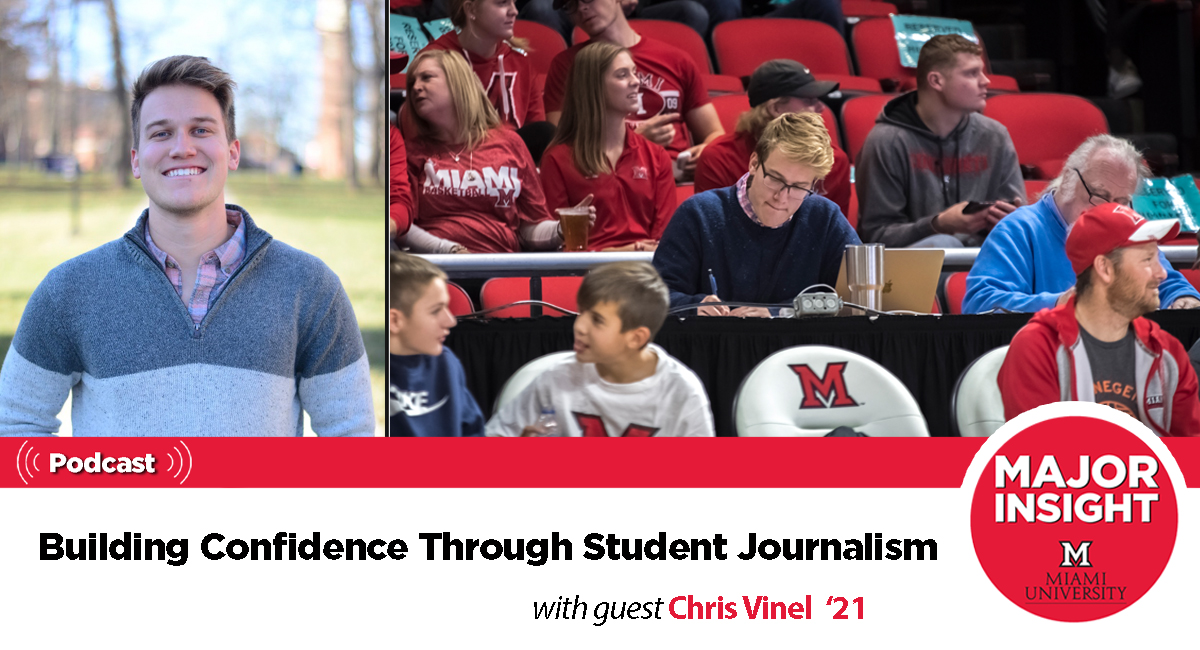 Nov 20, 2020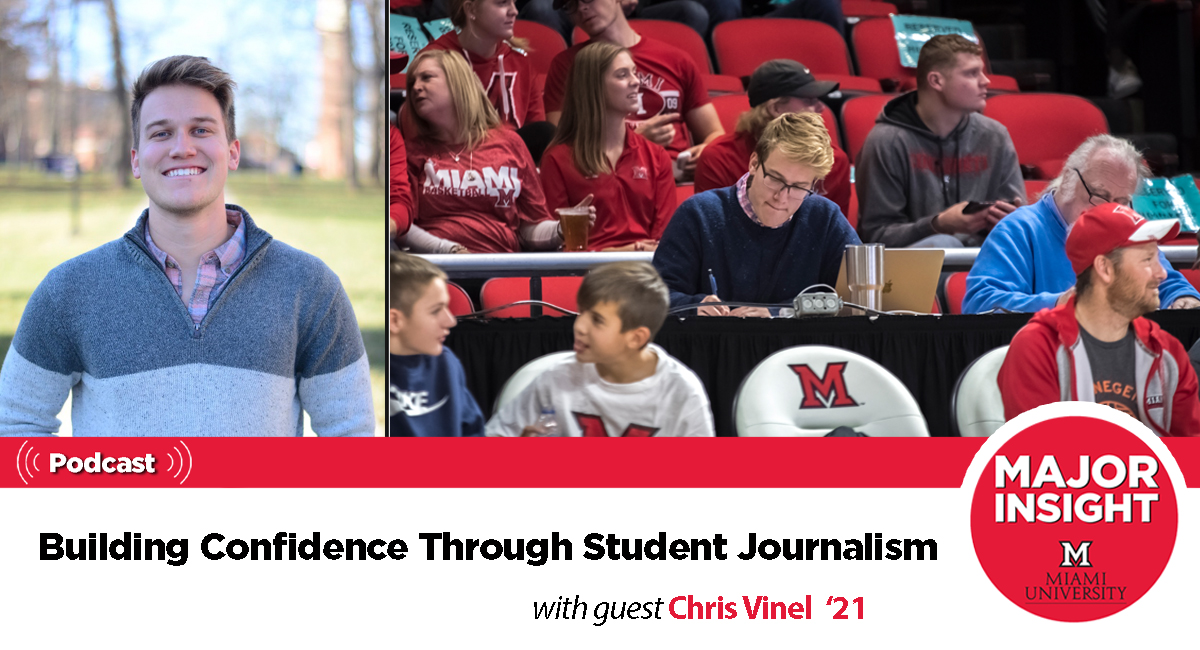 Major Insight Podcast          More Miami Podcasts          Request Information
As the editor-in-chief of one of the oldest college newspapers in the country, Chris Vinel takes human interest stories to heart. Chris currently leads a dynamic staff of writers and editors, who connect local and regional events to the college experience.
On this episode, he also talks about keeping a student media organization running during COVID, how journalism can open doors for a variety of career paths, and how students can find the confidence to move forward in school and in life.
Featured Majors:
Journalism, Sport Leadership and Management
Featured Organizations:
Career Clusters:
Music: "Only Knows" by Broke For Free
Read the transcript
James Loy:
Major Insight is a production of Miami University. This is where we showcase successful students, their promising new research and its relevance in our world.
New Speaker:
Chris Vinel takes human interest stories to heart. As the editor-in-chief of The Miami Student, one of the oldest college newspapers in the country, Chris fell in love with journalism at an early age. His favorite stories use sports as a backdrop to explore the lives of people beyond the games they play. He also leads a dynamic staff of writers and editors who connect the local and regional events to the college experience. And on this episode, Chris also talks about keeping a student media organization running during COVID, how journalism can open doors for a variety of career paths, as well as how more students can find the confidence to move forward in school and in life, especially in the face of uncertainty.
Peter Everett:
Hi Chris, thank you so much for coming on today.
Chris Vinel:
Yeah, thanks for having me, I'm excited.
Peter Everett:
For everybody listening, just let us know full name, major and just what you're about man.
Chris Vinel:
So, I'm Chris Vinel. I'm the editor-in-chief of The Miami Student. I'm a senior journalism major as well as a SLAM double major. I'm a Cincinnati guy, so I'm local and I love Miami. I've had a great time here and definitely The Student and all the things I'm involved with have been a big part of that, but I appreciate you rolling out the red carpet for me today, honestly man.
Peter Everett:
Oh, absolutely, man. I don't know. I'm just so excited to have somebody on that is maybe holding onto some of that old school writing style kind of stuff, because that's what I love. So, what's it been like to be involved in a more traditional, maybe, media environment in this technological age?
Chris Vinel:
You know what? Everyone's telling me that print media is dying and, oh. My grandparents were like, "Well, what are you going to do in 20 years if you major in journalism and newspapers die?" Well, you got to be well-rounded in pretty much everything at this point. So, I've dabbled in broadcasting and obviously a lot of our stuff from the Miami Student goes online and so, I get around in those platforms, but I fell in love with print media from a very young age. I remember... And I'm going to backtrack way back here.
Chris Vinel:
I remember I was probably about seven years old and my dad brought me a pack of baseball cards coming home from school one day and it was the 2006 Cincinnati Reds Tops set and that got me super involved in sports and I loved sports from that moment on. Had not had a passion for sports before that, but after that, it just sparked something, and soon after that, I started picking up the newspaper because I wanted to know more and more about the Cincinnati Reds.
Chris Vinel:
That was my thing growing up, is I just loved The Reds. An d so, I would read the entire sports section of the Cincinnati Enquirer, starting at probably, I don't know, age eight or nine and eventually just started getting more out there in terms of stories as well. I'd read the front page, I'd read other things that go beyond just the sports and I've just always stuck with that. And so, that's what initially sparked my love of print media. I'd be open to doing other things, but man, I love holding a newspaper in my hand.
Peter Everett:
And so, now you're the editor-in-chief of Miami Student Newspaper, The Miami Student. So, was there any experience that inspired you to jump into that here? And then could you also chart that journey of how you worked your way up?
Chris Vinel:
You know, I think it was just a foregone conclusion in my mind that as soon as I got to campus, I was going to join the student newspaper. I've known since I was probably a sophomore in high school that I wanted to go into journalism and be a reporter for my career. So, when I got here... I was involved in my student newspaper in high school and when I got here I was like, "Let's continue that. Let's keep that going," and so I joined... Shout out to one of my professors, Dr. Jim Tobin.
Chris Vinel:
I had his class on the first day of college, first day freshman year, and after an hour or two, he ended the lecture and said, "Okay, what we're going to do now is we're going to go over to the Miami Student office and we'll hear from the staff, they'll give you a little bit of a spiel and then anyone who wants to sign up right now, can sign up." And so, I remember going over there and I heard the spiel and then I went and found the sports editor at the time, one of my good friends now, Emily Simanskis and she was just sitting at a little table outside of our newsroom in Armstrong. And I went up and said, "Emily. I'm Chris Vinel, can I join the Student? I'd love to write sports for you."
Chris Vinel:
And since then I've been involved. I threw myself into it. I've been writing... Probably, I've averaged more than a story a week, I'm sure, for the past three and a half years. And so, it was really a first day thing and I've never looked back and it's something where it's always come first in terms of my extracurricular activities too. I've done some other things, but TMS has always come first and that's just because of that day one affinity I have for it. So, it's been a long road and I've worked my way up to editor-in-chief, but it's been fun.
Peter Everett:
What's your favorite story? The story that really gripped you the most, that you're most proud of, that you've written?
Chris Vinel:
I think one of my favorite stories, if not my favorite, was about a basketball player who's still here, his name is Myja White and he is the guy who... I found his poetry page on Twitter and I just thought, "That's a little bit different for a division one athlete." You don't typically see that. You get the jock stereotype instead of this academic image and so, I reached out to him and I just said, "I want to talk a little bit about this." And it turned into, instead of just a story about his poetry, it turned into this 2000 word, almost magazine style story on... Essentially, he had been bullied growing up and just didn't feel like he fit in and he's a super creative dude and so, now by the time he's gotten to college, he's embraced that creativity.
Chris Vinel:
He wears what he wants, he does what he wants, he writes poetry, he's listening... He told me he listens to eight hours of music a day. And so, it really just turned into a profile of him as a person and I really liked how it turned out and I got great response from people and say, "Thank you for sharing this. Thank you for writing this." Myja himself reached out and said, "This was fantastic," and so I'm really proud of just being able to share stories like that. And those human interest stories are my favorite to write, where I can take a person and almost use sports as a backdrop to their life and just dive into who they are.
Chris Vinel:
I'm a people person, I'm a talker, I like to be around people and so, having a conversation with someone about, "How did this impact you?" Something that happened in childhood, "How did this impact you?" Or, "What was going through your mind when this happened?" That's so interesting to me and I don't consider myself an interesting guy, so this leads perfectly to journalism because I'm the one asking the questions, it's not about me. And I'll share some things with the person as I'm interviewing them, but typically it's about them and I'm just learning, really, what makes them tick.
Peter Everett:
So, how does it feel to be on the other side now?
Chris Vinel:
I tell you what, it's weird. It's weird. I'm very comfortable, especially because you do a good job of making it that way, but you know, it's weird.
Peter Everett:
Yeah. So, what exactly does the Miami Student cover? What kind of different topics?
Chris Vinel:
So, we're everything Miami and then we do a little bit of coverage in the city of Oxford as well. So, we'll cover businesses uptown, we'll cover government officials in Oxford, but mostly our coverage revolves around Miami. And that's everything from what the administration is doing, how students are reacting to things or different... What student groups on campus are doing, events on campus, sports on campus, anything Miami you can think of, we try to cover it. And so, it offers a very broad picture of what Miami is doing but we hope to be able to give an accurate reflection of the community. We also write for a student audience. We'll cover professors and that sort of thing, but we're not always necessarily writing for them. Our main audience is students and so, if we think something's important for students to know, we're going with that.
Peter Everett:
Sure. Have you felt yourself, I don't know, growing as a student, as a person throughout this stepping out of your comfort zone, stepping into this type of role?
Chris Vinel:
Oh, absolutely. Well, just from an editorial standpoint or from a leadership standpoint. I remember a conversation with my mom that I had on the way home one weekend, freshman year. And so, she picked me up on a Saturday and we're driving home and she was asking me if I would ever want to be sports editor of the Miami Student one day and I said, "Oh, no, that's terrible. I would not want to do it. I love the Miami Student. I love writing for the Student, but I don't think I will ever be in a position where I'm... I want to say confident enough to do that." And that changed quickly. By the end of my freshman year, I had set out that by the end of sophomore year, I wanted to be sports editor and so, I made it a mission of mine.
Chris Vinel:
I was aggressive in pursuing that and I was writing every week, I was writing multiple a week. So, through that, I just saw my confidence grow and the Miami Students a huge part of that and I think the staff is a huge part of that. Not enough can be said about the staff we have. It's a workplace, we take ourselves seriously. We're the only real newspaper in Oxford, so we have a job to do, but we're also a family. We're a bunch of friends and so, that community was a big part of just my confidence and my motivation to eventually keep moving up the ranks. And so, from the very end of sophomore year to the very end of my junior year, I was sports editor and once again, it was the same thing where once again, my mom was like, "Hey, you ever think about running for managing editor?" Which is our second in command ."Or editor in chief?"
Chris Vinel:
And I was like, "Nah, I'm a sports guy, I'm going to stick to sports. I'm pretty comfortable where I'm at." And then I had the editor-in-chief from last year and the managing editor from last year come to me, probably around this time a year ago, and say, "Hey, when we transition out of the position in March, we think you'd be a really good candidate to take over." And they sat me down at a lunch, we got Chipotle and they said, "Hey, I think you should run," and I was straight up with them, I was like, "I'm hesitant." And it wasn't because I lacked the confidence to do it, it was more so of, I was just worried that because I was a sports guy... Oftentimes sports do their own thing and they're left in the corner and I was left alone by the previous Miami Student regime, If you want to use that word too.
Chris Vinel:
They knew that I was good at what I did and so they trusted me to take it in the direction I wanted to take it and so, I was just a little hesitant in terms of, "Okay, will the news section respect what I have to say, if I'm coming from ... will, the opinion section ..." And then I was just worried about the demands of the job and could I... I mean, you can't mess up because there has to be a print newspaper delivered around town on Tuesdays and there has to be things going online pretty much every day.
Chris Vinel:
And so, I was just worried about those demands and they were very honest with me and told me, "It is a lot of work. You're going to have to put in the time, but we think you can do it. You're more than qualified and the confidence that you now have is what you need. It's not so much about, "Oh, can you edit this story?" It's more about, can you make sure everyone's on the same page and bring people together and just have that oversight?" And so, it took me right up until election time in March is when we have our staff elections and I decided to run and was thankfully elected by the staff and then COVID hit.
Peter Everett:
So, just added a whole another challenge on top.
Chris Vinel:
Oh my gosh, it was crazy, it was crazy. And one of the professors I mentioned earlier, Jim Tobin, he asked me at the beginning... So, he's our faculty advisor. He pretty much told me, in lesser words, that this had to be the year where... It's make or break for the Miami Student, the future of the Miami Student. I raised my eyebrows and said, "What are you talking about, Tobin? I've had this job for two days." And he was like, "No, no, no, no. This is the way it's going to be this year." Because he predicted that COVID was going to drag on for a while and it wasn't going to be done by Easter like some people were projected or whatever the case may have been.
Chris Vinel:
And so, he told me, "You have to make sure that things are organized this year and you have to get new recruits. You have to ensure that the student has that influx of talent this year that we have on a normal year with mega fair in person, with all these in-person recruiting things that we're probably not going to have." And so, that became my number one focus from, jeez, March until probably last month, was just recruiting.
Peter Everett:
And how'd you do it? What was your strategy?
Chris Vinel:
Personalization, individualization. Any staff member that we recruited, I pretty much made it a point to talk to them on the phone myself. Even if they were recruited by, say, one of the managing editors or the opinion editor. I wanted to talk to them and say, "Listen. Here's the deal, here's the rundown on the student. We're happy to have you and we want you to be here, join the family." And I feel like... Once again, I don't consider myself a special individual but because I have that title attached to the end of my name, the editor-in-chief, I feel like some students... That might mean something to an incoming freshmen, "Oh, the editor-in-chief is reaching out." You know, when you're a freshman, just that personalization and letting them know that you want them there and that you care about them. I felt that was really important.
Chris Vinel:
And so, that's what I set out to do and now we're transitioning into where I can focus on other things because we got a good base of recruiting. And now it's about keeping those people and keeping them involved and making sure they grow and have the experience that I had. Where, maybe they're low in confidence to start out and they're wavering about their involvement. Making sure they grow in that confidence and they grow in their ability to journalist because, while we're out here trying to cover Miami and cover Oxford, we're also trying to set up our writers for their time beyond Miami too.
Chris Vinel:
And if they want to be reporters, great, if they don't want to be, we've had a lot of people in the past, come in and be... Like our opinion editor last year. She doesn't want to be a journalist. She wants to go write for shows like Jimmy Fallon and SNL and do different things like that. Our editor -in -chief from last year, she wants to be a lawyer. And so, whatever it may be. Just giving them an experience and giving them confidence as a person is my goal. Setting them up for long-term success while putting together a good product every single week.
Peter Everett:
Absolutely. And those diverse career paths show you that journalism, working for the student newspaper, it develops a lot of different kind of skills that you can use in multiple careers. So, to incoming students who might be interested in pursuing that type of major, that type of maybe career choice, what would you say to them if they're worried about it being limited?
Chris Vinel:
Well, the biggest thing is communication and if you can communicate in any field, you're ahead of a lot of people, to be honest. And so, that's what a big part of journalism is, is just you're communicating the news, you're communicating what people did or what people said to the masses. And so, if you can do that effectively, you can really make it in any field. And plus, journalism is so broad these days, like I'm kind of focused on more of the traditional media, print media, doing stories for online websites but you know, it all comes back to writing. So, if you want it to be a broadcaster, if you're a good writer, you've got a leg up. If you wanted to be a PR professional or a marketer, still, that all comes back to communications and so, if you're able to do that effectively, you're golden.
Peter Everett:
Do you have any tips or advice for new students, people thinking about going to college? How to succeed, how to find your passion in college, more broadly.
Chris Vinel:
I think it's getting involved. As soon as you get on campus, find your people, and I don't care what that is. If it's a religious group, if it's a business fraternity, if it's a social fraternity or sorority, if it's an acapella group or a Harry Potter Club or whatever it may be, take your passion and find people with the same passions. Because those people are going to be the ones who are going to allow you to grow as people, give you that confidence that's so key and I know I keep stressing the confidence thing, but that's so key. I mean, that really, to me, is what marks my transition from kid to adult, is just the confidence to go out and do things and I think if you're able to join organizations, you're not only going to have a good time, but you're going to develop the skills.
Peter Everett:
And with the skills comes the confidence.
Chris Vinel:
Exactly. I think, at the end of the day, there's no blueprint for a successful college experience. This, what I've shared today, is my college experience and my advice is coming from my own experiences but it's not the only way to do it. Do what you feel is best for you and your long-term. Where do you want to be? I have professors that I trust so, so much. Terence Moore, Patti Newberry, Jim Tobin, where they've been so influential and I really trust and value their input and I take in everything they say, but I don't always use it. If I disagree, okay, I see your point of view, but I'm going to go this route and this is why. Just have a goal, have a vision of where you want to be and if you don't have that vision yet, well, that's okay, that's what college is for.
Chris Vinel:
Since, really the sophomore year of college, I've been looking around like, "Okay, when I graduate in more than two years at that point, where do I want to be?" And really, I would like to be in sports journalism and I would like to be... My dream publication is the Cincinnati Enquirer, just because I grew up reading it and so, I've thought about, "Okay, what relationships can I build that are going to benefit me and maybe lead me down this path? What stories can I write? What applications can I send in for internships or jobs?" And so, it's all about having that goal in mind.
Peter Everett:
I can't think of a better end cap. Thank you so much for coming in today.
Chris Vinel:
Thanks for having me, I enjoyed it. Peter, I don't know if you do repeat guests, but I loved my experience, I would love to come back.
Peter Everett:
Hey.
James Loy:
Chris Vinel is a double major in journalism and in sport leadership and management. He's also the editor-in-chief of The Miami Student, which is one of the oldest college newspapers in the country. If you've enjoyed this episode of Major Insight, please share it with a friend, with students or with anyone who hopes to make a powerful impact on their world. You can find more episodes right now, wherever podcasts are found.
SHOW NOTES:
Featured Majors: 
Journalism, Sport Leadership and Management
Featured Organizations:
Faculty Shout Outs:
James Tobin, Professor of Journalism
Patricia Gallagher Newberry, Associate Lecturer of Journalism
Terence Moore, Media, Journalism and Film Instructor
Career Clusters: