Major Insight Episode 29 For the Love of Human Movement, High-Tech Health and Medicine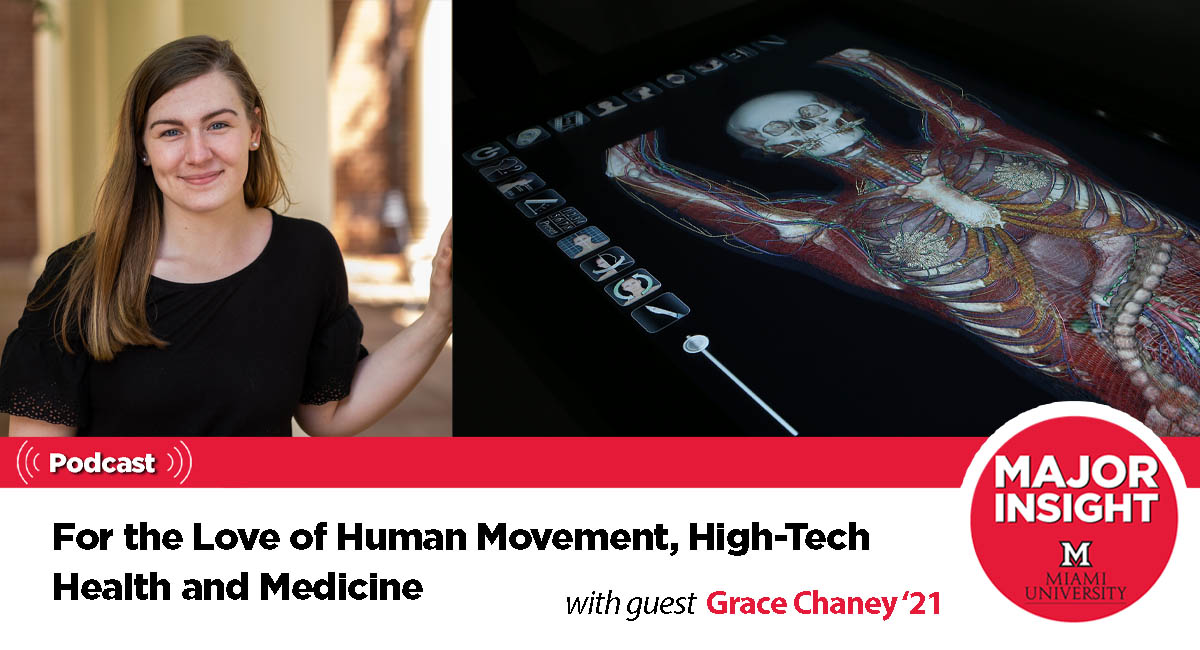 May 11, 2021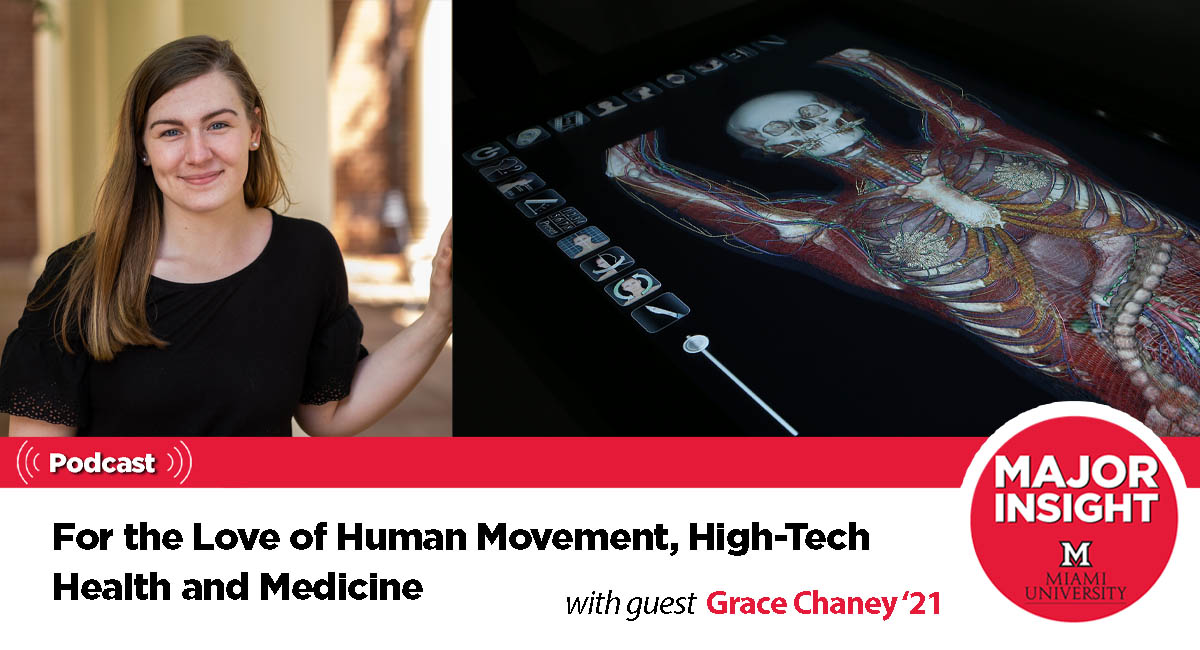 Major Insight Podcast          More Miami Podcasts          Request Information
After a career-ending injury derailed her plans to play college soccer, Grace Chaney used the experience as an opportunity to find her true passions in biomechanics, orthopedics, and medicine.
As a kinesiology and premed double major, Grace has served as an undergraduate fellow at the Mayo Clinic, and her award-winning research has already helped busy people find new ways to squeeze in effective workouts. On this episode, she also talks about working towards medical school, some innovative new health care technology, overcoming the dangers of burnout, and more.
Featured Majors:
Kinesiology, Premedical Studies
Featured Organizations or Internships:
Anatomy and Physiology Club
Mayo Clinic Summer Undergraduate Research Fellowship
Undergraduate Research Award 2019
Office of Research for Undergraduates
Stop the Bleed Campaign
The Mallory-Wilson Center for Healthcare Education
Career Clusters:
Music: "Only Knows" by Broke For Free
Read the transcript
James Loy:
Major Insight is a production of Miami University. This is where we showcase successful students, their promising new research and its relevance in our world.
After a career-ending injury derailed her plans to play college soccer, Grace Chaney used the experience as an opportunity to find her true passions in biomechanics, orthopedics, and medicine
As a kinesiology and Pre-med double major, Grace recently served as an undergraduate fellow at the Mayo Clinic, and her award-winning research has already helped busy people find new ways to squeeze in effective workouts.
And on this episode, she also talks about the dangers of burnout, how to avoid it, and about embracing the domino effect that comes from having an open mind.
Now here's Major Insight Host Peter Everett and Grace Chaney with more. 
Peter Everett:
Hello, welcome to the podcast, Grace. Can you just introduce yourself for everybody listening, what your major is, what year you are and what life is looking like right now?
Grace Chaney:
Yeah, so my name's Grace Chaney, I'm a senior kinesiology major here at Miami and I have the pre-medical studies co-major, getting ready to graduate in a couple of weeks and then move on to professional school and future endeavors.
Peter Everett:
And just for people that might not know, what exactly is kinesiology?
Grace Chaney:
Yeah. So that's a question I get all the time. Essentially kinesiology, I tell people all the time, it's the study of human movement. So if you've heard of exercise science or things like that, it's very, very similar.
Peter Everett:
How did you develop your passion for that? I know I read somewhere that you had some injuries in high school. And what kind of obstacles did those present you and how did you overcome those?
Grace Chaney:
Yeah, so my junior and senior year of high school, I had two almost practically back-to-back knee injuries from soccer collisions. And so my right knee, I had ACL surgery and meniscus surgery and then my left, I pretty much had the same thing, and then a few more soft tissue injuries with that one. And so going through the rehabilitation process is what really ignited my passion for kinesiology. Prior to that, I was expecting to play soccer in college. I didn't really know what I wanted to study.
Grace Chaney:
And so in some ways I look back on those injuries and I'm just so grateful and thankful that they happened because they really put me on the path I feel like I'm supposed to be on. And so I did a lot of research into kinesiology, different schools and Miami, especially the KNH Department here and all of the professors really want to integrate undergraduates into the research process. And that was something that was really interesting to me because research is all about growth and innovation, and those are values that are so important in my life, and a lot of other schools' undergrads cannot do as much research as they do here at Miami. And so that's kind of what brought me here.
Peter Everett:
That's awesome. And what research projects are you involved in specifically?
Grace Chaney:
Yeah, so I started the end of my freshman year with Dr. Randal Claytor and I worked in the muscle fatigue lab. And so that was how I started off. And it was so exciting not only to start working on research, but to also work with human subjects. A lot of research, what I thought it was, was working in a lab, working with bacteria. And I'm a very outgoing person, so I love being with people and so getting to work with human subjects, especially athletes, I think that was a really enriching experience. And then I did the Undergraduate Summer Scholars Program under Dr. Claytor. And so we created a study design to look at different exercise protocols and how it affects different physiological values. So what I had seen a lot in my research just into general physical health in the United States is that over half of the population does not meet the recommended guidelines for physical activity.
Grace Chaney:
And so I was like, "How can we improve this? How can we fix this?" And so there was a survey done a few years ago and the majority of those people who do not meet the requirements contributed to a lack of time. So Dr. Claytor and I sat down and we were like, "How can we alleviate that time constraint? How can we minimize the time spent exercising while maximizing the benefits of exercise?" And what we came up with are micro cycles. So micro cycles are the fusion of aerobic and resistance exercise within one workout. And so you cycle those... You do three minutes of aerobic work and then you cycle it with a resistance exercise, and you move back and forth. So there's minimal rest in that protocol. So they're doing more work in a less amount of time. How do they respond? Do they like it better? Does their body respond better? And it's just been a really, really interesting experience for me.
Peter Everett:
So did it turn out to be successful? Were people enjoying it? Was that the result eventually?
Grace Chaney:
Yeah, yeah, people loved it. We also did a end of experience survey to ask people, if you look at a more traditional form of exercise, you would hop on the treadmill for however long, and then you'll go do your resistance exercises or vice versa. And that's more traditional is what that is categorized as, and then some people just go in and they weight lift or they go in and they do cardio. And so we looked at all of those in comparison to microcycles and then we asked at the end, would you continue doing microcycles in your own time? And the overwhelming response was yes, which was really exciting for me because it was something I was really passionate about. I incorporated into my own fitness routine, and to see other people really enjoy it and find that it did alleviate that time constraint, that was just very, very cool.
Peter Everett:
Has any of this research knowledge you've gained throughout designing these programs, have you incorporated it into your volunteer work with the local physical therapy clinic?
Grace Chaney:
Yeah, yeah. So I got involved with Oxford physical therapy a couple of years ago. And to be honest, it was more of a sentimental reason just because I went through almost two straight years of rehab and those physical therapists and technicians were just such a great support system throughout my rehab process. And so I really wanted to do the same for others. And so that's kind of what drew me to them, but I learned so much along the way and being a kinesiology student, I would leave class and go to the clinic and work with a patient and see something like in the clinical field that we just learned about in class. And I think that really solidified what I was learning about, but also taught me about how it translates into real life out of the textbook.
Grace Chaney:
And so that was just great. And Oxford actually has a really high rate of people diagnosed with Parkinson's disease, which was something I knew very little about. And so I delved into learning more about it and getting more involved in Parkinson's support and wellness here in Oxford. And that really connected me with such a large group of the community that I knew nothing about prior. And so we were even able to connect the Parkinson's support and wellness group here in Oxford with my club, the anatomy and physiology club, and do a lot more service-oriented things with them.
Peter Everett:
That's awesome. And I know that Anatomy and Physiology Club, I know you won an award for most improved club last year, and I'm curious if incorporating your club activities into the physical therapy activities, does that have anything to do with that award and how were you able to turn that club around?
Grace Chaney:
Yeah. The anatomy and physiology club was actually pretty new when I started here at Miami. And so we had a whole new exec come in, from present, treasurer, everyone was new. And so it was really important to me because I saw a lot of potential with the club to not only be a source for pre-health students, but for anyone interested in anatomy. And so we sat down all as an exec, we hardly knew each other really, and we made goals not only for the club, but for each other, and we had goals that we wanted to reach in our own positions, but overall we all had that same passion and that same determination to really make a difference on campus and in the community. And so we started a ton of new initiatives, we started a healthcare exploration series, a certification class series, and then we started doing a lot of outreach within the community.
Grace Chaney:
And I think that had a lot to do with increasing our visibility on campus, but also establishing us as a really good go getter group of people who all really care about health and wellness, but also want to initiate that change. And so collaboration I think, was what was key. And so I think that's what really helped us, not only as a club collaborate, but also collaborate with other clubs and other departments. So we collaborated with the Mallory-Wilson Center for healthcare education. We did collaborate a lot with the Kinesiology Department. We have a lot of fun things over there, like the DEXA scanner and the anatomage table and so-
Peter Everett:
All right. So what is the DEXA scanner in the anatomage table?
Grace Chaney:
Yes.
Peter Everett:
I've not heard of either of these things. They sound exotic.
Grace Chaney:
They are amazing. So the DEXA scanner is relatively new to kinesiology and essentially, the best way I can describe it, it is kind of an x-ray machine, but basically it looks at body composition, but it can break down your muscle and adipose tissue, and then it gives you almost this hologram of yourself, and then it uses different colors to exemplify like where you have high areas of adipose tissue versus lean muscle mass. And then you can also do a lot of cool things-
Peter Everett:
And is adipose tissue fat?
Grace Chaney:
Yes.
Peter Everett:
Okay, cool.
Grace Chaney:
Yes. Adipose tissue is fat, yes.
Peter Everett:
Just making sure I understood that.
Grace Chaney:
Yes. And you can do a lot of other things. There's different settings with it. So you can actually look for osteopenia and osteoporosis. So it looks also at bone health. And then the anatomage table is kind of like a giant iPad and it's like a hologram of a skeleton, and you can put muscles on it, tendons, you could just look at the nerves of the body and you can splice up the body, rotate it, so it's kind of like having a virtual cadaver lab. It's very different to be able to manipulate that anatomy and see it in different views than to look at a picture.
Peter Everett:
And so you've been describing both a love for research, a love for studying the human body and contributing to medical literature. And also you had this great volunteer experience at the physical therapy lab. So how did you decide where your passion truly lied?
Grace Chaney:
For me, I just was so curious about human health and performance, and just feeding into that curiosity and trying different things that interested me, they just continually propelled me down this path towards medicine. So I don't think it was ever intentional. It just happened and like the domino effect, you learn one thing and get interested in one thing and it leads to another, and so I think just all in all, it was really just feeding into curiosity and not being scared to go out and try things that might be scary. And then to also, yes, look for opportunities. But if you can't find one, network and figure out how to create one. I think that would probably be my best advice.
Peter Everett:
Well, what's an example of a time where you were searching for an opportunity in the field, but you did have to create one.
Grace Chaney:
The best one I can talk about probably is Stop The Bleed. So I am very interested in orthopedics sports medicine, but I really like a high-paced environment. And so emergency medicine really caught my eye at first. And I went... As part of the anatomy and physiology club, the certification series we were developing, I spoke a lot with UC Health down in Cincinnati, then their trauma outreach department, and that took us to a Stop The Bleed class. And so we brought, I think at the time, 15 members down to Cincinnati to take this class. And I just clicked with it from the start.
Grace Chaney:
Stop The Bleed was originated from the Sandy Hook tragedy. And so the American College of Surgeons was really tasked with finding a way to improve survivability of mass casualty events, whether they be manmade or naturally made. And so Stop The Bleed is an awareness program, but it also does teach those massive bleeding control techniques to really let people know how vital it is to stop bleeding as fast as you can. And so we brought Stop The Bleed to Miami and we wanted college students to learn about massive bleeding and learn how to be empowered enough and knowledgeable enough to step in as needed. And that was something that did not exist at Miami, but that I'm so glad we were able to bring here.
Peter Everett:
You've talked a few times actually, I think, about having this career mindset and you have this forward thinking attitude of, "Oh, I can use this experience to then build on," and having that kind of, that kind of goal-oriented mindset, but I'm curious how you balance maintaining that mindset while also still keeping that open mind that we talked about earlier and not pinholing yourself into one career.
Grace Chaney:
Of course. Yeah. I tell people a lot, I am a very strategic person and in some cases, that can be a really good strength of mine, and then in other cases it can be a weakness as well. And so balance is something I've tried to work on, probably my entire undergraduate career. So balance was something I think I really struggled with at first. I think when you're thrown into the college atmosphere, you have all these things and options thrown in front of you. And same with just life in general, you cannot do everything. And it's really important to always carve out that time for yourself to re-energize yourself and get ready to face each day.
Grace Chaney:
And I think my strategic mindset and my goal-oriented just drive, I think, became a weakness when I started thinking that I had to constantly work myself to exhaustion to reach all my goals. And so when I realized that, I kind of realized that the hard way and just got really exhausted from everything. And that just taught me like, "Hey, you have to take time for yourself because if you're not giving yourself 100%, you can't give everything else 100% either." So I've tried to really advocate to my friends, to people I meet on campus, and just again, to myself, to kind of reiterate it, how important that wellness aspect is.
Peter Everett:
So we've talked a little bit about your research path and how you really were involved in undergrad research. And I'm curious how that led to eventually becoming that Mayo Clinic fellow and how did that path really develop?
Grace Chaney:
Of course. I think it has a lot to do with mentorship to be honest. So I think you can have drive and ambition and a passion for things, but sometimes you really need someone who's been on a similar path to help mold you and guide you along that pathway. And so for me, a lot of it was working with Dr. Claytor, also Dr. Smith, who is a professor in kinesiology and then the office of research for undergraduates here, Martha Weber. All of them really helped, not only support me in my passions, but really encouraged me to keep going. And so applying to Mayo Clinic, especially for the surf program, I probably would have never done that. Had people not supported me along my journey. I wouldn't have thought, oh, just small town girl can get a really good fellowship to further her education.
Grace Chaney:
And so a lot of it was that mentorship, but the other half of it was when it comes to biomechanics sports medicine research, very few institutions focus on that, which really surprises me because when you talk to people and you look at the literature, musculoskeletal injuries are so prevalent. And so a lot of research does need to be dedicated to that, to help improve that, to prevent injuries and to create better functional outcomes for patients. And so Mayo Clinic definitely does an amazing job at that, and they emphasize that within their orthopedics department. And so it really drew me towards them. I would say for me, I thrive on growth. I want to grow, I want to always be learning, be a lifelong learner, and I think Mayo has that same value. And so I saw that alignment, but like I said, the ORU and a few of my other mentors without their support, without their guidance, none of that would have been a reality.
Peter Everett:
I'm sure this ties in as well, but you've written about channeling your inner turtle.
Grace Chaney:
Yeah.
Peter Everett:
And I'd like to know exactly what that means.
Grace Chaney:
Yes. So I love Pinterest, which is so cheesy, but Pinterest is really cool. I find a lot of cool ideas on there. And I just came across a quote and it was talking about channeling your inner turtle and that the turtle only makes progress when he sticks his neck out. And so for me that clicked with my experience here at Miami, and I think it's really important to channel your inner turtle and to stick your neck out for yourself and your dreams, and to really advocate for that. You can go through college, and do well in academics, and have your friend groups be involved, but unless you're really advocating for what you want out of this experience, you're going to be somewhat stunted at what you can achieve and what you can learn and how you can grow. And so, yeah, that's kind of just my motto is to channel your inner turtle, which is a little weird, but I think it really shines true through everything I've done.
Peter Everett:
Well, it's cool. It embodies risk-taking and embodies the curiosity we talked about earlier. It's dangerous because turtles, that's how they protect yourself,.
Grace Chaney:
Yeah, yes.
Peter Everett:
Is they keep your head inside. It's a little dangerous, but also it's how you see the world.
Grace Chaney:
Yes. You've got to take risks-
Peter Everett:
That's really cool.
Grace Chaney:
... for what you want, yeah.
Peter Everett:
Well, I was going to ask you about final advice for students. I feel like that pretty much sums it up, right?
Grace Chaney:
Yeah, yeah.
Peter Everett:
All right. Thank you so much for coming on today.
Grace Chaney:
No problem. Thanks for having me.
James Loy:
Grace Chaney is kinesiology and Pre-medical Co-major, and after graduation she will head back to the Mayo Clinic to conduct orthopedic surgery research, before starting medical school.
And this is Major Insight, please share this podcast with friends, with students or with anyone who hopes to make a powerful impact on their world. More episodes are available right now, wherever podcasts are found.
SHOW NOTES:
Featured Majors: 
Kinesiology, Premedical Studies
Featured Organizations and Internships:
Anatomy and Physiology Club
Mayo Clinic Summer Undergraduate Research Fellowship
Undergraduate Research Award 2019
Office of Research for Undergraduates
Stop the Bleed Campaign
The Mallory-Wilson Center for Healthcare Education
Faculty Shout Outs:
Randal Claytor, associate professor of kinesiology
Dean Smith, clinical professor of chiropractic and exercise science
Martha E. Weber, undergraduate research coordinator
Career Clusters: