Which Video Conferencing Tool Should I Use?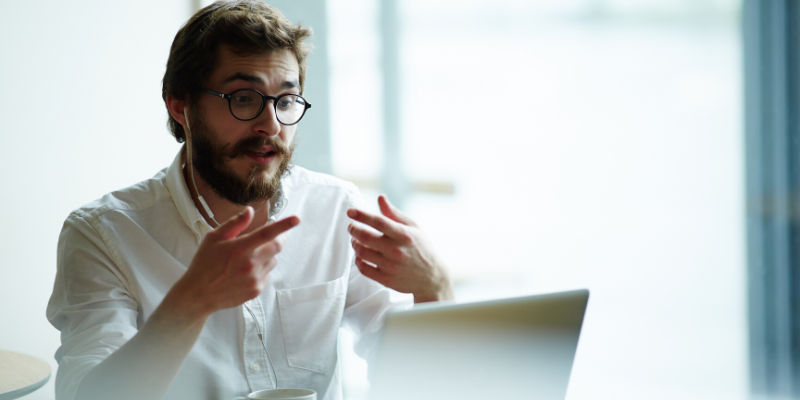 May 28, 2020
By:   Gracia Ostendorf     
Which Video Conferencing or Recording Tool Should I Use?
Using video conferencing and recording tools is a crucial way to stay connected with students when you're not physically meeting in a classroom. But there are a handful of different video tools within Miami University's campus systems, and you'll want to make sure you're using one that meets all your needs. Here's the rundown on our recommendations for how and when to use different video conferencing platforms:
Holding Virtual Office Hours
Office hours are an important opportunity to allow students to ask questions one-on-one, get individualized attention, and coach them through any challenges they're having with your course. When classes are held online, you can use video conferencing to replicate this opportunity to connect.
Our recommendation: Use your Webex Personal Room. Miami instructors have access to a Webex account, in which they have what's called a "Personal Room." Unlike individually scheduled meetings in Webex, or meetings created in many other videoconferencing tools, your Webex Personal Room always has the same URL regardless of when and who you're meeting. This makes it the perfect option to share somewhere in your online course (like in a Canvas Announcement, Syllabus, or content Page) so that students always have the right link to meet with you. Simply let students know what time you plan to log in to your Personal Room, and they can use the link to join you.
Considerations: Anyone who has the link can join your Personal Room unless you lock it (Webex also automatically locks the room a certain amount of time after you start a meeting - the default is 5 minutes, but you can adjust this in your Webex Preferences). If someone tries to join your Personal Room when it's locked, Webex will let them wait in your "lobby" until you choose to admit them (this is also true if they try to enter your Personal Room when you're not in it yourself). If you need to have a private, uninterrupted conversation with a student, it might be easier to create a scheduled meeting.
Recording a Lecture Video
Another key to instructor presence in the online classroom is facilitating learning. Just like when you present new information in a face-to-face class, you can still verbally introduce course content online by using screen capture and video recording software.
Our recommendation for asynchronous lectures: Use Screencast-o-Matic. If you're recording a completely asynchronous lecture (meaning no students will be watching live as you record), try the free tool Screencast-o-Matic. This allows you to record the content on your computer screen, video from your webcam, or both at the same time. This way you can record voiceover as you talk through presentations or other content, while students will be able to see your face at the same time.
Considerations: The free version of Screencast-o-Matic only allows you to record up to 15 minutes. This may not seem like enough time for a lecture, but research actually shows that students best process information online in smaller chunks. Consider breaking up longer lectures into segments as a best practice.
Our recommendation for synchronous lectures: Use a Webex meeting. If you'd like students to watch the lecture live, use a scheduled Webex meeting to host your lecture. Webex allows you to share your screen and webcam to other meeting attendees, so you can talk through a presentation or other content for your lecture. Additionally, Webex has annotation tools that allow both you and the students to write, draw, or annotate the content being shared on screen. You can even connect a tablet or smart device to your computer and share that through Webex for even more of a "whiteboard" feel. Most importantly, Webex also allows you to record your meetings. Even if you plan to hold the lecture synchronously, there may be students who can't make it to the live presentation, or who will want to review the content again later. Having and sharing a recording of the lecture is critical to student success in the online environment.
Considerations: Webex does not support live automatic captioning. If you have a student in your class who requires captioning, they'll need accommodations such as a live transcriber.
Giving Detailed Assignment Feedback
In some classes, especially those with more visual or hands-on content, it may be easier to give feedback verbally or by demonstration rather than just written text. You can give more detailed feedback on students' assignments by using video recordings in the online classroom.
Our recommendation: Use the Media Recorder/Uploader tool in Canvas. If you're using Canvas as your LMS (which Miami University does), there's an option in the Rich Content Editor to record or upload a video directly within the Assignment, Page, Quiz, or whatever type of course feature you're working in. This allows you to send your student a video to help better explain your feedback to them. You can record a video of yourself verbally explaining or demonstrating the feedback, or do a screencast so you can point out the relevant areas of their work at the same time as you explain it.
You can also use this same tool to share information with your class through a video, as in a Canvas Announcement, to further enhance the instructor presence in your online classroom.
Will you be trying some of these tools out in your next (or current) online teaching experience?
Share with us
which ones worked best for you, or any other tips you have for using video tools to connect with your students!
We've Got Your Back
We've Got Your Back