My Miami. My Future. My Way: Chad Depew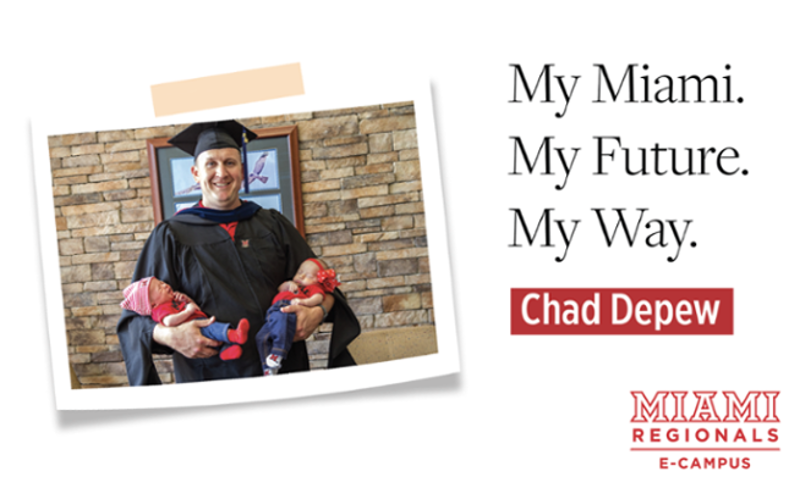 Jun 19, 2020
Originally Published March 2018
By:  Carrie Chambers   
Two babies. Two degrees. Two years. Miami Regionals Student Picks Up the Pace with Online Graduate Courses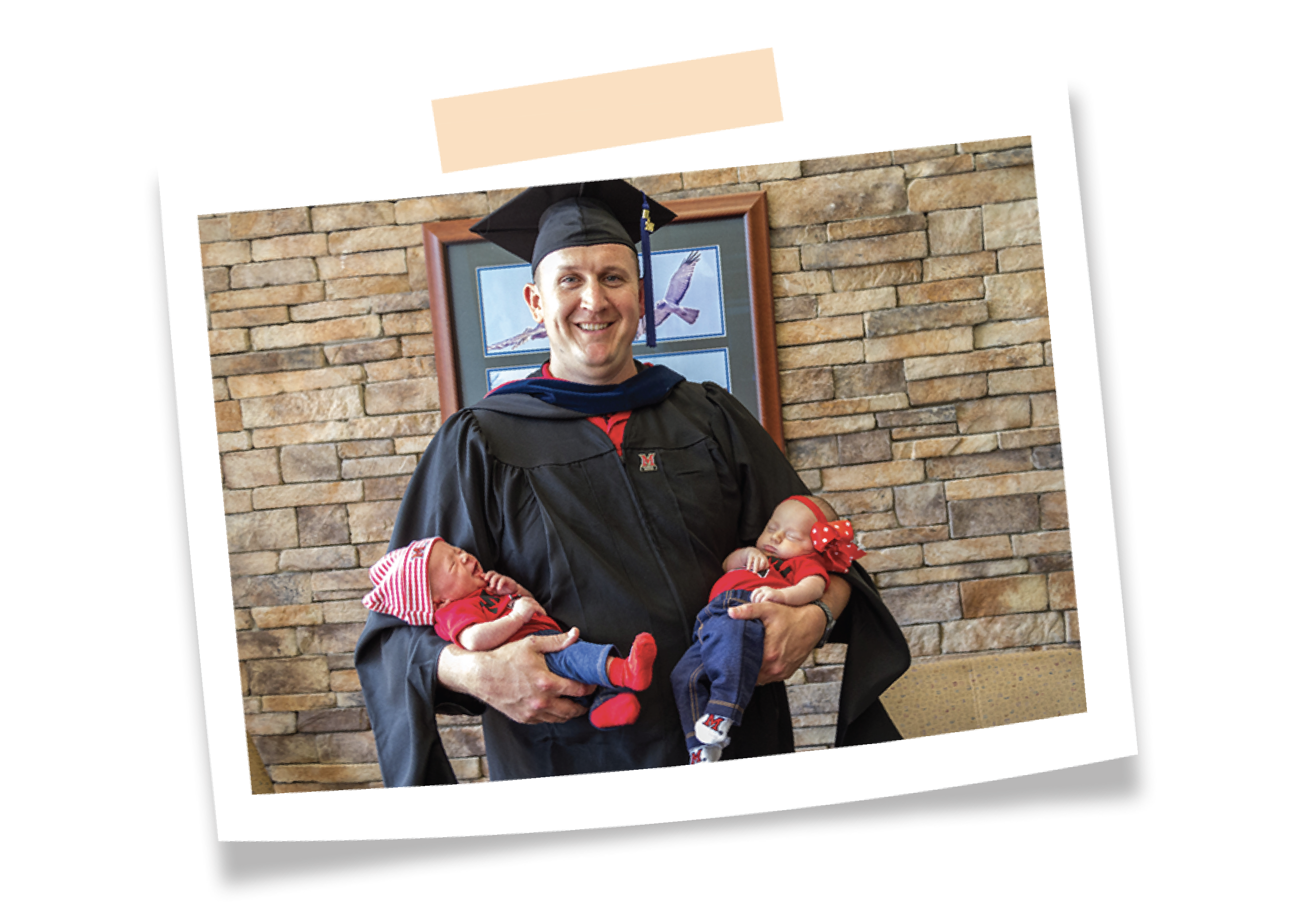 In just two years, Chad DePew accomplished what would take most people three times as much time. The catalyst? The ability to take courses online and fast-track his education.
The former Police Chief for the City of Eaton (Ohio), DePew has been in law enforcement for sixteen years. For the majority of that time, he was working on his associate degree. Then he put his education into overdrive. "As soon as I hit the point where I was able to take 100% online classes, that's when I was able to make a bigger commitment to getting those degrees and finish my education."
It took DePew 15 years to finish his associate degree and just 2 years to finish both his bachelor's and master's degrees in Criminal Justice. While working full-time, he was able to earn 35 hours in a single semester by enrolling in both 18 credit hours of online courses and participating in a ten-week program through the FBI academy that netted him an additional 17 credit hours. "Once I started taking classes again, I really enjoyed it", says DePew. So it's no surprise that graduate school was on the horizon.
"When I learned that Miami [Regionals] had the MSCJ online, I was interested right away," he says. DePew enrolled in the program, part of the first class of the first master's degree housed at Miami Regionals, and started classes just one week after finding out his wife was pregnant (with twins!). Again, DePew went into warp speed to complete his degree in time to welcome his babies. When he walked as one of the first graduates of the Master of Science in Criminal Justice, he did so with his wife and twins looking on.
"It's been really life-changing for me," DePew says of the program. He was able to bring his perspective as a law enforcement officer to the classroom as well as to hear the perspective of students who work outside the field. "It's been really helpful for those of us that are in the field."
DePew credits his success to his "amazing" wife and to his professors, "they just went above and beyond to make sure the students succeeded". He continues to participate in research, like The Law Enforcement Advancing Data and Science Scholars Program and is considering returning to school for his PhD in the future. The biggest deciding factor in choosing his doctoral program? The ability to do it online.
With his master's degree, DePew took on a new role in early 2018 as Major for the Grandview Medical Center Police Department with the Kettering Health Network.
Note: the Master of Science in Criminal Justice is no longer accepting new students
We've Got Your Back
We've Got Your Back