How-To: Using Breakout Rooms in Zoom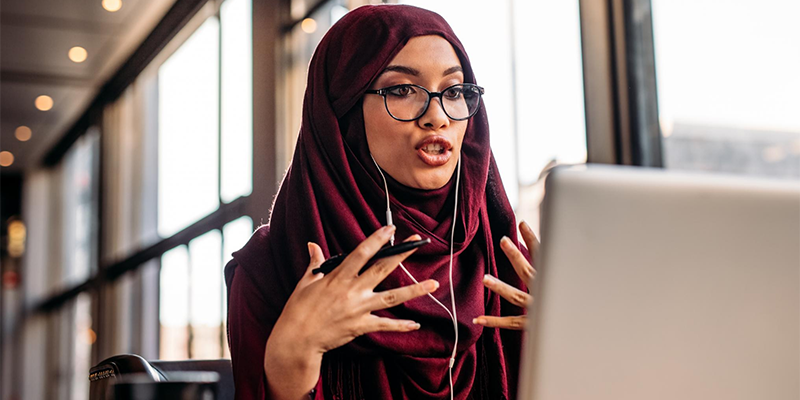 Aug 03, 2020
By:   Gracia Ostendorf     
How-To: Using Breakout Rooms in Zoom
Breakout rooms allow you to split one Zoom meeting into several separate simultaneous sessions. This is a great feature to use if, for example, you want to break students into groups to discuss class material in a small group first, then bring the whole class back together to share ideas or conclusions after the small group work.
Host & Participant Abilities in Breakout Rooms
The host of the Zoom meeting (the instructor) can join any breakout room and hop between different breakout rooms while they're open. The host also controls when breakout rooms start and end, can decide which students are assigned to different breakout rooms, and can designate a "co-host" to help them manage these responsibilities.
Within a breakout room, participants (students) have full audio, video, and screen share capabilities.
Recording & Using Breakout Rooms
If the meeting is being cloud recorded, it will only record the main room, regardless of what room the meeting host is in. If the meeting is being locally recorded (to a computer), it will record whatever room the person recording is in.
If you'd like to record all of the breakout rooms, you'll need to give recording privileges to a participant within each breakout room. This must be done before opening the breakout rooms; otherwise you will need to join the breakout room of the participant in order to give them recording privileges. Participants can only save recordings locally to their computer; they cannot save recordings to the Zoom Cloud.
Note: If you will be using the Zoom desktop app for your meeting and it is your first time logging in, choose "Sign In with SSO." Type "miamioh" in the box, click "Continue," and then complete the login process as usual with Duo.
Pre-Assigning Students to Breakout Rooms in a Scheduled Zoom Meeting
If you schedule a Zoom meeting, you have the option of pre-assigning students to breakout rooms. This is a good option if you are planning your session ahead of time and have assigned groups of students that you'd like to work together.
If using pre-assigned breakout rooms, you AND your students must log in to your Zoom meeting using the Zoom Client (the desktop app). If students log in to your meeting via web browser, they will not show up in your pre-assigned breakout room list.
Note: You must log into your Zoom account on the Zoom website in order to pre-assign participants to breakout rooms. You cannot access this feature through the Zoom integration in Canvas. 
 To pre-assign students to breakout rooms:
Navigate to miamioh.zoom.us and log in to your account with your Miami unique ID and password.
Click on "Meetings" in the left-hand navigation, and click on "Schedule a New Meeting."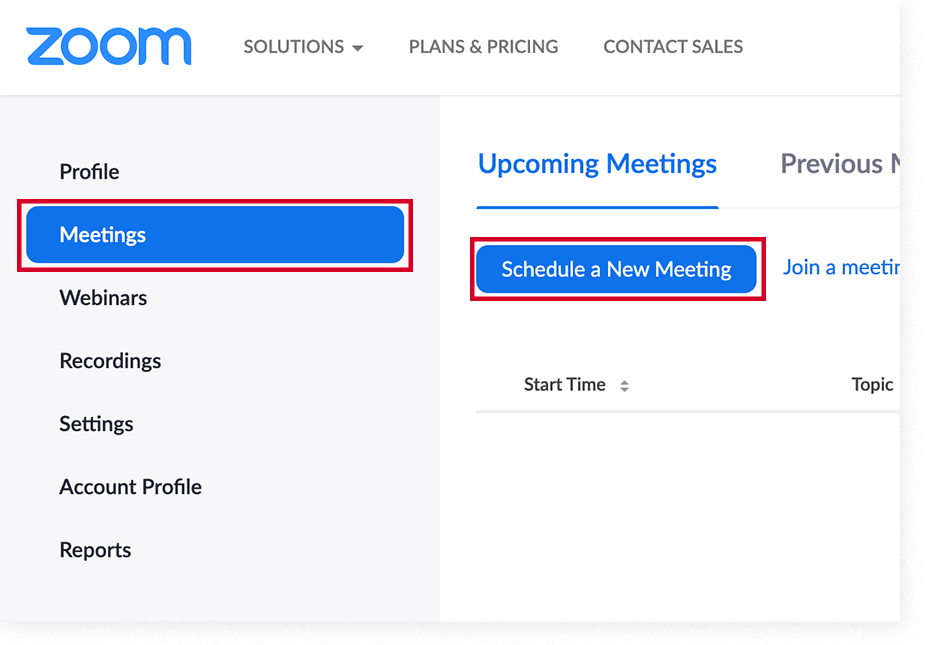 Enter your meeting details, then scroll down to the "Meeting Options" section.
Check the box next to "Breakout Room pre-assign," and more options will display underneath.

Click "+ Create Rooms" and the Breakout Room Assignment window will pop up. In the new window, click the "+" next to rooms to add a new breakout room (1). You can rename the room by clicking on the room name that appears on the right-hand side of the screen (2). Add participants to the room by typing or pasting their email addresses (one at a time) into the "Add participants" field and pressing Enter after each one (3).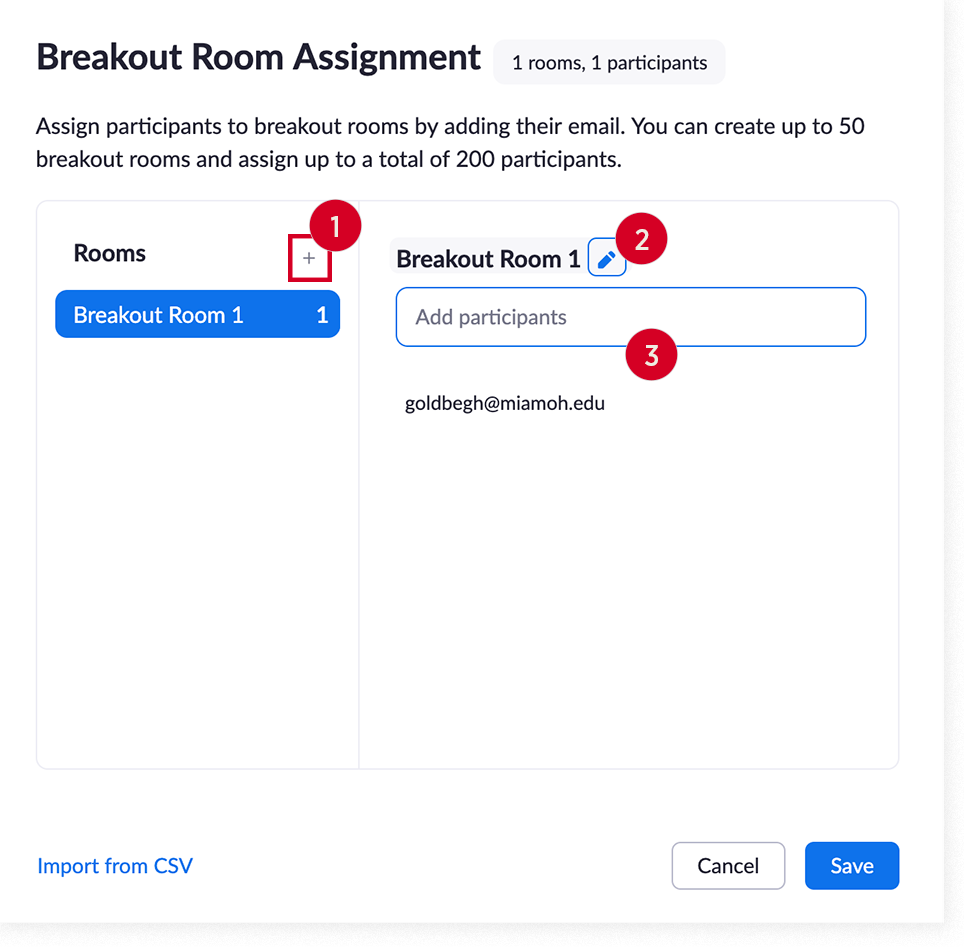 Alternatively, you can upload a .csv file with your students' breakout room assignments and email addresses. You can do this by clicking "Import from CSV" in the lower left-hand corner of the Breakout Room Assignment window, or by clicking on "Import from CSV" on the meeting details page, underneath the "Breakout Room pre-assign" checkbox option.

In the "Import Rooms and Participants from CSV file" window, there is a downloadable template you can use to ensure you upload your assignments in the correct format.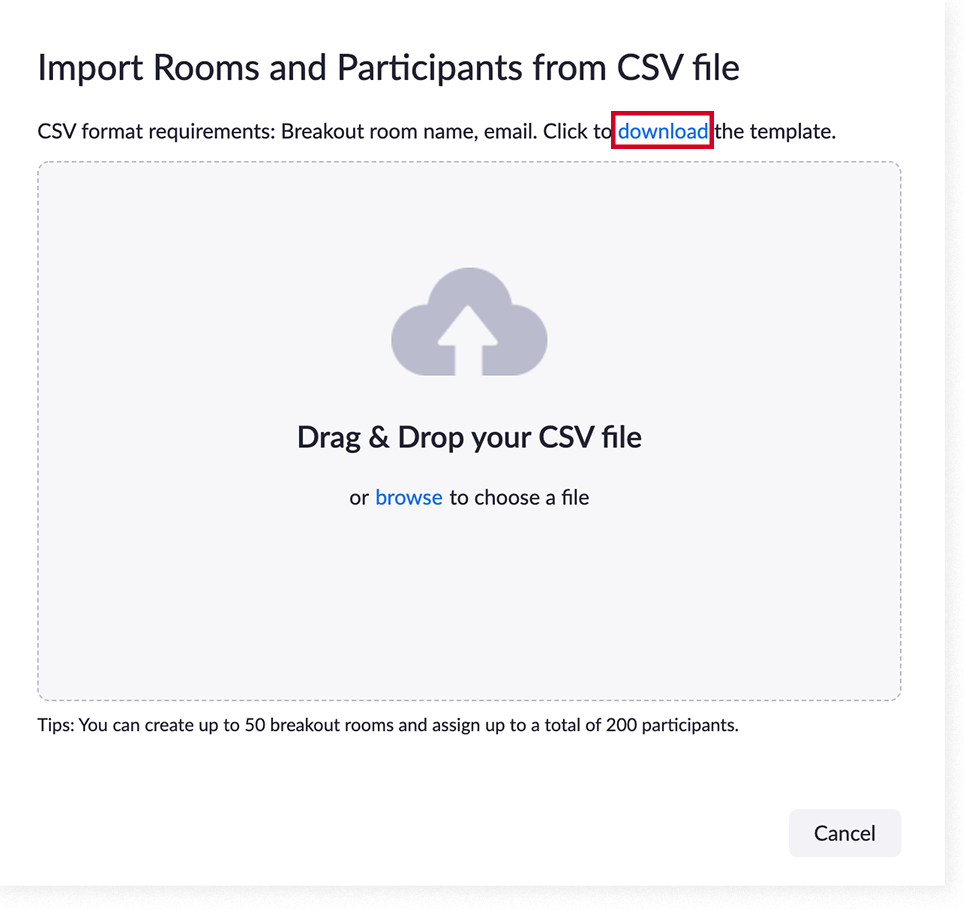 Click "Save" to save and schedule your meeting. Copy your meeting Invite Link and paste it wherever you want to share it with your students (i.e. a Canvas Announcement, a message in their Canvas Inbox, in an event on your Canvas Calendar).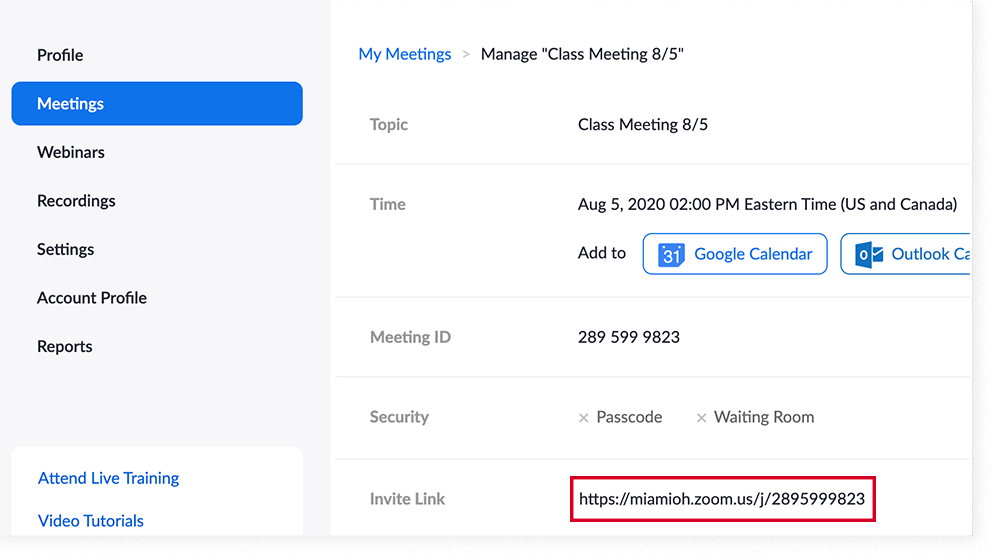 Managing Breakout Rooms in a Zoom Meeting
You can also assign breakout rooms live while in your Zoom meeting instead of pre-assigning them. While in a Zoom meeting with breakout rooms, there are several things you can do to manage and customize the experience.
Note: Only the host or co-host can manage breakout rooms. To make a participant a co-host during a Zoom meeting, click "Manage Participants" to display the Participants panel. Hover over the person's name to get the "More" option to appear, then click "Make Co-Host."
To manage breakout rooms while in a Zoom meeting:
Start your Zoom meeting and click the "Breakout Rooms" button along the bottom of your meeting window. (Note: You may need to expand the size of your window to get the button to appear)
In the Breakout Rooms window that appears, select the number of breakout rooms desired, and choose whether you'd like Zoom to automatically assign participants to a room, or whether you'd like to assign manually. (Note: These options will not appear if you already pre-assigned breakout rooms when you scheduled your meeting)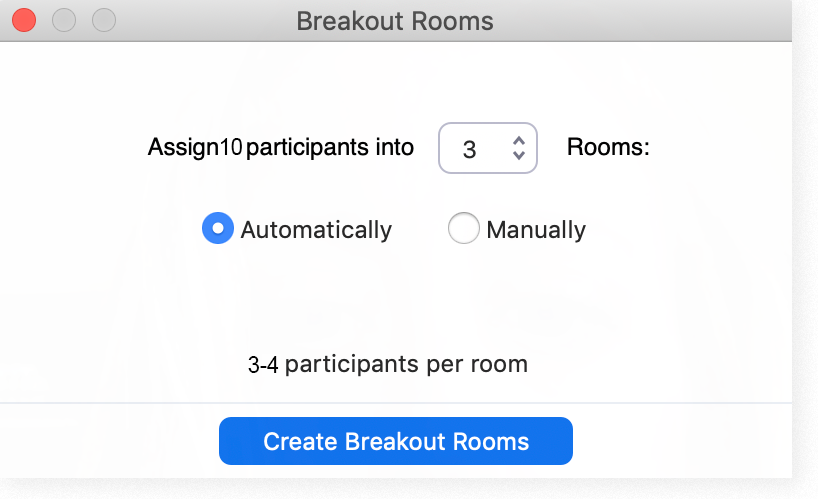 If you choose Automatic: Zoom will create lists of participants evenly divided among breakout rooms. You will get a chance to review this list, and can use the "Exchange" button to swap participants with others in different rooms.
If you choose Manual: You will need to assign all participants to a room by clicking the "Assign" button that appears to the right of the breakout room name, then selecting the names of the participants you'd like to be in that room.
Once participants have been assigned rooms, under "Options" you can set additional options for your breakout rooms: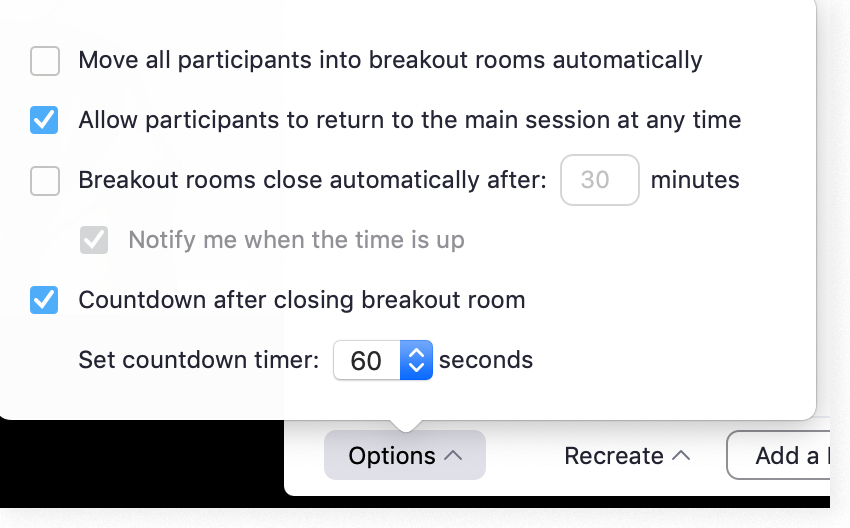 Move all participants into breakout rooms automatically: Check this box if you want students to be automatically moved when you open the breakout rooms (rather than giving them the option to move with a window that pops up on their screen when you open the rooms).
Allow participants to return to the main session at any time: Check this box if you want students to be able to return to the main meeting before you close the breakout rooms yourself.
Breakout rooms close automatically after __ minutes: Fill in the blank here if you want to give students a specified amount of time in their breakout rooms before they return to the main meeting.
Countdown after closing breakout session: This option (checked and set to 60 seconds by default) indicates that when you close the breakout rooms on your end, students will see a notification and a countdown timer prompting them to rejoin the main meeting on their own before they are forced back into it automatically by Zoom.
Click "Open All Rooms" to start the breakout rooms.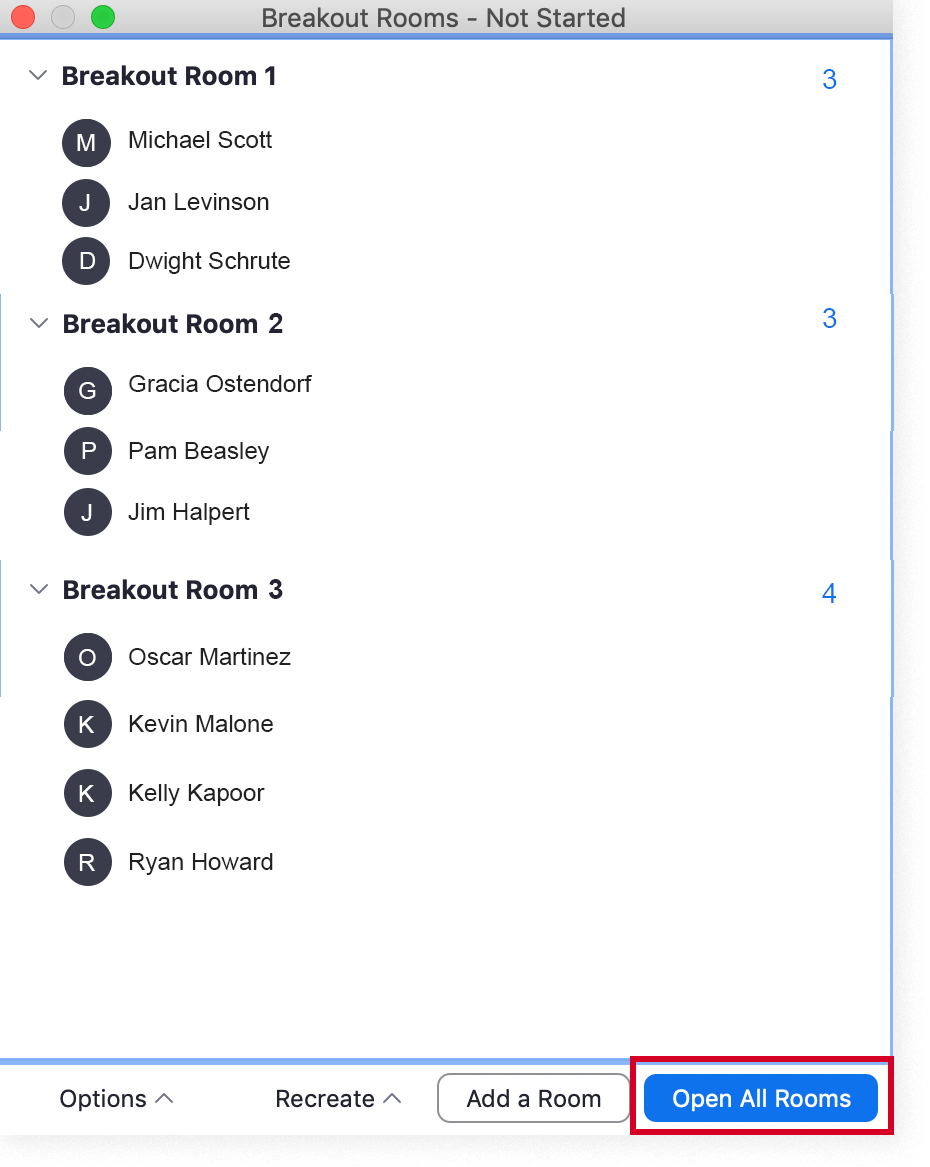 Participants will see a window prompting them to join their breakout room. As they join their rooms, you'll see their videos disappear from the main meeting window.

(The notification a participant will see when breakout rooms are opened) 
Hosts and co-hosts can hop between the different breakout rooms by clicking the "Join" buttons to the right of each room name in the Breakout Room window.
Hosts and co-hosts can send a message to all participants in their different breakout rooms by clicking the "Broadcast a message to all" button at the bottom of the Breakout Room window, typing their message in the text box that appears, and clicking "Broadcast."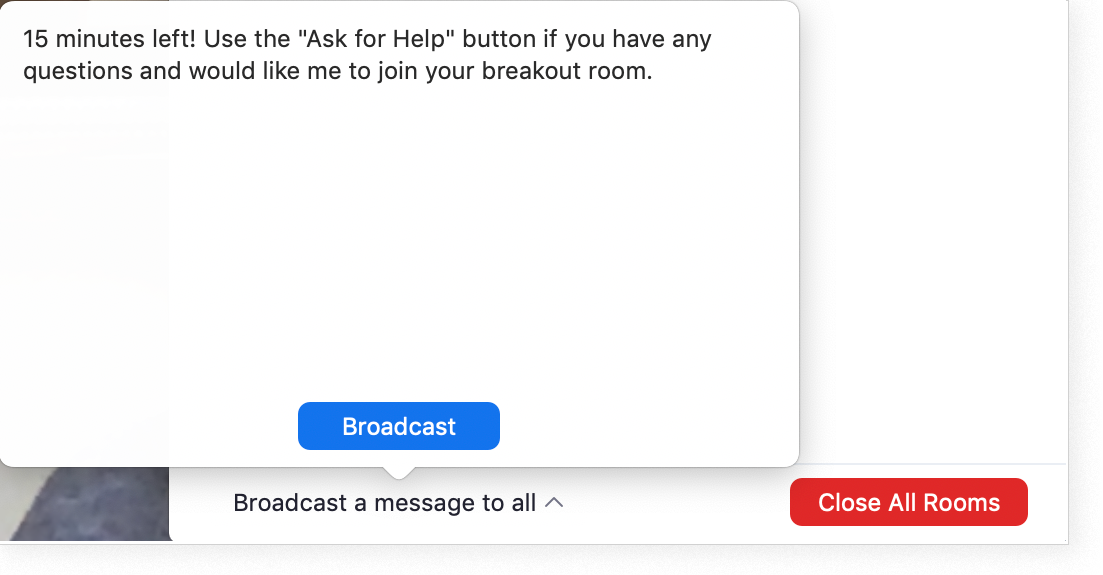 If students need to get your attention while they're in their breakout rooms, they can click the "Ask for Help" button at the bottom of their Zoom window. This will trigger a notification telling you that the participant has requested your help, and giving you the option to directly join the participant's breakout room.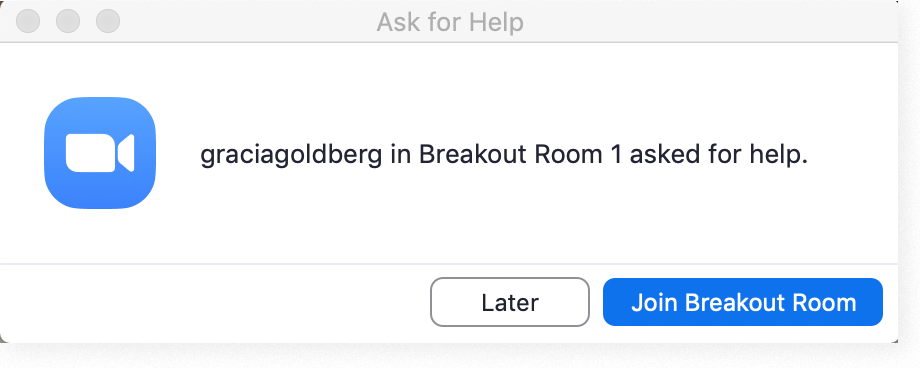 To bring everyone back to the main meeting, the host or co-host can click the "Close All Rooms" button in the bottom right-hand corner of the Breakout Rooms window. This posts an announcement to all participants in their separate rooms, and starts a timer (if enabled in the breakout room options in step #3). When the timer runs out, if the participant hasn't left their room already, the room will automatically be closed and they will be forced back into the main meeting. You'll see the time remaining before the rooms are closed in the bottom area of the Breakout Rooms window.

Student Resources
For instructions on using breakout rooms from the student (participant) point of view, refer to Zoom's
Participating in Breakout Rooms guide
.
Additional Resources
To see Zoom breakout rooms in action, take a look at this quick 3-minute video:
You can find additional information about using breakout rooms in the following Zoom guides:
We've Got Your Back
We've Got Your Back