A passion for solving crime mysteries leads to dream job
Miami grad discovered her calling in Forensic Science program at Miami Regionals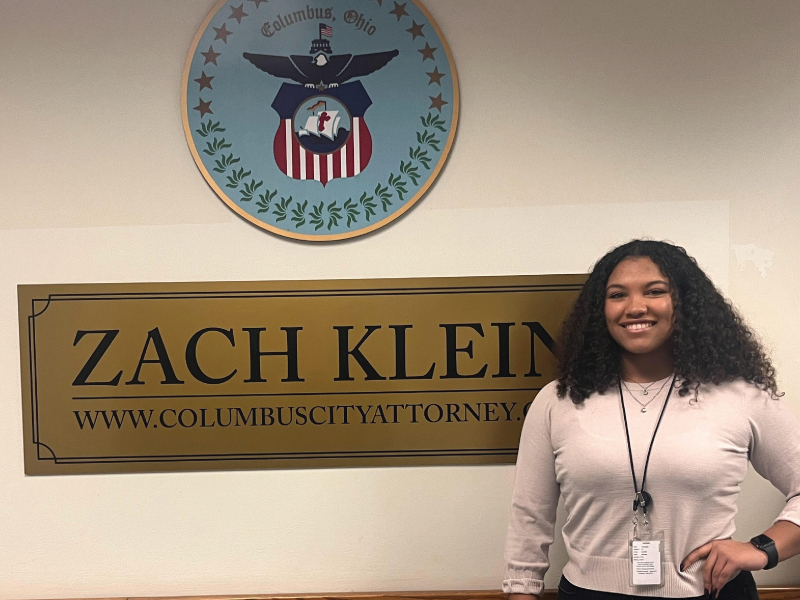 A passion for solving crime mysteries leads to dream job
In high school, a science class opened Jess Black's eyes to the world of crime solving and ultimately led her down a path to a career she loves.
Black '22, who earned a bachelor's degree in Criminal Justice, said she knew when she arrived at Miami as a first-year student in 2019 that she wanted to be a part of a criminal investigation team. Today, she is fulfilling that dream as part of the Prosecution Division in the Columbus City Attorney's Office.
"I love it," Black said of her job, which involves processing cases and data for upcoming trials. "I was also accepted into the (master's degree) law program at Ohio State, so we'll see where that takes me next."
While it may appear that Black's successful journey was a straight line from high school to college to her dream job, that's not how she explains it. In fact, she wasn't even sure she would attend Miami. As a first-generation college student, she said she knew growing up in a single-parent family that college was not a given. A high school teacher recommended Miami, but Black doubted she'd be accepted.
When she was admitted as a first-year student at Oxford, she was thrilled. She planned to study biology because she wanted to become a coroner, but that plan changed. After a few twists and turns that included a Criminal Law class and a stint on jury duty, which she said she "loved every minute of," Black decided to switch her major to Forensic Investigation, which meant a move to the Regionals campuses for its Forensic Science and Investigation program in the Department of Justice and Community Studies.
Black had found her home. She loved her courses, which included Forensic Crime Scene Evidence and Criminal Behavior. "I love figuring things out," she said.
Daniel Hall, professor of Justice and Community Studies and Political Science who taught the Criminal Law class that cemented Black's interest in criminal investigation, said Black's curiosity and enthusiasm for finding solutions to the challenges of the criminal justice system make her an excellent candidate for a career in the field.
"She was a strong student and she is willing to express herself about how to solve complicated problems that are a part of the criminal justice system," he said. "We are not a static field. We've always got to be thinking about the future."
Black said her experiences at Miami gave shape to her career path. She wrote to Hall after landing her job in Columbus: "I wanted to thank you for everything you did for me as a professor, and for giving me the tools to both help me through my degree and also to develop a passion for the criminal justice system."
She said she wanted to let him know he played a role in her success. "He had an impact on me as a student. I wanted him to know he was heard as a professor."
Black said she now wants to have a positive influence in the lives of the people she touches through her job.
"You have a hand in helping people fix the problems they have," she said. "That's very rewarding."