Campus libraries offer much more than books
Explore the many unique services and equipment you can find at the Regional libraries.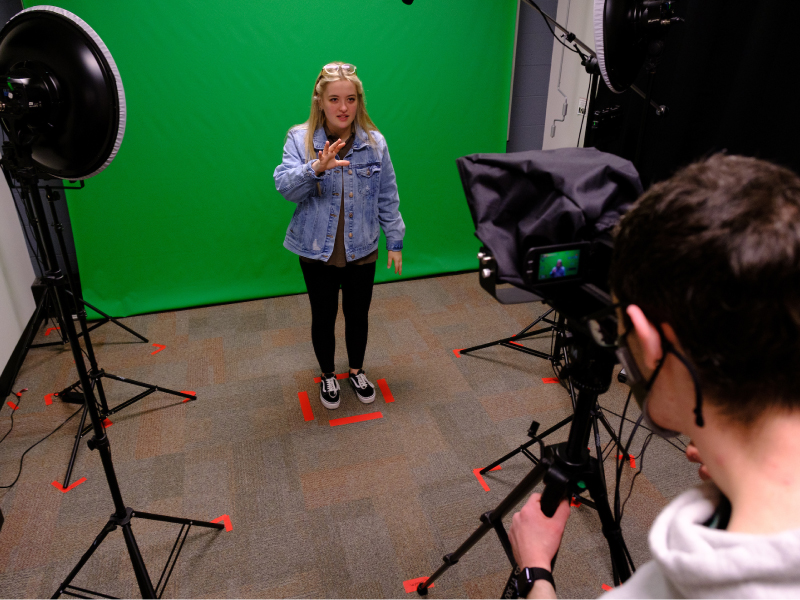 Everyone knows libraries are great places to find large book collections. But did you know you could create a professional-looking video at a campus library, or check out a laptop or GoPro video camera? You can also hold a meeting, complete with a large screen hookup and whiteboard.
All of this and more are available at Miami's Middletown and Hamilton campus libraries. John Burke, library director for Gardner-Harvey Library at the Middletown campus, and Krista McDonald, director of Rentschler Library on the Hamilton campus, want to remind students and faculty of the many reasons to visit the libraries, especially after the lull in campus activities brought on by the pandemic.
While both libraries do not offer all the same features, each library provides students and faculty with flexible space to expand their study and meeting options. They also provide valuable technology, plus remote librarian services that bring the expertise of library staff to your personal screen.
Here are some of the many unique services and equipment you can find at the Regional libraries:
Lights, Cameras, Action
The libraries have you covered for video photography projects. Each library has a selection of video and single-shot camera equipment (although the libraries differ in their specific items), including GoPro, DSLR, and video cameras. The Gardner-Harvey Library also has light kits for creating professional results, plus digital projectors and screens. If you need a high-quality video for school or work, the One Button video recording studio at the Gardner-Harvey Library provides a solution. As the name implies, it's as easy as pushing a button. There are custom backdrops, as well as a green screen, and the pre-set equipment requires no special knowledge to operate.
Desktops and Laptops
Individual workstations at the libraries offer desktop computers available on a first-come, first-served basis. Students can log in using their Miami ID and password. Laptops and iPads also are available for checkout, and you can borrow items such as chargers, headphones, voice recorders, and flash drives. Lending times vary by the type of equipment and are posted on the library website.
Study Rooms with Extras
Study rooms come in a variety of sizes for groups as small as two or as large as a dozen. Each includes a large screen TV that can display multiple devices at once, plus a whiteboard. The rooms can be used on a walk-in basis when available but may also be reserved. At Rentschler Library, users can also enjoy cozy reading nooks for studying or leisure time. The Gardner-Harvey Library includes a meeting hall available by reservation that will accommodate up to 45 people and a computer lab with 24 stations, which can be reserved for courses or training sessions.
Remote Librarians
A librarian is as close as your personal screen. You can get questions answered via email, text/chat, or in library databases through the "contact us" tab on the websites. There are also embedded librarian services available in Canvas courses. This includes a guide to course resources for assignments. The embedded librarians keep tabs on deadlines in the course and are ready to help when needed. They can also interact with a class at an instructor's request through private face-to-face sessions, Zoom, or by embedding library resources and a librarian in Canvas to work with students. Just ask for a research consultation.
TEC Lab Makerspace
This unique lab at the Gardner-Harvey Library offers a space to create and explore, with special equipment for 3D printing, 3D writing, making buttons, large format printing, and much more. Make an appointment with a staff member to learn more about the equipment or attend one of several seminars scheduled throughout each semester.
Textbooks
A selection of course textbooks is available at both libraries for one-day borrowing. Check the library website for more information.
For a full list of services and borrowing options at each library, visit the website.