Hamilton campus The Conservatory Tree Walk is a 'great learning lab'
New Conservatory Tree walks features 25 trees located around the Hamilton Campus.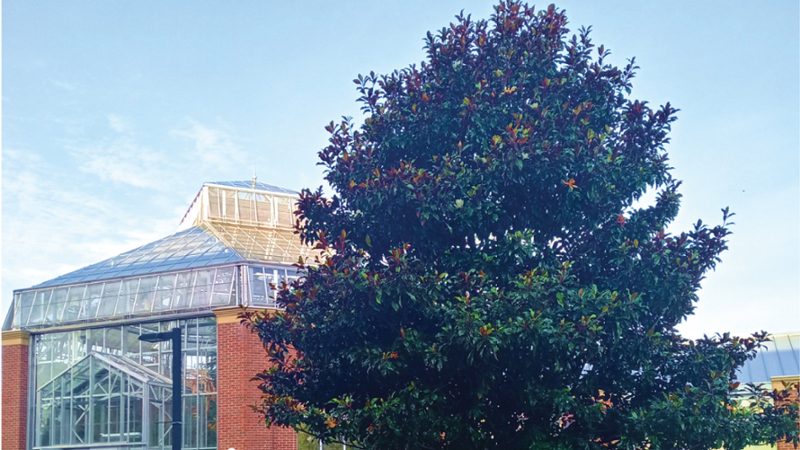 Hamilton campus The Conservatory Tree Walk is a 'great learning lab'
For Adrian Bennett, the new tree walk project on the Miami University Regionals Hamilton campus is the gift that keeps on giving.
If one person gets inspired, said the Applied Biology major from Hamilton, then that person can possibly inspire someone else.
There are several options for inspiration, too. The display features 25 trees, from American Hazelnut to Japanese Pagoda, Norway Spruce to Weeping Willow, and many more in between. All reside on the Hamilton campus with the tree's common name, scientific name, family, and place of origin displayed on a placard, with a QR code available to learn more.
The tree walk has been a long time coming for Chelsea Obrebski, the interim manager of The Conservatory at Miami Hamilton. She was working there as a student at Hamilton High School when she first heard talk of possibly installing a tree walk.
"Everybody remembers when they were in elementary school and had to do the leaf book and collect the leaves," Obrebski said. I thought it would be wonderful to have that kind of resource on the Hamilton campus. It's a great learning lab."
And a great opportunity for Bennett, who used the tree walk as the service project for the graduation requirement for his degree.
Bennett gave a mini-presentation to the 2022 spring BIO 351 Environmental Education class on the tree walk and helped with the educational material for the signage and online map resource.
"It can get people more interested in the field and more aware of the environment," Bennett said.
A grant helped fund the project. Supplies were gathered in December to start installation of placards throughout the spring and summer.
It was a true group effort, Obrebski said, noting the efforts of faculty and staff to complete the tree walk.
"We hope everyone can enjoy what we've generated, both here and the online resources, and take the time to get out, walk around, and reflect upon what is around you," Obrebski said.