In Memoriam: Jack Rhodes
Hamilton Campus leader worked to create and strengthen connections with the community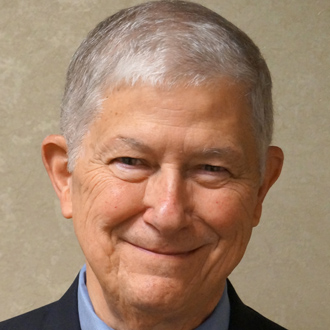 Jack Rhodes
Buses, bridge, debating, and films - all were passions of Jack Rhodes, Miami University professor emeritus and retired executive director of Miami University Hamilton. 
But his greatest passion was helping and serving people.
Rhodes passed away Oct. 10 in Waupaca, Wisconsin, where he and his wife Glenda had made their home after his retirement from Miami.
At the campus' 50th anniversary, he recalled several milestones during his tenure from 1995 to 2002, including the construction of the Harry T. Wilks Conference Center and Schwarm Hall, and helping to launch the local bus service linking Miami's campuses and the county which grew into the Butler County Regional Transit Authority. 
For students, he recalled, the greatest achievement was most likely the paving of the parking lot on the north side of the campus.
Fulfilling a charge from then president Paul Risser, Rhodes admitted he took greatest pride in rising to the task given him to lead the campus to be a good neighbor and to begin multicultural and diversity programming. This led to the creation of the first multicultural office, the hiring of the first director, and the launching of public diversity programming including the long-running Racial Legacies series.
Bob Rusbosin, retired senior associate dean of students, commented that Rhodes "was a kind and thoughtful human being who connected beautifully with students, faculty, staff, and, perhaps most significantly, with many diverse community leaders."
Ande Durojaiye, vice president and dean of Miami University Regionals, observed that "Dr. Rhodes built a solid foundation for our community outreach and our work with diversity, equity, and inclusion. The fund that he and his wife established to support our multicultural and diversity efforts is a testament to their personal conviction of the importance of these issues."
Rhodes' approach to problems drew the attention of the search committee that recommended his hiring. Lee Sanders, administrator and professor emerita who served in the dean's office for many years, recalled "Jack admitted his method was not glamorous, but effective. He imagined a problem as a huge boulder in a small room, and his strategy was to begin chipping away at the boulder, bit by bit. Pretty soon, the rock is down to a size that can be taken out the door."
After receiving his doctorate in English from the University of Texas, he held faculty positions at Colorado College, the University of Utah, and Augustana College, where he also served as the debate coach and head of the respective forensics programs. He came to Miami in 1984 to lead the forensics program, rising to chair of the Communication department before becoming the executive director at Hamilton.
Mike Governanti, his counterpart at the Middletown Campus, recalled him as "a true friend and colleague who always maintained an even keel and sense of humor even in difficult times. Jack always kept centered on our greater goals for strengthening the campuses' ability to best serve our students and the communities in the region."
Engaging with the community, Rhodes was an active Rotarian and also served on many local boards and committees. Rick Jones, past director of the Fitton Center for Creative Arts, recalled "he was thoughtful in board discussions, let people know how he felt about certain issues, and was always a gentleman and a scholar."
Moving to Wisconsin after retiring from Miami, his personal community engagement continued as he became a co-founder of the Waupaca Area Community Foundation, an advocate for the establishment of the Waupaca campus of Fox Valley Technical College, and was a founder of the Waupaca Duplicate Bridge Club. Active in St. Mark's Episcopal Church, Rotary, and the Waupaca Historical Society, he also served on the Board of the Wisconsin Historical Foundation and chaired the Board of the Fox Valley Community Foundation. 
With his lifelong love of films he established a film program through the Waupaca Public Library which will continue. He also enjoyed teaching film seminars for Lawrence University at Bjorklunden, Lawrence's Door County campus, and introducing classic movies for WegaArts International Film Festivals.
The Hamilton Campus honored Rhodes in 2006 in naming the study area in Mosler Hall after him.
He is survived by his wife Glenda, who he met while they were both students at the University of South Dakota, as well as two nephews and a brother-in-law. 
In lieu of flowers memorial contributions can be made to the Waupaca Area Community Foundation, St. Mark's Episcopal Church Fund, P.O. Box 425, Waupaca, WI 54981, or the Jack and Glenda Rhodes Fund, Miami University, 1601 University Blvd., Hamilton, OH 45011.